The past several months have not been kind to Chevron (NYSE:CVX). The integrated oil and gas producer has seen its share price slide a tremendous 14% from its high of $117.96 on October 2nd to a low of $101.62 reached November 15th. The share price has rebounded since, along with the Fiscal Cliff announcement and at the time of writing, stood at $109.92.
Chevron should currently be trading at a discount due to the effect of uncertainties around its legal issues, and poor operating results revealed in Q3 2012. P/E stands at 9.02 and the shares have a dividend yield of 3.28%. Chevron has a strong track record, and has consistently grown this dividend.
Since October, the following are some of the factors that have caused this most recent price movement: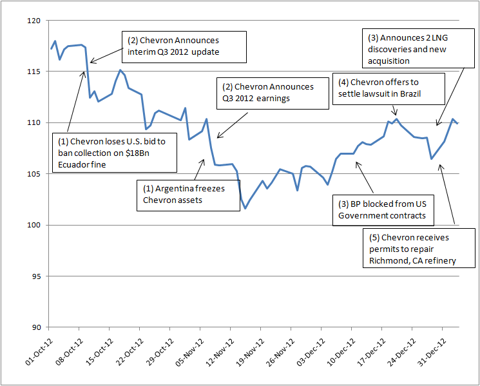 1) The Chevron vs. Ecuador Lawsuit
The Chevron vs. Ecuador lawsuit concerns the operations of an exploration and drilling consortium in the Ecuadorean region of Lago Agrio. The consortium was initially owned by Gulf Oil and Texaco, now a Chevron brand, and began exploration in 1964. After full scale production began in 1972, the Ecuadorean state oil producer Petroecuador became a partial owner in this consortium, eventually fully buying out Gulf's ownership and becoming the majority owner by 1976.
Texaco's participation in the operations continued until 1990, and shortly after, it transferred the remaining portion of the ownership to Petroecuador. This left Petroecuador as the sole operator, and it continued drilling in the area. On its way out, Texaco participated in a remediation agreement signed in 1995, whereby it performed a share of the remediation required in the area. The remediation was completed in 1998 and under the agreement, left Texaco with no further liability towards the Ecuadorean government.
The lawsuit began in 1993 when a group of lawyers representing the residents of Lago Agrio filed suit against Texaco in the U.S. Texaco was accused of having contaminated the drinking water, contributed to deforestation and having performed a largely cosmetic remediation of the site. Texaco's remediation agreement was effectively bypassed as the plaintiffs' lawyers represented approximately 30,000 indigenous people. Accordingly, these people are a third party in the case and therefore, not covered by the liability release of the remediation agreement.
The suit was dismissed in the U.S. as Chevron appealed that the case should be held in Ecuador and not in the U.S. Alas, the case was brought to Ecuador in 2003, where the suit continued. In February of 2011, the Ecuadorean court ruled against Chevron and issued a $9.5B fine. The fine was doubled when Chevron failed to issue a public apology within 15 days. Chevron immediately responded to the suit, claiming it to be the product of a fraud and a corrupt court system. Chevron believes the ruling will not be upheld in any court that observes the rule of law, and announced its intentions to pursue the case in courts outside Ecuador.
Chevron issued a bid to the U.S. Supreme Court in an attempt to impose a world-wide ban on attempts to collect the $19B fine. The Supreme Court denied this bid in October of 2012, to the disappointment of investors looking for some sort of certainty regarding this suit.
The Ecuadorean government has since escalated its enforcement efforts by bringing the case before Brazilian, Argentinian and Canadian courts. An Argentine judge has since ordered all of Chevron's assets be seized and 40% of funds be held in escrow. Investors are anxiously awaiting news as to the progress of the remaining cases, and any other jurisdictions to which Ecuador may mount the case.
This suit will most likely take many years to settle. The case of the Exxon Valdez spill took 20 years to settle. In the Chevron case, with its many layers of foreign jurisdictions and allegations of fraudulent court orders, it is reasonable to assume this will drag on for quite some time. The suit creates an uncertainty that will continue to weigh on the share price, and a continuing cost on Chevron's part for mounting the defense.
Chevron will certainly not settle anywhere near $18bn. Chevron has mounted an impressive defense, and is fiercely pursuing the allegations in every jurisdiction in which it is mounted. With the allegations of fraud and the shoddy evidence, it seems unlikely Chevron will be required to pay anywhere near this amount should the case be brought back to the U.S. However, with the mounting pressures on the courts of Brazil and Argentina to support what the public view as a fight of helpless indigenous people against an evil corporate machine, Chevron may stand to lose assets and be forced to withdraw operations from those countries.
2) Chevron Releases Q3 2012 Earnings
Chevron's Q3 2012 earnings release was not well received by investors. Total earnings for the quarter were $5.3B compared to $7.2B in Q2 2012 and EPS for the quarter amounted to $2.69 with an annualized return on capital of 17.4%. Upstream (exploration and production, 28% of 2011 revenue) earnings declined $481M due to lower production and foreign exchange effects. Downstream (refining, marketing and transportation, 72% of 2011 revenue) earnings declined $1,192M due to fluctuations in inventory values with the dropping crude prices, lower volumes and lower margins.
Management highlighted the fact that the comparative quarters Q2 2012 and Q3 2011 were both exceptionally high earnings releases fueled by high oil prices and exceptional production results. Finally, Chevron also announced that it had completed a share repurchase of $1.25B and that it expects to repurchase the same amount in Q4.
3) Acquisitions And Development Projects
During the Q3 2012 earnings release, Chevron updated investors on the progress of its expansions and acquisitions, as well as divestitures. Chevron left eight countries in the Caribbean, sold off downstream refining plants, and is looking through bids for its assets in Egypt and Pakistan. These operations were for the purpose of simplifying the operations and focusing on higher margin upstream activities.
Chevron reinforced this with a high level of operations in Liquefied Natural Gas (LNG) in Australia, and a continued expansion in the U.S., including the Permian Basin and the Gulf of Mexico. An announcement in November that BP (NYSE:BP) would be temporarily banned from bidding on U.S. contracts was a good sign for Chevron, which followed with a successful bid on a tract in the Gulf of Mexico. Following the earnings release, Chevron further announced an acquisition of a LNG stake in Western Canada, and two successful discoveries offshore of Australia.
Chevrons 2013 Capital and Exploratory budget was recently announced to be $36.7B. With this budget, Chevron further reinforced its focus towards the upstream projects, to which $33B is earmarked. This will fund projects including the LNG exploration and development in Australia and Angola/Congo.
This announcement, coupled with the recent progress announcements of its current exploration projects, signal Chevron's confidence in its future prospects, and a more focused future movement towards higher margin upstream projects.
4. Lawsuit In Brazil
Chevron's operations in the Frade field consist of a 52% ownership in a deepwater well northeast of Rio de Janeiro in Brazil, producing 80K BOD and 34M CF of Natural Gas per day. This operation made news in November of 2011 when a seep was found to have leaked 3,600 barrels into the ocean. The Brazilian government responded with the imprisonment of 17 of Chevron's and Transocean's (NYSE:RIG) employees and a $20 B USD fine.
For comparison, the tragedies of the Exxon (NYSE:XOM) Valdez and BP's Deepwater Horizon resulted in 750K and 5M barrels of oil spilled, respectively. What seems to be a relatively minor spill has resulted in a large headache for Chevron. In December, Chevron announced that it would be willing to pay up to $144 M to settle the case, less than 1% of the potential amount dictated by Brazil.
Chevron currently has a strong involvement in Brazil, and is playing a strong role in Brazil's goal of balanced oil imports and exports. Such a ruling, coupled with its involvement in the Ecuador suit, could cost Chevron a valuable partner and detract other sources of foreign investment. Investors patiently await Brazil's reaction to this offer, in the hope of some certainty among Chevron's big legal troubles.
5. Refinery In Richmond, CA
Chevron's refinery in Richmond, California caught fire in August 2012. This event put the operations of the 245K BPD refinery on hold, and opened Chevron up to more legal problems as it was sued for gross negligence on practices that led to the fire, which released pollutants into the air of the nearby town of Richmond. Chevron has since been sued by over 20K individuals claiming damages for respiratory problems and illness since the fire
In December, Chevron announced it had obtained the required permits to continue the refinery operations, and announced it expects the refinery to be operational in the first quarter of 2013. Investors reacted quite negatively to the news of the refinery fire, although its operations represent a small part of Chevron's grand total capacity. News that the refinery is operational once again will likely be well received.
Conclusion - Where To Go From Here
Chevron's third quarter earnings release painted a poorer profitability compared to the record breaking prior quarter. What remains, though, is a picture of strong core operations with reductions in volume accounting for only a portion of the loss of profit, and foreign exchange fluctuations and oil prices accounting for the rest. Furthermore, Chevron's acquisitions and expansions in the LNG field and the operations in the U.S. are promising, and show a clear vision of focused expansions on higher margin work by the company.
On the other hand, Chevron faces myriad legal issues, which will continue to drag on into 2013. These issues impact an investor's return through both settlement claims and the related legal and professional fees. Chevron is and will continue to fight the suits in the many jurisdictions in which they are mounted for quite some time. None of these legal issues are sufficient to pose a going concern problem for Chevron, therefore, optimistic investors with a long horizon should profit from this situation by finding a discounted entry point when bad news comes out.
However, at its current price hovering around $110 and a P/E around 9, Chevron is not sufficiently discounted to warrant a purchase. For investors looking to establish a position in this company, I would suggest delaying a purchase until the fiscal cliff buzz fades, while keeping in mind the impact of the nearest earnings release scheduled for February 1, 2013 and any news releases concerning the legal suits.
Disclosure: I am long CVX, BP. I wrote this article myself, and it expresses my own opinions. I am not receiving compensation for it (other than from Seeking Alpha). I have no business relationship with any company whose stock is mentioned in this article.