Warren Buffett, Chairman and CEO of Berkshire Hathaway (NYSE:BRK.B), widely considered to be the greatest long-term investor in recent history, has said:
It's far better to buy a wonderful company at a fair price than a fair company at a wonderful price.
Chubb Corp (NYSE:CB), one of the world's leading property and casualty insurers, fits this criteria and stands out as a high-quality investment that belongs in any long-term investor's portfolio.
1882: Thomas Chubb and his son Percy open their marine underwriting business under the name Chubb & Son in the seaport district of New York City.
1923: Chubb opens its first branch in Chicago.
1957: Chubb acquires the Colonial Life Insurance Company of America.
1967: The company forms The Chubb Corporation to act as a holding company for Chubb & Son and other subsidies.
1978: Chubb forms Chubb Life Insurance Company of America.
1984: The Chubb Corporation lists on the NYSE.
The charts below also serve as evidence of the caliber company that CB is.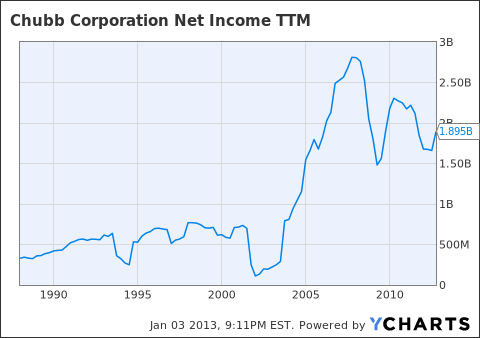 CB Net Income TTM data by YCharts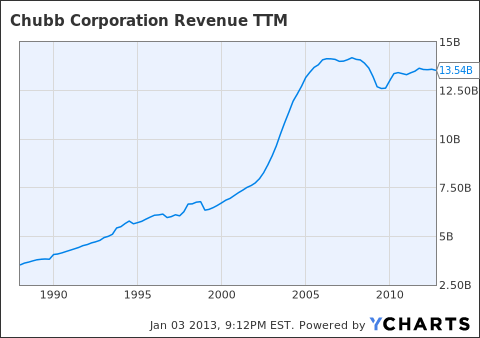 CB Revenue TTM data by YCharts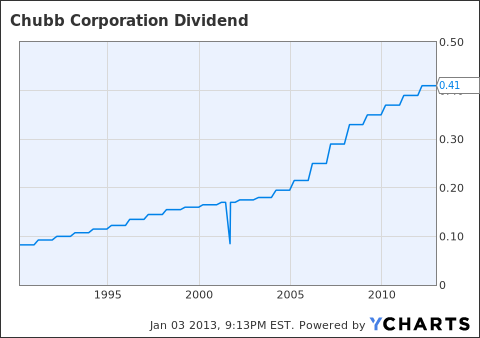 CB Dividend data by YCharts
Chubb Is More Expensive Than Peers
As shown by the chart below, CB trades at a significant premium to other comparable insurance companies such as AIG (NYSE:AIG), The Hartford Financial Services Group (NYSE:HIG), Lincoln National Corp. (NYSE:LNC), Travelers Companies Inc. (NYSE:TRV), and ACE Limited (NYSE:ACE).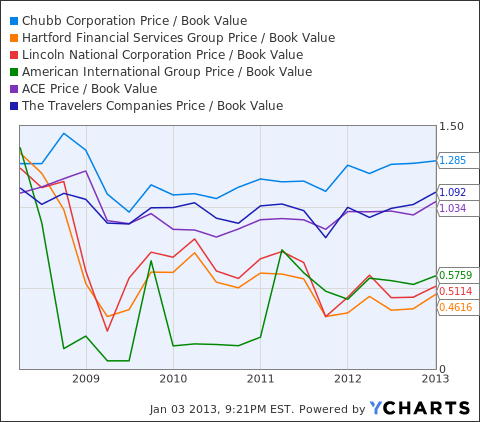 Why Chubb Trades At A Premium?
CB trades at a premium to its peers because it is a higher quality company. A good example of this is the fact that during the financial crisis in 2008, CB was never forced to take government money. The same cannot be said for many other insurance companies. Notably, AIG, Hartford, and Lincoln National all received massive government funding under the TARP program.
Valuation
While it can be argued that CB is expensive relative to its peers, CB is not overvalued based on its own historical valuations. Certainly, at more than 1.28 times book value, CB is not cheap. However, in the past, CB has traded at nearly 1.5 times book value. At current prices, CB is trading at a fair price.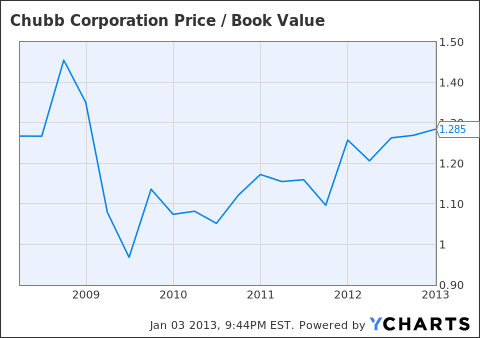 CB Price / Book Value data by YCharts
Did Buffett Consider Buying Chubb?
Rumors have surfaced that Warren Buffett considered buying CB but walked away from the deal. Of course, these are just rumors and nothing has been confirmed. However, it would make sense that CB was a target for Buffett given the company's size and reputation as a quality company. That being said, assuming Buffett did consider buying CB, it would make sense that, given CB's "fair" valuation, the sticking point was price. For Berkshire to buy CB, a hefty premium would likely be needed. The price that Berkshire would have ended up paying would have been expensive and Buffett would have been buying a wonderful company at an expensive price, not a fair price.
Conclusion
For those looking for a short-term trade, CB is not the ideal trading vehicle. Instead, for a trade, as I recently discussed, I would buy Hartford Financial Services. On the other hand, for long-term investors CB is the name to own. Despite trading at a relatively high valuation, I feel that, given its history, CB is a wonderful company that deserves its premium valuation.
Disclosure: I have no positions in any stocks mentioned, and no plans to initiate any positions within the next 72 hours. I wrote this article myself, and it expresses my own opinions. I am not receiving compensation for it (other than from Seeking Alpha). I have no business relationship with any company whose stock is mentioned in this article.