A few weeks ago, I read an excellent overview on "What is Wrong With Oneok Partners?" (NYSE:OKS) from fellow SA contributor Stone Fox Capital. While I agreed with many of the points made, I felt that some of the strengths of Oneok were underplayed.
After having a breakthrough year in 2011, Oneok's stock price stagnated in 2012. For 2011, Oneok saw its stock surge 45%. However, in 2012, Oneok actually experienced a decline of 6%, from $57.50 to $54.00. Even so, owners of Oneok stock during this time frame would have still outperformed the S&P, with Oneok's stock rising 35% and the S&P only gaining 12%. Please note that this chart does not include the 2013 YTD gain of 5%.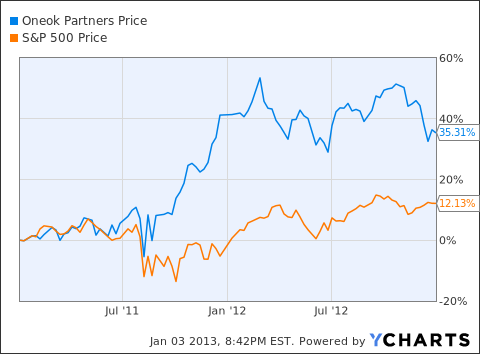 Another issue I felt that was underplayed in the other article was distribution growth for Oneok. During 2011 and 2012, Oneok has increased its distribution every quarter a few cents. Distribution growth has actually accelerated in 2012 while the stock price stagnated. Since 2011, Oneok has increased its distribution by 20%.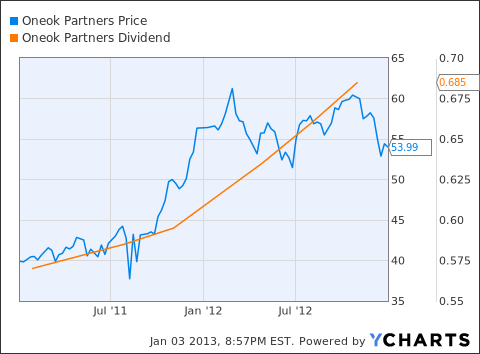 Indeed, Oneok has plans to increase its annual distribution 10-15% through 2015. Average annual EBITDA is expected to grow by 17-21% through 2015. Oneok is projected to increase its distribution $0.02 per quarter for 2013.
The previous article also seemed to dwell on the decision not to proceed with the Bakken Crude Express Pipeline. while this is clearly a setback for Oneok, the company still has many more capital investments to deliver growth. Oneok has announced $4.2 to $4.8 billion in growth projects through 2014. These projects include $2.1 to $2.4 billion related to the Bakken Shale, $1.5 to $1.8 billion in NGL infrastructure, and $615 to $635 million in the Cana-Woodford and Granite Wash areas. Oneok also has a $2 billion-plus backlog of announced growth projects, relating to natural gas and NGL infrastructure.
Oneok is also growing its fee-based earnings. Fee-based margins are expected to increase in 2013. Capital investments will provide predominantly fee-based earnings growth. 65% of 2013 margins are expected to be fee-based. Oneok does have some commodity price risk, primarily from natural gas gathering and processing. However, it has protected itself somewhat for price fluctuations in 2013, with 80% of natural gas, 70% of natural gas condensates, and 2% of NGL in hedged positions as of Sept. 30, 2012.
Another way to invest and benefit from these increasing distributions is via the general partner: Oneok Inc. (NYSE:OKE). Oneok Inc. owns 43.4% of Oneok Partners. Each $0.01 per unit distribution increase provides $12.5 million in incremental annual distributions to Oneok Inc. Oneok Partners and Oneok Inc. have closely aligned interests, as growth projects are expected to drive continued distribution growth. Two-thirds of every incremental Oneok Partners' EBITDA dollar in 2012 flows to Oneok Inc. in cash as distributions increase. Oneok Inc. currently offers a 3% dividend yield and is expected to grow its dividend to 60-70% of recurring earnings.
Conclusion
Oneok Partners offers a compelling combination of both yield and growth. While its 2012 share price performance was disappointing, I expect shares to perform much better in 2013 as expectations are much lowered.
Disclosure: I have no positions in any stocks mentioned, but may initiate a long position in OKE over the next 72 hours. I wrote this article myself, and it expresses my own opinions. I am not receiving compensation for it (other than from Seeking Alpha). I have no business relationship with any company whose stock is mentioned in this article.