In my last post on Herbalife (NYSE:HLF), I demonstrated how knowing the endgame on the bear raid against the company brings much more clarity to the options trading behind the stock. At the time, I used the evidence to justify shorting puts in addition to holding fast to my shares even in the face of the intense selling pressure.
Since then, bullish momentum has erased three of the four sharp down days that were first triggered by Bill Ackman's announcement about his massive short position and imminent presentation to explain the bear case. This reversal was punctuated by Chapman Capital's Robert Chapman revelations on January 3rd that he bought HLF on the cheap to trade directly against Ackman.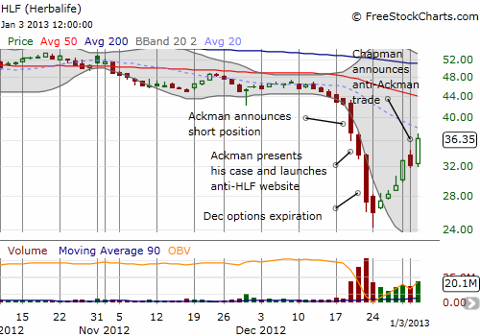 HLF quickly reverses much of previous bearish momentum
Source: FreeStockCharts.com
Herb Greenberg of CNBC got the interview with Chapman on Thursday, January 3rd. Greenberg next discussed his interview with the CNBC crew.
While Greenberg is a skeptic of Chapman's trading thesis and a skeptic of HLF, I am fascinated by Chapman's approach. Just as Ackman saw an opportunity to go after a company vulnerable to his charges and media hype, Chapman now sees an opportunity to do the same to Ackman. So far, it is succeeding.
On December 29th, Chapman wrote a letter to his investors titled "Herbalife: Why I Made It a 35% Position after the Bill Ackman Bear Raid" (Greenberg linked to it in his article on CNBC). I highly recommend you read it before you consider trying to ride the coattails of either Ackman or Chapman. Chapman matches Ackman's brilliance here. Ackman used a massive presentation and a massive short position to convince traders and investors of his authority and the validity of his bearishness. Chapman is simply providing a strong source of doubt on the Ackman thesis. Chapman did not need to produce 300 pages of evidence, just a few pages throwing reasonable doubt into the mix.
Just as Ackman has made the HLF short his biggest bullish position, Chapman has made HLF the biggest position in his portfolio (according to Greenberg, Chapman said this is his biggest position ever). The doubt Chapman creates should be at least enough to finish reversing the Ackman-inspired selling. From there, it is anyone's guess. (The benefit of selling puts that are now well out-of-the-money is that I do not need to care as much about the stock's daily movements).
I will not review Ackman's rebuttal, especially since HLF will provide its own next week. Instead, I am more focused on Chapman's valuation estimation and price targets. Chapman claims that given the fundamentals of HLF, analyst price targets from $65 to $101 are "not absurd" if the "Ackman-induced cloud" is lifted. Chapman's own price target is lower at $47/share. Chapman calculates an expected value based on a 10% chance HLF gets driven to $17/share from an FTC ruling that changes HLF business practices, and a 90% chance of a $50 price based on his valuation model.
Chapman says he will not be surprised to see HLF trade back into the $70s if a short squeeze unfolds, assuming HLF's billion dollar buyback is accretive to earnings per share, and the FTC risk fades away. He adds that if regulators and distributors completely blow off Ackman's claims, Chapman thinks $100 is not "far-fetched."
Chapman provides a primer on short-selling describing how Ackman has put his fund at serious risk with the tremendous size of his position. He also describes how a forced short squeeze can ignite. Most interesting, Chapman concludes that Ackman already knows the FTC will not be convinced to shut down HLF and instead Ackman launched an intense media campaign to dissuade new distributors and to motivate defections from HLF. In other words, HLF will go to zero not because the FTC will shut the business down, but instead because the business dries up thanks to Ackman convincing distributors to abandon HLF.
At the time the Chapman news hit the wires, HLF looked ready to continue the previous day's selling. The intraday reversal was swift and sharp. The day closed with a flurry of activity in the options pit. Here are the highlights I have picked up from the options trading in HLF (ratios use all available strikes since the trading in HLF has been extremely volatile; all data from Etrade.com):
Weekly Jan04 open put/call ratio vs volume put/call ratio: 1.0 vs. 0.50
Weekly Jan11 volume put/call ratio: 0.48 (these weeklies were just issued)
Jan19 open put/call ratio vs volume put/call ratio: 1.5 vs. 0.82
Feb16 open put/call ratio vs volume put/call ratio: 1.4 vs. 0.91
May18 open put/call ratio vs volume put/call ratio: 1.2 vs .3.9
What sticks out of course is that the daily trading was much more bullish than open interest except for the May expiration. The May $22.5 puts traded 10,126 contracts versus 20,047 open interest. The bulk of the open interest on these puts was established back on December 21st, the expiration of December options. It would seem that bears rolled over positions from that day except that those puts were quite expensive at the time. They ranged in price from $2.40 to $5.70 that day with a close of $5.30. On January 3rd, those puts closed at $1.60.
For more clues, I looked at the May calls. There is a seeming offset to the puts at the $35 strike. Sure enough, the bulk of the 17,921 contracts open at that strike were traded on December 21st. The range on that day was $5.00 to $3.30 with a $3.70 close. These calls closed on January 3rd at $6.30 with only 871 of these contracts trading.
As I mentioned in the last post, the trading in options past December was much more ambivalent than the extremely bearish trading going into Ackman's presentation. It was as if traders were preparing for a high likelihood of a bounce. So, my best guess is that at the December expiration, some of the intrepid traders who seem to have learned about Ackman's coming revelations converted some of their profits into buying a May strangle (calls and puts with same expiration month but different strikes). This could be a great way to play the house's money on a bet that HLF will continue to swing wildly but without betting specifically on the direction. The swell in puts traded may represent a hedge on the large profits now earned in the calls while staying open to even greater upside should the Chapman-induced momentum continue.
The very bullish trading in options expiring next week is quite telling. It suggests that the overwhelming expectation is that Chapman will prove correct in his claim that HLF's management will pick Ackman's bearish case to shreds on January 10th. If that is true, HLF could soar yet again. In fact, it is highly likely HLF will continue soaring right into the presentation much like HLF sold off into and after Ackman's presentation.
There is one final options trade of note. The February $50 calls saw volume of 5,204 contracts versus open interest of 5,151. Readers of my last post may recall that I pointed out how the bulk of that position was established just ahead of HLF's November sell-off. I guessed that these calls were sold by traders and/or concerned investors. Thursday's sudden surge in volume is intriguing, and I will be looking to see whether the volume gets converted into open interest tomorrow. If so, at the low (closing) price of $0.50, the trade represents a big swing for the fences. However, if Chapman is correct (or more accurately, WINS), these calls could regain value quite quickly from here.
Overall, the generally bullish tone in the options trading continues the very steep downward trend in the open interest put/call ratio that began after Ackman's presentation. On December 20th, this ratio sat at 2.30 and on December 24th it dropped 27% to 1.69. It is now at 1.44.
HLF has now turned into an epic battle of giants. It will be difficult for most investors to persist through the coming volatility and roller coaster headlines, but it will provide fertile ground for trading. Traders should note well that HLF has unfolded quite like the trade in Monster Beverages Corporation (NASDAQ:MNST). There I also recommended selling puts after the bearish news was revealed that explained the massive surge of put activity in October of last year (my last piece on this trade was "Monster Spike On Mild FDA Letter Setup By Previous Fear-Based Trading"). In fact, this trading could be so classic, I will outline it in bulletpoint as a template:
Intrepid traders learn of a big, imminent bearish event - in MNST's case it was the news of the company getting implicated in a girl's death after drinking a MNST energy drink.
Accumulate large put positions in advance of the news.
Sell the puts into the selling driven by the first news report before any counteracting news nullifies the market's emotional, trigger-happy reaction.
Cooler heads note the setup and buy shares, sell puts, and/or buy calls to play the near inevitable bounce after sellers are shaken out. These cooler heads note that the puts were bought to profit from an episode, not a process.
Any positive news provides an additional kicker and motivation to stay in the trade for a while longer. In MNST's case it was an FDA letter to a Congressman that suggested that MNST was not likely liable.
What made the put trading in HLF episodic? Most importantly, traders bought December puts and did not bet on HLF going to zero over the "long term" that will be required to get FTC action. Moreover, the ramp up in shares short that confirmed "something" was going on occurred after most of these puts were purchased (not to mention public notification of these trades takes 3-4 weeks after the reported settlement date). The latest update on shares short was released a few days ago ending at the December 14th settlement date. The data show that shares short soared another 5.2M shares in the first two weeks of December. That followed a 22% surge in short interest the prior two weeks. This seems to confirm that Ackman built a large portion of his massive short position in the weeks leading into his media blitz against HLF.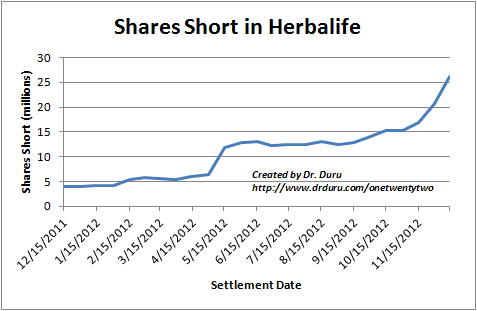 Shares short against HLF soared 72% in the six weeks through December 14, 2012
Source: NASDAQ.com
Be careful out there!
Disclosure: I am long HLF. I wrote this article myself, and it expresses my own opinions. I am not receiving compensation for it (other than from Seeking Alpha). I have no business relationship with any company whose stock is mentioned in this article.
Additional disclosure: I am also short HLF puts.