On Thursday, shares of Cisco Systems (NASDAQ:CSCO) were trading at levels not seen since early April 2012. Cisco shares have rallied strongly since the company's first quarter earnings report in mid-November. While the company did beat revenue and earnings expectations and issued decent guidance, the stock is up more than 22% since then. In my opinion, the recent rally doesn't match current expectations, so investors might want to take another look at Cisco.
Are estimates really coming down?
Prior to Cisco reporting its first quarter, analysts were expecting $48.63 billion in revenues for this fiscal year, ending in July 2013, and $51.42 billion for the following fiscal year, ending in July 2014.
For the fiscal first quarter, Cisco reported Q1 revenues of $11.876 billion, which beat the average analyst expectation for $11.77 billion. Earnings per share (non-GAAP) came in at $0.48, beating by two pennies. When you look at Cisco estimates on Yahoo! Finance, those are analysts using non-GAAP numbers.
So Cisco beat by $0.106 billion in revenues, or $106 million. You would think that estimates for the fiscal year would rise by that much, or maybe more, given the beat. Well, you would be wrong. Since then, analysts have only come up to $48.71 billion, a rise of $80 million. That essentially means that by bumping up the fiscal year number by the amount of the Q1 beat, the rest of year numbers have come down slightly. But it gets worse in a sense. Since the Q1 report, estimates for fiscal Q2, which ends in January, have come up from $12.02 billion to $12.06 billion. That means that the rest of year estimates have come down even more.
Additionally, when you look forward to the following fiscal year, estimates have legitimately come down. On November 13th, the analyst average was for $51.42 billion in yearly revenues. Currently, those estimates stand at just $51.37 billion.
One thing that could impact Cisco's revenue growth is the potential sale of its Linksys division. As the Bloomberg article states, Cisco is likely to fetch a much lower amount for the division than the $500 million it spent in 2013. That's because it is a mature consumer business with low margins. The article reiterates the fact that Cisco is looking to move from consumer based businesses to more corporate type stuff. Barclays will be advising Cisco, and they also are working to advise Google (NASDAQ:GOOG) on its pending sale of Motorola Home to Arris (NASDAQ:ARRS). If Cisco does complete a sale, it probably will make up for those lost revenues by using the money to make another acquisition. Cisco has never been shy when it comes to acquisitions.
The John Chambers saga:
There have been many out there that have been critical of CEO John Chambers for some time now. Chambers has been at the helm of Cisco since January 1995, which is quite a long time. Over the past five years, Cisco shares are down 20%. Not only would you have done better with your money under a mattress, but the PowerShares QQQ (NASDAQ:QQQ), which tracks the NASDAQ 100, is up about 37% over that time. Obviously, there are other names that would have performed even better over that time, like Apple (NASDAQ:AAPL).
As Cisco shares have lagged over time, there have been some calling for Chambers' head for many years now. Chambers does expect to step down from his position over the next couple of years. That was a bit more evident by his recent announcement that he was selling about one third of his shares. Investors may be a little uneasy about him selling shares, but shares have risen since the announcement. Many investors may have missed that news, which came a bit under the radar on Christmas Eve.
But here's my question for those that don't like Chambers. Do you really want to see him go? He has led this company for nearly two decades, so his replacement will have a lot to prove. We've recently seen some investors frown over big tech CEO changes, including Bill Gates leaving Microsoft (NASDAQ:MSFT), and the unfortunate passing of Steve Jobs, which passed Apple's reins over to Tim Cook. We even saw Intel (NASDAQ:INTC) shares take a hit recently when CEO Paul Otellini announced he will step down in a few months.
The buyback and dividend, then and now:
Cisco's buyback has been a bit of contention for some over time, as Cisco has spent billions, but investors don't feel like they are seeing any progress. The past two quarters, Cisco has done well, buying back shares at prices well below where we are now. The following chart shows the average repurchase price by quarter over the past 8 fiscal quarters. As a point of reference, the last quarter on this chart, Q1 of 2013, is the quarter that ended in October of 2012.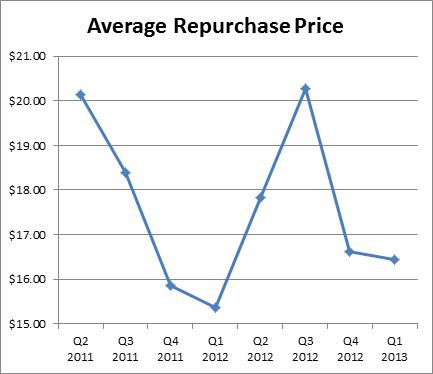 So what's my point on the buyback? Well, the average buyback prices the last two quarters were about $16.50. The stock is now about $4.00 above that level. Cisco won't be buying back as many shares at these prices, and that is something to consider. If they don't buy back as many shares, not only does the share count not go down, but it could start rising again, and either way, it hurts earnings per share.
The second issue, and this is one investors looking to enter the name are concerned with, is the dividend. Cisco currently pays $0.14 per quarter, or $0.56 per year. So the following table shows what the yield is, based on the stock price.

With the recent $4.00 rally in Cisco shares, investors now looking to enter are yielding about 50 basis points or so less, in addition to missing the more than 20% rally.
With Cisco not being a high growth company, investors are really looking for some kind of value. With the dividend coming down from 3.35% to about 2.75%, and the potential for a slower buyback at higher prices, the value just doesn't seem to be there.
Final Thoughts / Recommendations:
For those that don't believe in where this stock is due to the recent rally, shorting the stock is always an option. Shorting is always risky though, and is not suitable for all investors. This article is considered a "short idea", because I am recommending Cisco as a short candidate on the huge rally. Now, that does not mean I am recommending investors go out and short Cisco right away. What that does mean is that given the recent rally, investors might find that the price is too high and that a short position might work for a quick trade.
The second possibility is that you already own shares of Cisco, and maybe you bought before the most recent rally. In that case, you could definitely take some profits. I would never tell someone that taking profits is a bad idea. For those that want to protect some of these profits without selling, you could consider a variety of options strategies, based on whether you like calls or puts.
For those that don't have a position but want to buy Cisco now, I did recommend in my last article waiting for a pullback. I'm still advising that currently. Cisco shares have rallied even further now, and at some point a pullback is inevitable. For these investors, a covered call strategy may prove to be valuable, which would give investors some income to offset a fall in the stock.
Cisco shares have rallied more than 22% since their latest earnings report, and I think that the stock has become a bit stretched. We haven't seen a lot of information to make this stock a screaming buy, and with a lower dividend and perhaps slower buyback, the value isn't completely there either. When it comes to Cisco, investors have plenty of options, but they all depend on your view and what your current position may or may not be.
Disclosure: I have no positions in any stocks mentioned, and no plans to initiate any positions within the next 72 hours. I wrote this article myself, and it expresses my own opinions. I am not receiving compensation for it (other than from Seeking Alpha). I have no business relationship with any company whose stock is mentioned in this article.
Additional disclosure: Author has no positions in any stocks directly mentioned, but has a position in SOXS, a 3 times levered ETF geared at shorting the semiconductor space, of which some names are found in the QQQ ETF. Author will update position status in the comments section. Investors are always reminded that before making any investment, you should do your own proper due diligence on any name directly or indirectly mentioned in this article. Investors should also consider seeking advice from a broker or financial adviser before making any investment decisions. Any material in this article should be considered general information, and not relied on as a formal investment recommendation.