"Remember, the storm is a good opportunity for the pine and the cypress to show their strength and their stability." - Ho Chi Minh
Markets closed out 2012 and started 2013 nicely as incompetence in Washington some how led to a Fiscal Cliff deal that averted large-scale tax increases. There is much talk about how the payroll tax break's end will cause consumers to compensate by decreasing spending, which in turn would be a net negative for the economy. If this were the case, presumably it would be consumer discretionary stocks, and more importantly Retailers, which would underperform broader market averages.
This does appear to be happening, but not in a severe way. Take a look below at the price ratio of the SPDR S&P Retail ETF (NYSEARCA:XRT) relative to the S&P 500 (NYSEARCA:SPY). As a reminder, a rising price ratio means the numerator/XRT is outperforming (up more/down less) the denominator/SPY.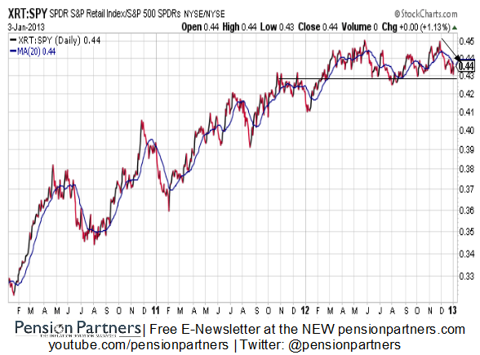 Note that the peak in the ratio occurred at the very start of January as negotiations began on the Fiscal Cliff, and that the level at which the ratio peaked was the same level hit right before the May mini-correction of 2012. A downtrend has since taken place, but the magnitude of weakness is not all that much. If anything, the relationship of Retailers to the S&P 500 may be nearing a support line which could result in some stabilization.
After massive outperformance in the industry group over the last several years, I suspect there are many other better areas of the investable landscape to put money to work, but for now at least the market is not as worried about higher taxes on the consumer as one might think listening to the media. From a pure price perspective, unless Retailers break through resistance meaningfully, I don't think it's worth playing the industry on the long side. However, a bet against the group might work nicely in the next risk-off period. Our ATAC models used for managing our mutual fund and separate accounts are not signaling such a juncture in the very near-term, but the group remains one to watch on the next downturn.
Disclosure: I have no positions in any stocks mentioned, and no plans to initiate any positions within the next 72 hours. I wrote this article myself, and it expresses my own opinions. I am not receiving compensation for it (other than from Seeking Alpha). I have no business relationship with any company whose stock is mentioned in this article.
Additional disclosure: This writing is for informational purposes only and does not constitute an offer to sell, a solicitation to buy, or a recommendation regarding any securities transaction, or as an offer to provide advisory or other services by Pension Partners, LLC in any jurisdiction in which such offer, solicitation, purchase or sale would be unlawful under the securities laws of such jurisdiction. The information contained in this writing should not be construed as financial or investment advice on any subject matter. Pension Partners, LLC expressly disclaims all liability in respect to actions taken based on any or all of the information on this writing.