Credit Suisse (NYSE:CS) analyst Achal Sultania upgraded Alcatel-Lucent (ALU) to a neutral from under-perform on Thursday, citing:
Although we expect the company to burn cash in 2013/2014 starting to generate cash in 2015, we still believe that it will be able to maintain gross cash of 4 billion Euros this year, 3.3 billion next year and 2.3 billion in 2015, thereby creating a viable business entity long term.
But that's not all. According to the fool.com, UBS (NYSE:UBS) also upgraded the stock to neutral. Now that's two upgrades in one day by two major brokerage houses.
I don't know about you, but I think this is a big pat on the back for the stock considering that a few months ago this stock was left for dead with no possibility of recovery.
I am sure other firms will also follow Credit Suisse and UBS's call, for none wants to be left behind in the ratings race.
But these two firms are not the only ones who have upgraded the stock. Please note that on December 27 Craig Hallum, in a note to investors, raised their price target on shares of Alcatel-Lucent from $1.50 to $2.50. Evercore Partners initiated coverage on shares of Alcatel Lucent in a research note to investors on Monday, December 17th. Finally, French financial firm Natixis upgraded shares of Alcatel Lucent from a neutral rating to a buy rating in a research note to investors, also on Monday, December 17th.
A few weeks ago, in an article I wrote on the company (please consider: Alcatel-Lucent Solves Liquidity Issues - Should Dissolve Bankruptcy Fears), I pointed out that with the financing facility by Goldman Sachs (NYSE:GS) and Credit Suisse in place, liquidity issues as well as bankruptcy concerns are off the table and as such the stock was a first class buying opportunity.
In another article I wrote even before that (please consider:Alcatel-Lucent: An Asset Based Opportunity), I said the company did not really need all that much cash, and I have been amazed at the number of analysts that thought Alcatel-Lucent might actually go out of business.
In any case, the important thing is that the stock is now on analysts radar screens and I think it will get more attention as time passes, especially if its good performance (fundamental and technical) continues. The more analysts involved means more attention and more attention will probably lead to higher prices.
Finally while I initiated coverage of Alcatel-Lucent more as a speculative play, it is now a turn around play.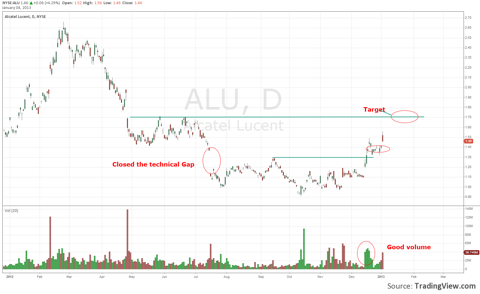 On a technical note, the stock was up as much as 10% yesterday before it reversed a little to closed with 4.29% gains at $1.46.
Nothing has changed since the last time we talked about the stock. Our technical target for the stock of $1,70 is on track and If I may say so, we will probably reach it sooner than I actually thought.
Once that is solidified and if the news continues to be good, we will talk about the next technical target of $2.70.
Disclosure: I have no positions in any stocks mentioned, and no plans to initiate any positions within the next 72 hours. I wrote this article myself, and it expresses my own opinions. I am not receiving compensation for it (other than from Seeking Alpha). I have no business relationship with any company whose stock is mentioned in this article.