Without a doubt we all know that one of the most popular New Year resolutions has to be getting on some kind of weight-loss program, whether it's exercise or dieting to lose those dreaded holiday pounds gained over Thanksgiving, Christmas and New Year's holiday season. Of course, obesity drugs are for seriously overweight patients (some life threatening) and not for people who want to lose 5 lbs. of holiday weight gain.
So, how do we take advantage of this as an investor?
One way is to invest in undervalued Vivus (NASDAQ:VVUS) stock by understanding some of the upcoming catalysts.
Upcoming Catalysts:
1) Vivus will present at the 31st Annual JP Morgan JHealthcare Conference on January 7, 2013. The presentation will take place at the Westin St. Francis Hotel in San Francisco, CA on Monday, January 7, 2013 at 2:30 p.m. PST. During this event the company will be expected to inform the institutions about more of their goals and strategy moving after the New Year. Last year a few weeks following the conference JPM raised their target from $13 to $30 after the company's positive vote by the FDA to approve Qsymia. I suspect that the CEO will discuss the facts that getting an obesity drug from the approval process to the end user is not an easy task. The company must break down many barriers between the patients who need the drug and how to get it to them. Also, after more clarity about the sales efforts, prescription process and mail -order process improvements and doctor education about the sales process that may be announced at the conference it is entirely possible that another upgrade could give the shares another boost.
2) In an interview this week with the company's CEO, Leland Wilson, he agreed with me that there was a lot of misinformation circulating around about the sales launch, online prescription acceptance and sales stats relating to their new obesity drug. Most notably, the confusion seems to be related to the launch and recent progress relating to the number of accurate scripts written and IMS audits (the measure of national prescription activity) regarding Qsymia drug sales and their mail order prescription process. The CEO feels that there are many exciting developments occurring with this company and will be available online to investors following the conference on January 7. They they have a blockbuster drug and I have been lead to believe that any scripts confusion that may have caused the fall in the stock from higher levels in 2012 will get cleared up very soon.
3) QVT hedge fund, one of their largest institutional holders, which owns an 8.3 percent equity stake in Vivus, said after meeting in November 2012 that it has called for a sale of the company and also proposed getting a seat on the company's board. They are putting pressure on management to perform. Speculation suggests that Pfizer (NYSE:PFE) could be a possible suitor.
So, Is There Any Real Upside Here?
Yes, absolutely. As I suggested in a prior article when the stock was at the $10 level, this is still an oversold investment opportunity. People are more health and weight conscious in the first few months of the year which generally leads to an increase in sales of weight-loss programs, diets, etc... more than any other time of the year. Also, if we look at the chart we see that the price is slightly over pre-FDA approval on their obesity prescription drug Qsymia. Vivus should continue to rise on coverage by company's like Express Scripts (NASDAQ:ESRX) too. Express Scripts as you know is the nation's largest benefits manager for prescriptions. Aetna (NYSE:AET) is already on board too. The bottom line, is that the stock in a buyout situation could bring $30. OK, let's discount that to $20. Remember the 2012 YTD highs were in the $30's. With it's current price of $13.10 this morning there is no question in my mind that this stock is undervalued or currently on sale. We all like sales don't we? Sure we do. The chart even suggests a bullish cup and handle chart pattern for you technicians.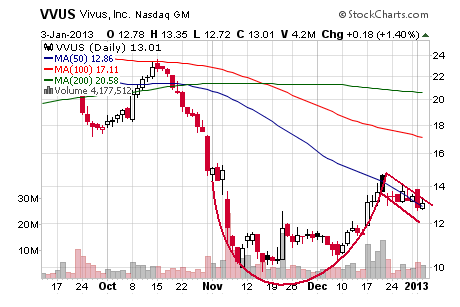 Disclosure: I am long VVUS. I wrote this article myself, and it expresses my own opinions. I am not receiving compensation for it (other than from Seeking Alpha). I have no business relationship with any company whose stock is mentioned in this article.