Auto parts retailers may be the most staid and unexciting of businesses, but there are powerful trends in place that should keep sales growth running high: (From my Oct. 31 discussion of O'Reilly's earnings):
While the auto industry propells itself into the abyss, the parts retailers like AutoZone (NYSE:AZO) and O'Reilly Automotive (NASDAQ:ORLY) are seeing their value proposition become more relevant in the marketplace. As credit remains tight and new car sales plummet, more and more people are putting off major purchases in favor of repair and/or band-aid projects for their cars.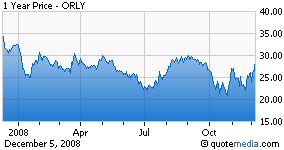 As I look over the group now, O'Reilly continues to have the most catalysts for growth as the company integrates a large acquisition (CSK Auto (CAO)) that was a perfect fit geographically. While O'Reilly has continuously run a tight ship, CSK had much worse operating metrics when the purchase was made. Now ORLY execs are tediously exporting its culture to the CSK stores, which has allowed O'Reilly to post comps & forward estimates above that of AutoZone (AZO) and Advance Auto Parts (NYSE:AAP).
Secular Trends in Place?
On more than a few occasions, I looked for room in the Secular Trends Portfolio to slide in some ORLY shares, but with no more than 1% cash available, I couldn't quite commit to selling an existing holding to make room. It would have made a fine addition, as in the past two months ORLY shares have outperformed both their competitors (24% compared to AAP, 12% to AZO) and the broad market by nearly 30%.
I also question how long the catalyst of weak new auto sales will last. Remember, true secular trends are those than can exist for five years, 10 years, & upwards. In the longer term, I worry about the ability of retailers like ORLY, AZO, and AAP to keep up with a rapidly diversifying set of car models, engine types, and fuel systems.
Having said that, ORLY continues to look like a compelling two to three year holding, and should I choose to reduce some other holdings, ORLY would be at the top of a short list of replacement candidates. They've been guiding towards comps of 2% - 3% going forward, but I think they will be able to deliver 5% - 7% in 2009, which combined with improved operating income should drive serious EPS growth in coming quarters.
Disclosure: Author does not hold positions in the companies mentioned.