In this article, we primarily aim to analyze the impact of recent touch-enabled ARM versions of Windows 8 (known as Windows RT) on Microsoft (NASDAQ:MSFT). The Surface RT, as the first implementation, is by far the most innovative tablet of 2012. We will explain why we think sales numbers will matter eventually, but not for the reasons of direct profits. In particular, we will consider Google (NASDAQ:GOOG) and, to a lesser extent, Apple (NASDAQ:AAPL) as competitors while ignoring the potential impact on Intel (NASDAQ:INTC), since we covered that for the most part previously. With the Surface on version one, Microsoft is unlikely to unseat the competition. Nonetheless, at a future point, the potential for taking share from the iPad is definitely there.
Here we will concentrate on Microsoft's product positioning and what it can mean long term, an area that others have not fully explored. We say this as investors and as Surface owners, Microsoft is much more than meets the consumer's eye. Our intention is to compare Microsoft as a business to its innovative little device: not good enough may be the case now, but the profit opportunity is in Bing. Thus, although for now Ashraf Eassa is right that Surface sales don't matter, in the long term they can matter, precisely because of Bing. In any case, the naysayers are too quick to condemn the lower-than-expected sales volume last quarter when it was only available from Microsoft.com.
The Surface RT Is Innovative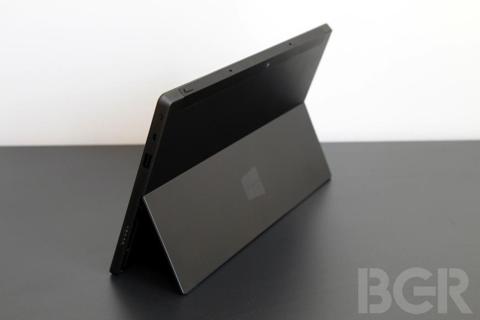 The innovative built-in vapour magnesium kickstand.
A Historical Perspective -- Does the OS Matter?
Some people think Microsoft is in this game just to have Windows everywhere, a bit like Google with Android and Chrome. That is not the case. The common denominator of all of Microsoft's successful endeavors have been related to providing a useful service or tool for Corporate IT departments; it was never solely about perfect execution, or the perfect device design like Apple, or getting Internet Explorer everywhere. In the late 1980s success with DOS and the IBM Personal Computer (PC), allowed Microsoft to enter adjacent opportunities in Word Processing and other Office productivity businesses.
Today, Microsoft Office is the most profitable product, while it was not so in the 80s and early 90s. People forget Microsoft did not invent a successful word processor or spreadsheet until after the likes of WordPerfect and Lotus 123 had taken the lion's share. Same thing happened with Internet Explorer vs. Netscape. Why do people say Microsoft has missed the mobile boat? Historically, they have always missed the boat and yet they always bring more innovative products that take back share when Microsoft deems it profitable. It is almost like Microsoft's unwritten business strategy. In the past few years many people are claiming Google's online apps (e.g., Docs) will do the same thing to Microsoft. However, we are doubtful since Google is consumer not corporate-driven; consumers are where Google makes greater than 95% of its profits. The reverse is not true, Microsoft makes as much if not more from corporations than from consumers (or advertising).
In other words, Windows is not Microsoft. Sometimes potential investors get tripped up by this fact. From Visual Basic to Visual Studio, Microsoft has an expanded portfolio of software and business solutions, which have transformed a fragmented software market into a large supportable and private IT ecosystem. This cash flow generating ecosystem was then used to enter adjacent corporate business opportunities where there is a competitive advantage. Microsoft generally followed in Bill Gates footsteps; he used the Harvard computers to provide corporate solutions. Thus, Microsoft has been geared toward supporting corporate IT first, and consumers second. The development of Windows CE (Consumer Electronics) in the late 90s, though never profitable, led to large scale consumer product developments in the form of a games section (Xbox, Kinect, etc.), a mobile section (Windows Mobile then Windows Phone) and a tablet OS (Windows RT).
Microsoft's specialty is the software ecosystem and developer support, and operating systems are just one part. Therefore, the success or failure of Windows RT should be viewed in the light of how it supports the ecosystem. Even the Office group, without any operating system, contains an ecosystem: VBA and related tools and APIs. Many trading desks have solutions relying on Excel and VBA, thus moving to Google Apps is not a viable proposition. Microsoft is smarter than people imagine.
Microsoft's Surface -- Google Has Noticed
In mobile and tablet computing there are hidden aspects to Microsoft's motivations; it is no longer OS dominance, otherwise why would Microsoft continue to cede share, over the years, when it created the first smartphone OS? (PocketPC Phone 2002). The reason was they could not see how it could be profitable; at that time smartphones were too limited preventing widespread adoption. Recently Apple has lead and shown Microsoft there is much profit to be made if you address the user's needs. It is thus no accident that Microsoft has now seriously re-entered the corporate mobile management software and the Phone OS business (via Intune and WP8). Intune is now tightly integrated with internal and external mobile operating systems to allow secure management of mobile devices in a distributed fashion.
Soon you may see DoD officials carrying devices like the Surface RT because they just signed such a long-term contract with Microsoft. Technically, we can clearly see the underlying infrastructure in Windows RT is ready for the corporate market; multiple user support and network login are built in, unlike the iPad. In some ways, you can view the advantages and disadvantages of the Surface RT as a microcosm of the road ahead for Microsoft. Google agrees with us, since they are intentionally hampering Microsoft's mobile attempts. Google is cutting off push mail support for Microsoft in Gmail and limiting aspects of YouTube for Windows Phone. We think these moves are strategic, but for the savvy investor they highlight the opportunity in Microsoft. In time, Microsoft will surely implement a workaround. So why is Google seeing Microsoft's mobile platforms, with their diminutive market share, as a threat?
Profitability and Investment Returns
Microsoft's margins on the Surface are right now greater than Apple's margins on the iPad; it can leave the uninitiated to believe that is how Microsoft plans to make money. We believe that is not the case. The reason the Surface is relatively pricey is to prevent initial competition with the OEMs, and not to make a quick buck. We predict this will change during the course of the year as prices drop, which means Microsoft could start to subsidize OEM partners and thus sacrificing some revenue. If you look at the past decade, like this SeekingAlpha article, investment returns for shareholders has been above inflation and Certificate of Deposit bank rates. For a tech stock like Microsoft this is not good enough.
However, Microsoft is well known not to plan for the short term just like it did with more than half a decade of losses on the Xbox. A lot of those investments will soon be paying dividends. Microsoft's plans are usually for the long term. Since Microsoft is already at a relatively depressed P/E ratio, the capital gain prospects look a lot better than competing companies. A current 2012 P/E ratio of 14.44 changes to 10.2 if you exclude one off items, while a forward P/E of 8.57 when readjusted for balance sheet cash results in a lower than 7 P/E ratio (source as of Jan. 2). That is cheaper than Apple for such a long growing software giant. Things may yet turn for the better in 2013 if you invest in Microsoft at the right price now.
Microsoft has five main revenue streams of which the Surface is a small part of just one group:
Entertainment and Devices Division (EDD) -- Xbox, Kinect, Zune, Surface
Windows and Windows Live Division -- Includes Windows Phone and Metro
Server and Tools --- Windows Server, SQL Server, etc.
Microsoft Business Division (MBD) -- VBA, Microsoft Office, etc.
Online Services Division (OSD) -- Bing, SkyDrive, MSN, App Store to name a few; Cloud Services
Yet the Surface is important in other ways not revenue wise. Both the Entertainment and Devices Division and Online Services are currently not very profitable relative to the overall company. EDD (Xbox) is marginally profitable, while OSD is loss making. So what could the master plan be?
Surface RT Sales
Previously, we had estimated Windows RT's impact to Intel and AMD (NASDAQ:AMD) using a projected sales of 20m RT units for this year. Last quarter's expectation of only 1-2m with some saying under 1m sold, could mean that we overestimated the initial sales volume for the Surface RT. In the short term, under the new lower sales expectation, with less than 2m Surfaces sold in 2012, it could result in less market share pressure than we assumed for x86 manufacturers. At $150-200 profit per device, Microsoft's take on the Surface RT could be between $200m to $500m FCF per quarter; nothing earth shattering for Microsoft but not trivial either.
We do not think 20m Windows RT units sold this year is unrealistic. The reason we hold this assessment is that production is now again ramping up for the Surface RT as expansion is seen in retail and other manufacturers bring to market good products like the Lenovo Yoga. Analysts are too quick to judge the lack of sales based on the product's exclusive availability at Microsoft.com and Microsoft stores; such people show a total misunderstanding of retail and the strategic position of Windows RT in Microsoft's arsenal. The lack of Surface sales can be explained by a question: When was the last time you visited Microsoft.com to purchase any product or a relatively rare Microsoft store? Selling up to 2 million units on a site that is not usually used by people to buy anything other than software upgrades is not the way to judge a products market success. Since the release of Surface RT into the retail channel, it is now ranking in the top five laptop best sellers on Amazon (NASDAQ:AMZN) this year (U.K.). Amazon users have overwhelmingly given the Surface positive reviews; more so than many Android tablets.
Microsoft's CEO (Steve Ballmer) has suggested the Pro version will sell better. Personally, I do not see why the Pro version will sell better, because if you really want a Surface Pro, with thicker layout, and smaller battery life, aren't you really looking for a laptop or an ultrabook? A tablet will never be as good as a laptop at the same price point due to the extra costs.
Surface Strengths and Weaknesses
The Surface is weak in initiating the normal people who are not tech savvy. For example, if you left the Surface in the hands of someone like my mother, she would have returned it or simply left it unused. It felt too complicated for her at first look, as it is gesture-heavy, requiring a few hours of learning. Once past this learning curve, Microsoft's Metro interface is actually very productive and useful. Rather than being a product fault, it is the fault of a lack of functional and user friendly wizards when Windows RT is booted. I spent two hours tutoring her (I hope Microsoft is reading this) and Googling/Binging various tasks like importing contacts from Yahoo into her Windows RT Mail app.
Finally, I managed to achieve the requirement via the roundabout method of exporting the Yahoo contacts to CSV, importing them in Gmail, and then importing them into her Hotmail Live account. Direct import from Yahoo is currently unsupported. The moral of the story is, Microsoft makes wonderfully innovative products but they are clumsy in execution and training. Not every mom and pop who buys a Surface has a son with the time and training that is necessary to get them up to speed. You could put this down to Microsoft's innovation is tied with complexity syndrome. A syndrome that has hampered its otherwise phenomenal growth. However, this is not insurmountable. She now loves her Surface.
Our view of Windows RT is positive if we consider that this is V1.0 of Microsoft in tablets. Word version 1.0 was not very good but it did not hamper Microsoft's continued ability to compete and take over WordPerfect. The Surface RT, certainly does address the needs of the casual PC User as the above example illustrated. In our opinion, limited sales is due to limited exposure, plus limited training and usability; it is not really because people are waiting for the Surface Pro. Here is the summary of the strengths and weaknesses.
The Strengths
Unique cool look
Solid battery life
Supports some Flash sites
Multi-User Support -- Ideal as the family sofa computer
Rock solid vapourmag built in stand - feels better than iPad
Free Microsoft Office 2013 -- No need for a separate licence
Productive Metro Interface -- Consistent look and feel (W8)
Fast for basic tasks
Doubles as Xbox controller -- Smartglass technology
Multitasking -- Two apps can be on screen simultaneously
Mail client supports Gmail, Yahoo out of box
Expandable storage via Micro SD slot
Easy to program using Visual Studio
Full USB port to connect external devices
The Weaknesses
Not enough apps
Editing more natural with keyboard than touch interface
Incompatible with Windows Phone 8 Apps
HD Video Playback is not always smooth -- Uses limited Flash, No HLS support yet in Windows RT.
Too much updating like a PC -- You turn on the Surface and it updates and reboots without asking.
Slower than Windows 8 on Intel or AMD (Pentium or higher)
Office 2013 for ARM Lacks VBA and Macro support.
Internet Explorer 10 is the only choice for browsing
These drawbacks combined with a price nearly as much as an equivalent iPad, makes the Surface less of a success than it could otherwise be; this we predict will change during the course of the year. The only critical drawback of the Surface RT and other Windows RT devices from Asus, Acer, Lenovo and Dell, is the lack of applications and not backward incompatibility. In the days of the Internet, this incompatibility with previous software, again is overplayed and the lack of applications will soon be resolved due to the phenomenal speed of Windows Store expansion. AnandTech wrote in its lengthy Surface review: "…it's a platform I can believe in. What I'm most excited about is to see what happens after a second or third rev of the design."
When we did an informal survey, three-fourths of the public in the shopping mall were not aware of the Surface while 100% were aware of the iPad. In John Lewis (U.K.) department stores, where the Surface debuted recently, sales reps reported strong consumer interest in the product, second only to the iPad. In our view the market is there and so the product will beat sales expectations eventually.
Microsoft's Motive Under the Surface
Mobile computing and in particular the smartphone/tablet ARM market, appears to not have much profit for Microsoft. Microsoft is reportedly licensing Windows Phone for $5-$15 per device and up to $85 for Windows RT and $150 for Surface. A quick calculation, even with the dreamiest projections taking a big market share for mobile portables by selling 50m units could result in only $1 billion additional revenue. This is not enough for Microsoft. What is Ballmer playing at? According to Nomura, Microsoft will have 15% of the tablet market. Does 15% of tablet sales justify all the research and cost that went into Microsoft's mobile platforms? By itself probably not.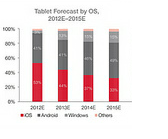 Look carefully at the table below; you may see the strategic significance of the new mobile platforms.
Search Engine Market Share (source) -- December, 2012
Windows 7+8

Windows RT

+Phone

All OS

MSFT:

Bing(9.3%) + Yahoo(4%)market share = 13.3%

47.23% Bing Yahoo2.9% = 50.13%

Bing (4.7%), Yahoo(8.16%) =12.86%

Google: 84.57%

46.91%

83.24%
Yahoo is included in Bing results as Yahoo search is powered by Bing.
Microsoft Bing's search share, on the new tablets (50+ percent), is much higher than on other computers. Simply put, if you consider that the EU competition authorities have given Microsoft a pass on restricting search and browser competition on Windows mobile platforms (Phone and RT) then the motivations become transparent. Microsoft needs 30% search share, in major markets, to make Bing profitable, at least according to a Microsoft exec. Thus, having up to 50% share of Windows RT search is certainly not a bad start. In time Bing could subsidize Windows RT.
If these numbers hold out, a 15% tablet share gain by Microsoft by 2015 would result in more than 7% growth in Bing market share. This can tip the balance, as search dominance is not all about better results, rather it is about habit too. We agree with this analysis; sometimes people use Google even if it provides weaker results. Can this be changed?
"Bing has a new weapon in this battle, however. Last year, Microsoft launched Windows Phone 7. Initial sales of the devices that run this platform weren't too mind-blowing. Now, as you may have read, Microsoft has entered a strategic partnership with Nokia which will see its phone OS being used across Nokia devices. And guess what -- Bing will also be used across these devices as the default search." -- WebProNews 2012.
In other words, we hypothesize that Microsoft see's Bing as central to future profits while direct revenue from Surface is not central to the plan. That's why Windows RT prices will drop and quality will rise, just remember that we told you this first. Already the lengths Microsoft is going for Bing promotion is telling. Bing and Bing Maps recently won the rights to track Santa replacing Google, by making an agreement with NORAD, a military defence organization. For background information check that article. Certainly an interesting marketing strategy for Bing.
Conclusion
Despite the Surface RT being a good product, directly peddling consumer electronics is not significant to Microsoft's current revenue nor to its profit in the immediate future. Here, we argued with evidence, that internet search has been the elusive market for Microsoft, and the Surface RT along with Windows Phone may yet be Microsoft's boomerang. They can be marketed to claw enough share to make Bing profitable, and Google has already noticed this. In the next half decade, we would expect Microsoft to significantly beat the market if it manages to capture at least 20% of the worldwide search audience. This would allow it to provide a good return partly by P/E expansion as it tackles each of the threats and expands in mobile platforms.
In any case, between a bank like return and a growth stock like return, you cannot go wrong by holding Microsoft for the long term with a projected P/E of just above 8 at today's prices. The threats are there, but as history has proven, Microsoft is a force strong enough to stay and many analysts agree. Thus, Microsoft remains a buy in our portfolio with any significant pullback.
Disclosure: I am long MSFT, INTC, AMD, AAPL. I wrote this article myself, and it expresses my own opinions. I am not receiving compensation for it (other than from Seeking Alpha). I have no business relationship with any company whose stock is mentioned in this article.
Disclaimer: As always, be prudent and get financial advice if you are not aware of the risks in investing in algorithmically traded stocks. My investment analysis and views are not endorsed by Technoor Consulting, my current employer. They are my private views. Please contact the company on the linked website in my profile for further information on any quantitative market simulations.