I have been bullish on shares of Qualcomm (NASDAQ:QCOM) for the last six months. The company is an absolute mobile powerhouse and the fundamentals just keep getting better. Record sales, record profits, and a comfortable lead in all things mobile. The management team continues to execute flawlessly, supply constraints at Taiwan Semiconductor (NYSE:TSM) are more or less solved, and patent licensing continues to fund the firm's forays into new areas.
My strategy will be to aggressively buy any significant pullbacks on this giant. Here's why.
Product Leadership
At the most recent analyst day, management presented the following slide: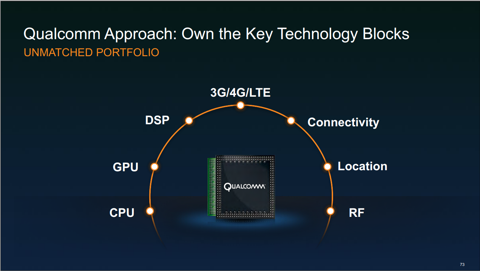 Unlike competitors Intel (NASDAQ:INTC), Samsung, Apple (NASDAQ:AAPL), and Nvidia (NASDAQ:NVDA), Qualcomm owns all of its own IP blocks with respect to smartphone/mobile technology. This gives Qualcomm a number of key advantages:
Flexibility: By owning all of the relevant IP, Qualcomm can custom tailor its silicon to exactly what it wants its product to be and is not reliant upon the design choices that others have made. While the other vendors have some or even most of the pieces, only Qualcomm has all of the blocks today. This advantage will likely persist throughout 2013
Time To Market: By owning everything, time to market is significantly shortened and snags thanks to third party design unavailability (or bugginess) are less likely to occur.
Competitive Advantage: If all of your competitors are all using the same building blocks, then what's to differentiate the products? Qualcomm can potentially target its custom designs at exactly what its customers need, which has ultimately led to better products than the competition
These advantages have indeed manifested themselves today. Almost every modern smartphone today comes packed with Qualcomm's technology. Notable examples include:
Nokia (NYSE:NOK) Lumia 920 (along with every Windows Phone 8 device)
Samsung Galaxy S III
Google (NASDAQ:GOOG) Nexus 4
In addition, it is rumored that Research In Motion's (RIMM) upcoming BlackBerry 10 devices will be powered by Qualcomm's Snapdragon S4.
Now, given Qualcomm's very early lead on 4G technology, it is clearly the "obvious" choice. However, the company does not just hold an advantage on the connectivity side. According to popular smartphone performance tests, the Qualcomm "Krait" and "Adreno" CPU and graphics designs respectively also top the charts when it comes to energy-efficient performance: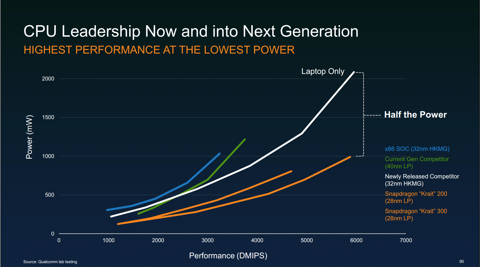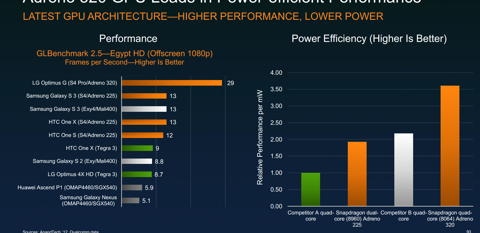 It's clear that Qualcomm has a winning product. However, a business selling ~$20 smartphone system-on-chip products isn't enough to sustain large profit margins. So where does the majority of Qualcomm's profit really come from?
Licensing, Licensing: Where The Real Money Is Made!
I direct your attention to this excerpt from the most recent 10-K:

QCT is where all of the "headline" products are: modems, mobile SoCs, etc. With the vast majority of the apps processor and modem market share, along with sales of quite a bit of infrastructure products, Qualcomm took in $12.1B in sales and generated earnings before taxes of about $2.3B.
But look at QTL. According to the most recent 10-K,
QTL grants licenses or otherwise provides rights to use portions of our intellectual property portfolio, which, among other rights, includes certain patent rights essential to and/or useful in the manufacture and sale of certain wireless products, including, without limitation, products implementing CDMA2000, WCDMA, CDMA TDD (including TD-SCDMA), GSM/GPRS/EDGE and/or OFDMA standards and their derivatives.
So while the headlines focus on apps processors and modems, about 70% of Qualcomm's (fairly substantial) earnings before taxes comes directly from patent licensing. As more and more devices use these wireless technologies (and they certainly will as the world continues to go mobile/wireless), Qualcomm gets more and more fairly easy profit. This profit then goes and funds the development of things such as the mobile SoCs which will help to significantly grow top and bottom line growth over time.
What a beautiful business model indeed!
Solid Growth
Qualcomm has seen very nice growth, largely fueled by a very predictably growing business model. The company smashed revenue and EPS estimates for FY2012 and it guided for quite nice growth for FY2013: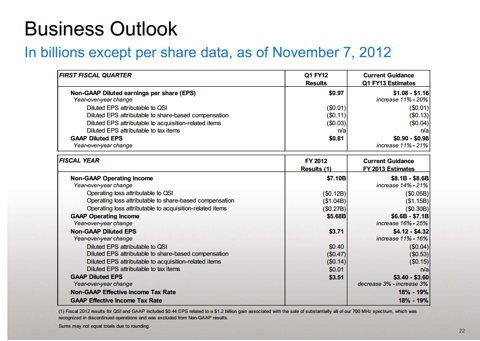 We can see that the company is guiding for 14%-21% increase in sales in the current fiscal year over the last one and a 16%-25% increase in operating income for the next fiscal year. GAAP diluted EPS will actually be pretty much flat due to acquisition related items and share based compensation expenses ratcheting up slightly. However on a non-GAAP basis, EPS is projected to see a nice increase of 11%-16%.
While this isn't explosive growth, it is quite healthy and sustainable.
When To Buy?
Shares at this level offer upside, but not enough of a margin of safety for me to recommend readers to simply "charge in" full force. I do expect CES 2013 to be a positive driver for the stock, especially as management begins to hype up its next-generation "Krait v3" core and next-generation graphics, so there is probably some short-term upside. However, to play it safe, I like an entry at the $60 level as it seems to be a very "safe" entry point from both a technical and a fundamental view.
Longer term, I assume that management can keep to its promise of "double-digit" EPS growth. So in my model I assume a market multiple of ~16x (this is conservative, especially in light of the firm's substantial ~$26B cash position) and EPS growth from the $3.50 level to $4.66 by 2016 (10% CAGR), putting a 2016 target of $75/share.
Worst-case downside risk seems to be to $55/share, although that low was reached on extreme pessimism on wafer supply shortage. Realistically, $60 is likely to be a level of strong support. So from my realistic view, we have a situation of $4/share of downside against $10/share of upside even at current levels.
Personally, I'd sell puts at the desire entry price strike and either collect the premium or take the shares. Wait for a "down" day for this to get better premiums/entry price (the more pessimism, the better). The stock looks a little "toppy" in the near term, so I really do think a little patience will pay off here. I would watch carefully to see if the stock holds support of $61.52 (50-day moving average) and then if it breaks that, support of $60.72 (200-day moving average). Any bounce with conviction (i.e. high volume) would be a pretty good buy signal. Any weakness holding the 200-DMA would require us to revisit the fundamental drivers behind the stock to make sure the thesis is still intact.
Conclusion
When wireless technologies win, Qualcomm wins. Whether directly through sale of semiconductors into devices or from kicking back and collecting royalties on its vast patent portfolio (of course strong R&D funds future patents), Qualcomm will continue to grow in a very predictable and profitable way. I like this stock at $60 for a solid risk/reward profit, although watch for support at the 50-DMA and 200-DMA as outlined above to stalk a nice entry.
Disclosure: I am long INTC, NVDA. I wrote this article myself, and it expresses my own opinions. I am not receiving compensation for it (other than from Seeking Alpha). I have no business relationship with any company whose stock is mentioned in this article.
Additional disclosure: I am short $QCOM $62.50 January 2014 puts and may initiate a long position in the stock over the next 72 hours.