As many investors know, the success of Sirius XM (NASDAQ:SIRI) is closely tied to the auto industry. As new cars are manufactured, many are equipped with satellite radios and come with some sort of free trial to expose consumers to the content offering that Sirius XM has across the dial.
Over the years, Sirius XM has gotten the business of equipping cars with radios down to a science. Essentially the magic number for installations seems to be between 65% and 70% of cars. There is a long history of about 45% of consumers electing to keep the service after the free trial, and the company has initiated a strong used car free trial program to take advantage of the secondary market.
For 2012 we saw auto sales climb an impressive 13% to about 14.5 million units. This has been enough to allow Sirius XM to report what should be nearly 2 million subscriber additions for the year. This is an impressive number and should have investors excited. The biggest question now is what 2013 will offer.
There are varied opinions on auto sales for 2013, but essentially the range is somewhere between 15 million and 15.5 million. What we will see is a slowing of growth in auto sales from 13% to about 7%. If all else remains the same, an additional 500,000 cars sold would deliver 350,000 more satellite radio equipped cars than 2012. Of that 350,000 we could expect 231,000 to be counted as subscribers along the way and about 160,000 to become self paying subscribers. If 2013 deliveries 1 million more new cars sold in 2013 these numbers will double.
Can Sirius XM deliver 2 million subscribers in 2013? That is a very interesting question these days with opposing forces at work. On one hand, we will have higher car sales. On the other hand we have the absolute number represented by churn increasing as well. On the positive side we have a used car program that is seeing a higher percentage of satellite radio equipped cars as each month passes. On the negative side we have challenges in that program that involve litigation. Then we have the new GM deal which throws in its own wrinkle. More on that below.
Breaking this down into components makes the dynamics easier to process.
New Car Sales
Sirius XM garners counted subscribers in a few ways via the auto channel. As stated the company offers free trials to entice consumers. There are paid trials where the auto maker pays for the trial, and unpaid trials where there is no payment. A subscriber is deemed as such if Sirius XM receives money for a subscription. For this reason paid trials are counted as subscribers and unpaid are not.
Taking it a step further, there are subscribers that are counted at the time of production, subscribers that are counted at the time of vehicle sales, and subscribers that are counted only if the consumer elects to become a self-paying customer after the unpaid trial ends. Adding to the confusion is that the churn number reported by Sirius XM is only based on self paying subscribers.
Looking at the sales data for 2012 there were 14,482,072 vehicles sold. If we break these sales down into three categories of "Leading," "Point-Of-Sale" and "Trailing," we can begin to understand the workings.
Leading - A leading car manufacturer is one that supplies a paid promotional subscription at the time a vehicle is produced. A full 100% of these satellite radio equipped cars will be counted as subscribers for at least the promotional period. About 45% will then elect to keep the service and be counted as self-paying subscribers. Those that do not keep the service after the paid promotional period will not be counted in churn. In 2012 this category sold 5,582,112 cars and accounted for 38.54% of the market.
If we assume 65% of these vehicles were equipped with satellite radio, this category delivered 3,628,373 gross subscriber additions in 2012. If we assume that 45% converted then the leading category brought 1,632,768 self paying subscribers to the table prior to churn.
Point-Of-Sale -A point of sale paid promotional subscription is one that starts when a vehicle is sold to the consumer. Every satellite radio equipped new car sold in this category will at some point be included in the subscriber number.
In 2012 the Point-Of-Sale category sold 4,415,593 new car sales. This accounted for 30.49% of the market. Using the same percentages above we can see that 2,870,135 of these cars were counted as subscribers at one point in time. We can also see that 1,291,561 converted to self paying status. Again, those that did not covert are not counted in churn.
Trailing - This category provides unpaid promotional subscriptions. Because of this these radios are not counted as subscribers at production, nor at the point of sale. In fact, these are only counted if the consumer elects to keep the service and become self paying. Those that do not become self paying are not counted in churn.
In 2012 the trailing category delivered 4,484,367 new car sales. This equates to 30.96% of the market. Using the percentages again we can see that 2,914,839 satellite equipped cars rolled on to sales floors and none were counted as subscribers. Of that 2.9 million 1,311,678 will have converted to self paying status and at that point would be counted.
New GM Deal
This is where the new GM deal comes into play. In Q4 of this year GM will shift from the Point-Of-Sale category to the trailing category. This means that we will no longer see 100% of satellite equipped vehicles counted as paid promotional subscribers at some point. Instead, none of the cars will be counted until and unless the consumer elects to become a self-paying subscriber.
In Q4 of 2012 GM sold 628,002 new cars. Using the 65% penetration rate we would have 408,201 subscriptions. If we apply a 6.5% growth factor for 2013, we can anticipate sales in Q4 of 2013 to be at about 662,433 cars with 430,581 being satellite radio equipped.
Under the current deal all of these 430,581 would be counted in the subscriber number. Under the new deal they will not be counted. Thus, we need to consider the very real implication that the gross subscriber additions will be lighter to the tune of 430,00 units in 2013. That is substantial. While the new deal is great for Sirius XM financially because the revenue share has been reduced, the impact will hit the subscriber line in Q4 of 2013.
The big question is whether the 6.5% increase in overall sales and sales in the used car channel will be enough to offset this and allow the company to approach 2 million subscribers in 2013.
Churn
Higher car sales mean more gross additions. More gross additions mean more self-paying subscribers. More self paying subscribers means a higher absolute number when it comes to churn. Essentially even if Sirius XM were to keep the churn percentage the same, the absolute number of those that churn will be higher. See Below:
Let's assume 1,000 self paying subscribers and a churn rate of 1.9%.
1,000 * 1.9% churn = 19 churned each month.
Now let's increase the self paying base to 1,100 but keep churn at 1.9%.
1,100 *1.9% = 21 churned each month.
Essentially the bigger the self-paying subscriber base gets, the more gross additions are needed to offset the bigger absolute churn number.
Summary
2012 will deliver about 2 million subscriber additions for Sirius XM. The common assumption is that if new car sales grow Sirius XM's subscriber number should as well. It is not that simple and the new GM deal will throw a wrench in the works.
If 2013 delivers sales of 15 million we will see 325,000 more satellite radio equipped cars with about 228,000 being definitely counted as subscribers along the way.
Perhaps the best way to look at this is Q3 2011 vs Q3 2012: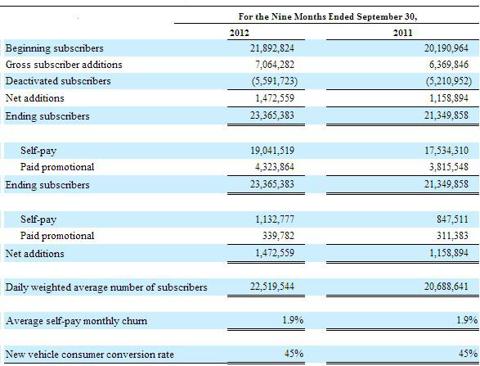 You can see that gross additions has risen by 700.000 units and deactivations by 380,000 units. You can also see that net additions is up by 114,000 units. This transpired with auto sales seeing a 13% increase. This year we are looking at a 6.5% increase.
Essentially what we need to consider is that subscriber growth may only see a modest increase in 2013 at best, and because of the dynamic associated with the GM deal may actually see a decrease. There is nothing wrong with adding 1.8 to 2 million subscribers each year as long as you are anticipating that.
Higher new car sales combined with a better used car market success could offset the bulk of what will be a higher deactivation number. The wild cards are the used car success and the GM deal. I look for Sirius XM to initially guide to a range between 1.6 and 1.8 million net additions in 2013 and now you know why.
Disclosure: I am long SIRI. I wrote this article myself, and it expresses my own opinions. I am not receiving compensation for it (other than from Seeking Alpha). I have no business relationship with any company whose stock is mentioned in this article.