Commodity Chart Of The Day
Natural Gas
(click image to enlarge)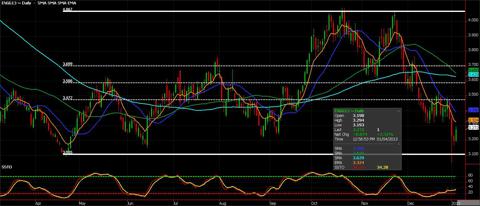 In the last 6 weeks, natural gas prices are down nearly $1 in the futures, which would not be a big deal if we were talking about crude oil, but this actually represents greater than a 20% reduction in prices. To me, this is great news because I think the deprecation represents a grand buying opportunity feeling that prices will snap back in the coming weeks.
I've started to scale into bullish option trades with some of my clients, advising vertical call spreads in April. We are selling (1) closer to the money call and buying multiple out of the money calls. If we get a 25-40 cent pop in the coming weeks as I anticipate, this trade should work out well. While it is never cold in Florida where I reside, if we get a colder than anticipated weather in the Northeast or Midwest, that should be enough to get short covering and a trade back to above the 38.2% Fibonacci level and potentially with buying interest, lift prices back near the 50 and 100 day MAs, just above $3.60 on the chart above.
Risk Disclaimer: The opinions contained herein are for general information only and not tailored to any specific investor's needs or investment goals. Any opinions expressed in this article are as of the date indicated. Trading futures, options, and Forex involves substantial risk of loss and is not suitable for all investors. Past performance is not necessarily indicative of future results.
Disclosure: I have no positions in any stocks mentioned, and no plans to initiate any positions within the next 72 hours. I wrote this article myself, and it expresses my own opinions. I am not receiving compensation for it. I have no business relationship with any company whose stock is mentioned in this article.