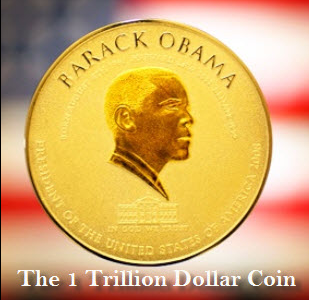 The employment situation was relatively unchanged (155K jobs vs. 155K expected and prior 148K), while the unemployment rate inched higher (7.8% vs. 7.8% expected and prior 7.7%) The underemployment data showed conditions still at 63.6% or 14.4%, that isn't good, frankly. Secretary of Labor Linda Soldis expounded on the data by spinning, "…we created jobs by paying people not to work." This is the kind of Orwellian talk we get from unqualified PC political appointments. (The CNBC interview is here, but you'll have to get beyond 3:00 minutes to catch this.) Some thought an unremarkable employment report had a "goldilocks" feature to it, meaning simply "even tepid news was good" since it wouldn't stimulate the Fed to back off current policies.
But there was some good news from ISM Services, which jumped (56.1 vs. 54.5 expected and prior 54.7). Perhaps this was seasonal hiring and post-Sandy activity. On the other hand, Factory Orders fell (0% vs. .3% expected and prior .8%).
PIMCO's Bill Gross wrote in his monthly letter his gripe about the Fed's free money printing policies. And speaking of the Fed, St Louis Fed President James Bullard suggested the Fed might end QE in 2013. And some more desperate commentators are promoting trillion dollar coins (platinum the current choice) to wipe out our debt. It's quite amusing, but liberal blogs are seriously promoting it.
So Friday's news was Fed-centric as stock prices continued to hold and add to the recent rally. The dollar (NYSEARCA:UUP) rally continued but then eased late, allowing gold (NYSEARCA:GLD) to recapture early losses. Commodity prices (NYSEARCA:DBC) were lower overall. Bonds (NYSEARCA:TLT) managed to eke out a small price gain, but suffered on the week with stocks rising and QE uncertainty.
Stocks were led higher once again by financials (NYSEARCA:XLF) and materials (NYSEARCA:XLB). Financials were pushed higher by Goldman Sachs' positive calls for Citigroup (NYSE:C) and with materials' hopes for a good report from Alcoa (NYSE:AA) on Tuesday. Tech (NASDAQ:QQQ) shares underperformed as Apple (NASDAQ:AAPL) dropped nearly 2.5%, while Microsoft (NASDAQ:MSFT) also saw losses. So rotation within the markets to long-neglected sectors from technology seems the order to start 2013. At the same time, earnings for both tech and financials have been reduced by 10% by S&P Dow Jones Indices.
It's still hard to imagine with taxes hitting 77% of the population, combined with what should be an ugly debt ceiling fight, the economy and markets would do well. But who's to argue with the tape now?
Volume overall was ultra-light once again, but then they don't put this data on your brokerage statement. Breadth per the WSJ was positive.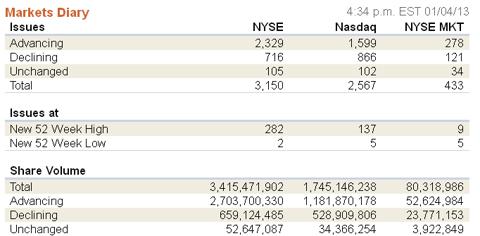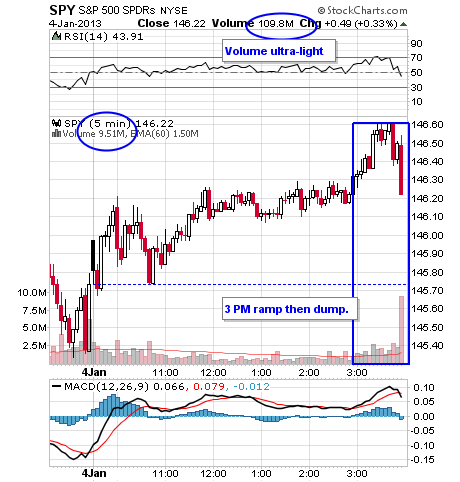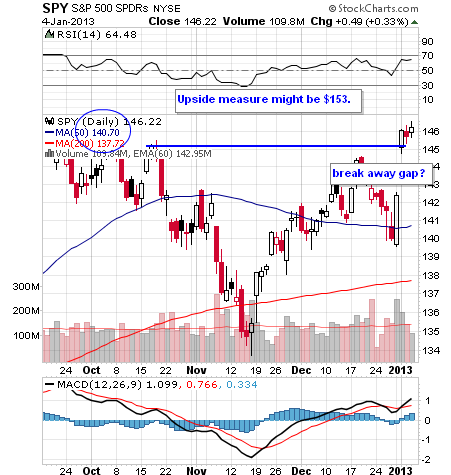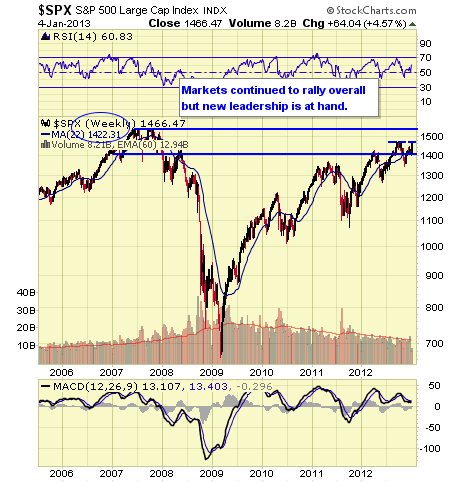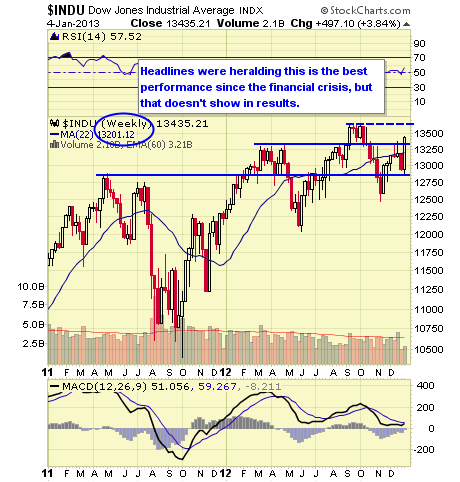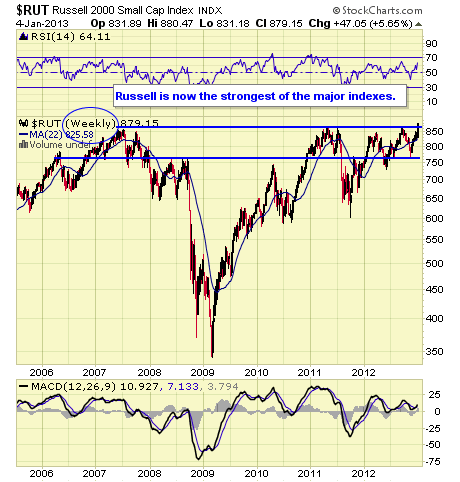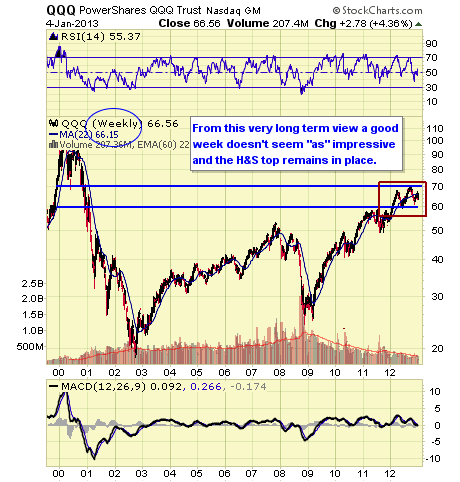 Continue to U.S. Sector, Stocks & Bond ETFs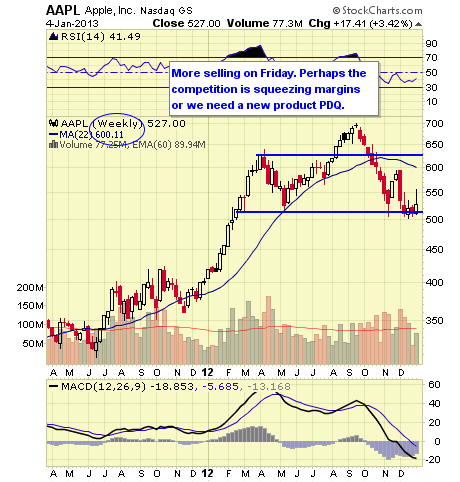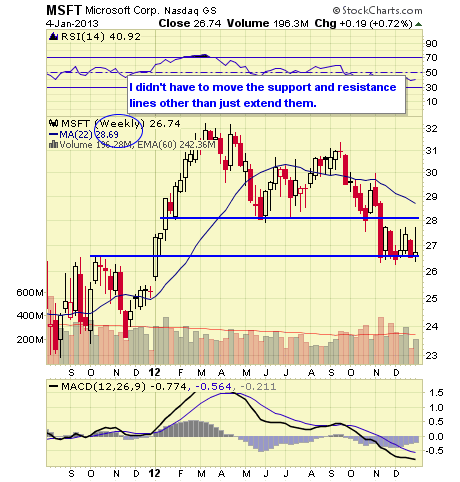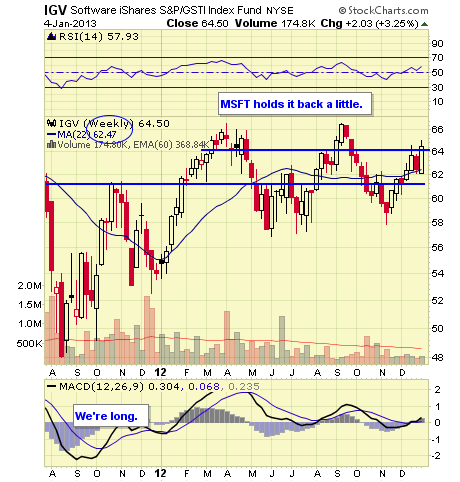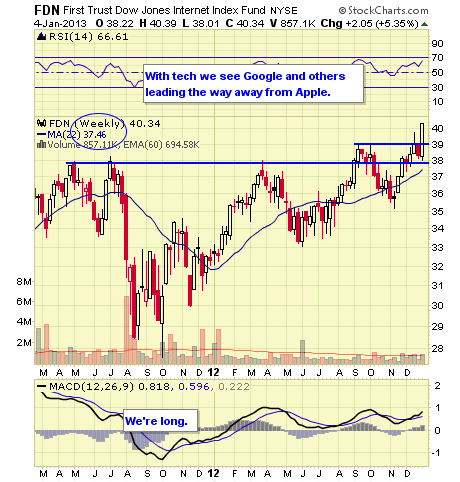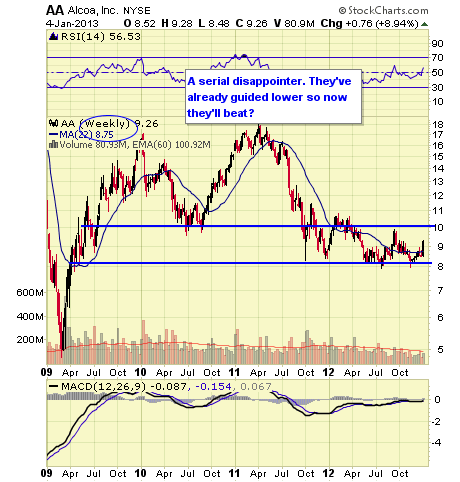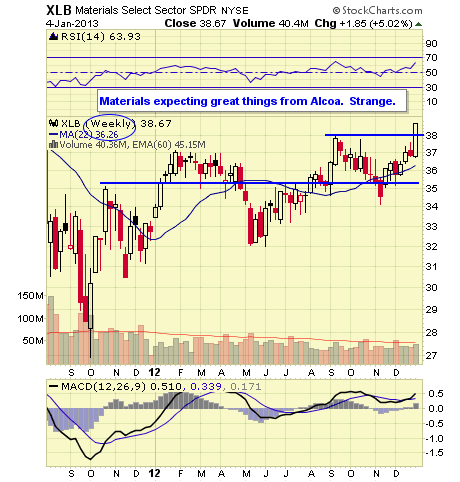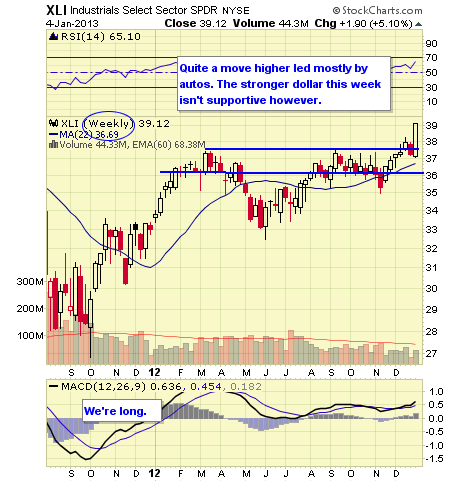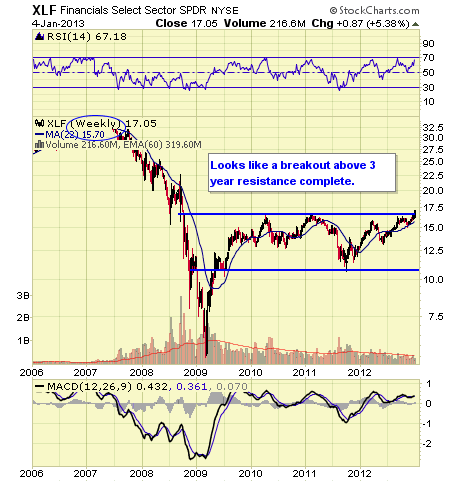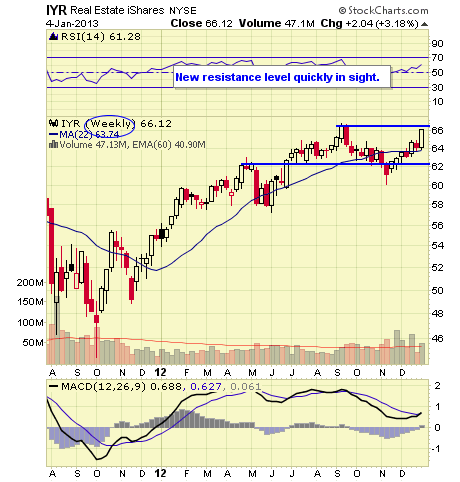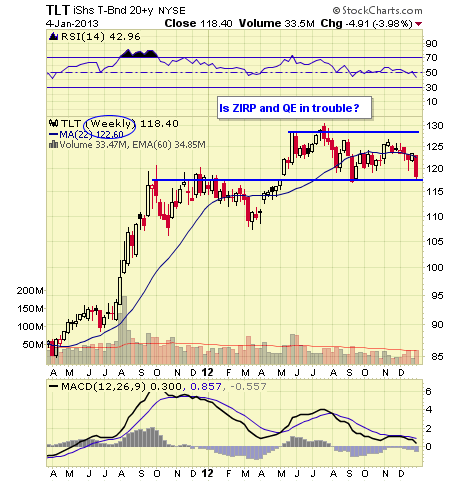 Continue to Currency & Commodity Market ETFs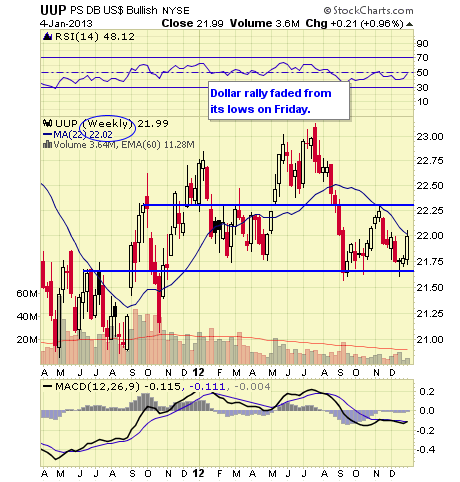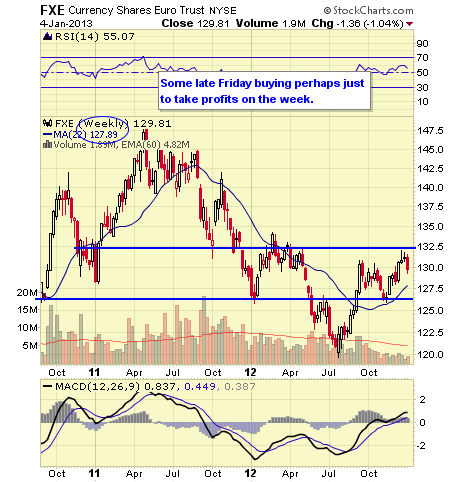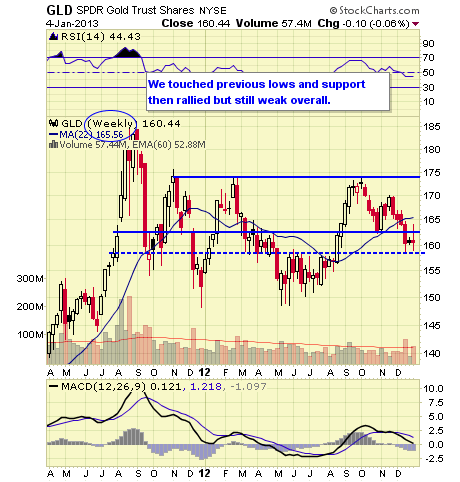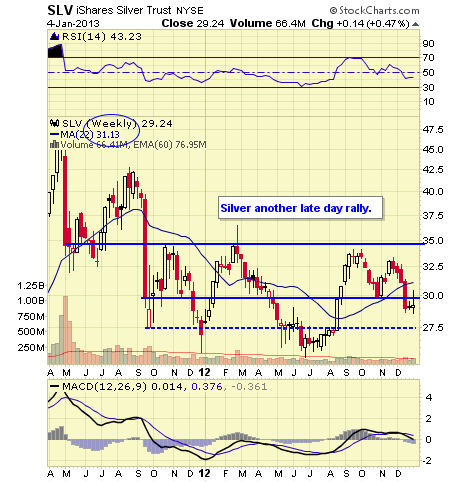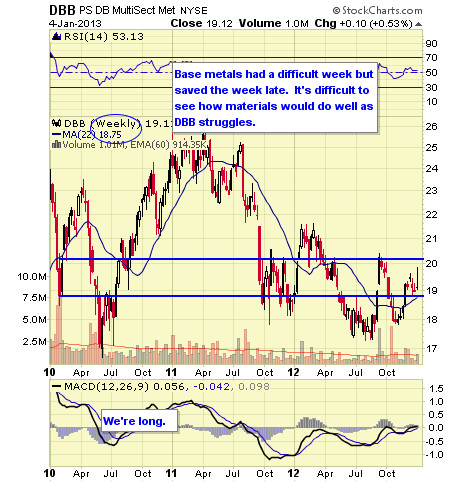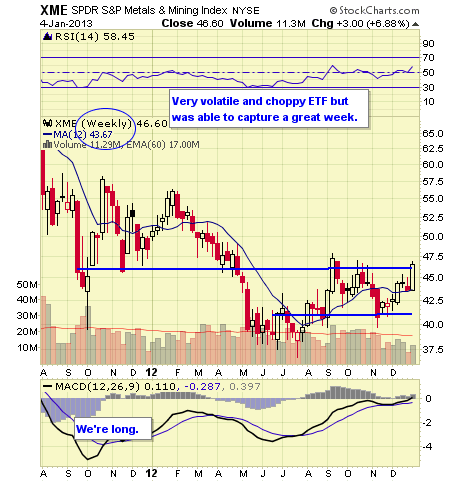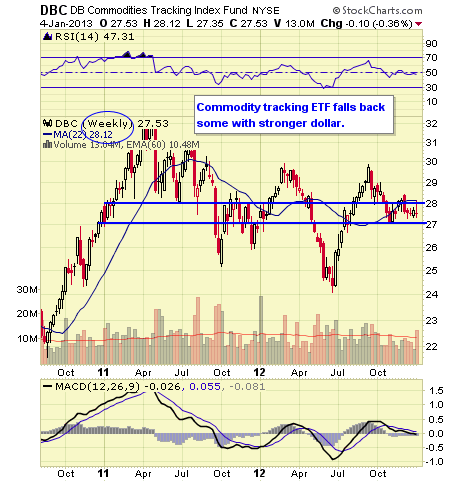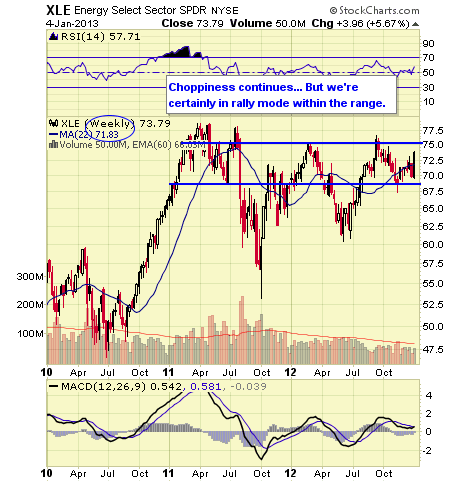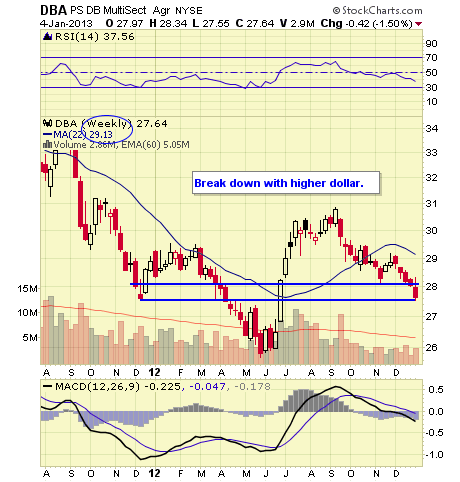 Continue to Overseas Sectors & ETFs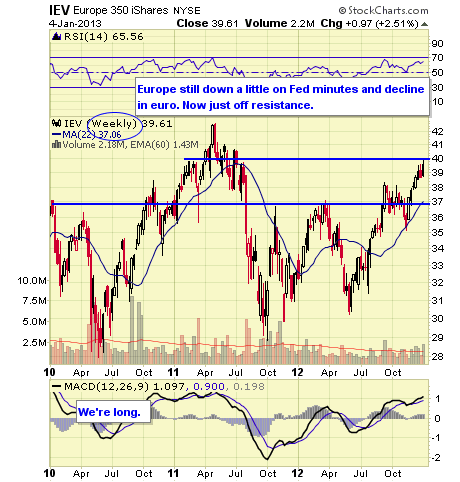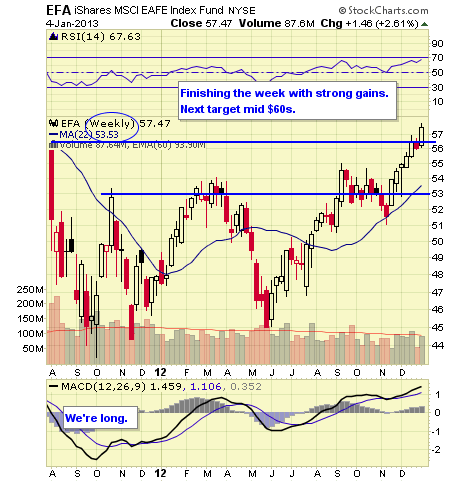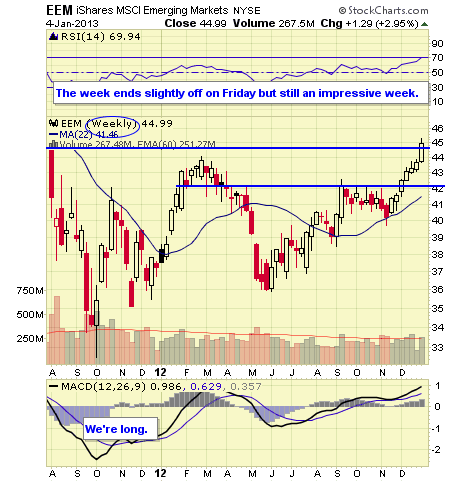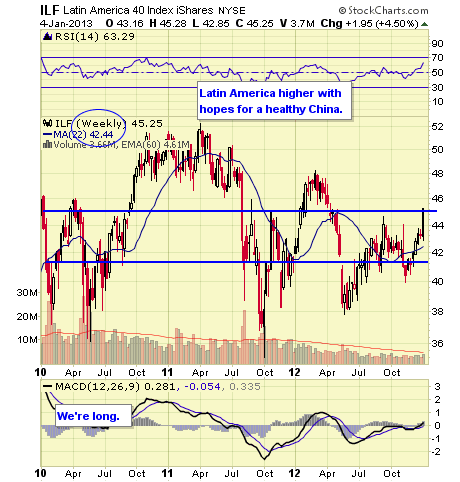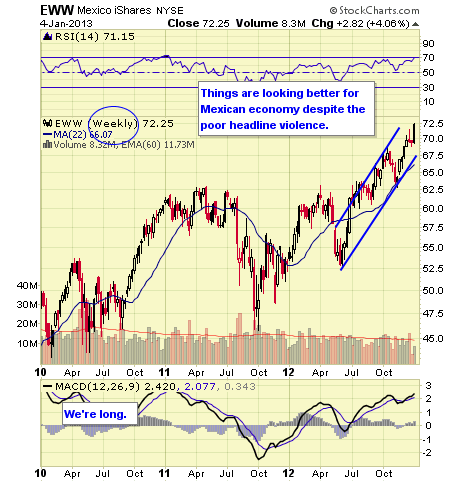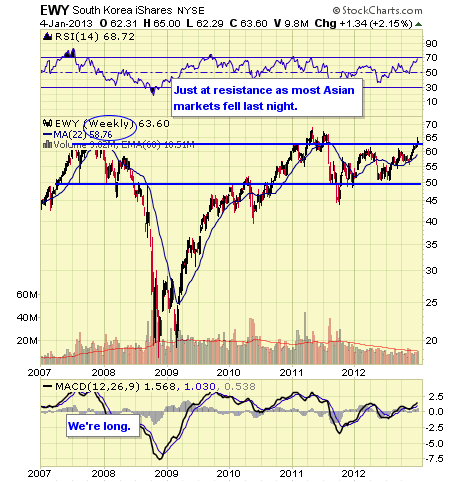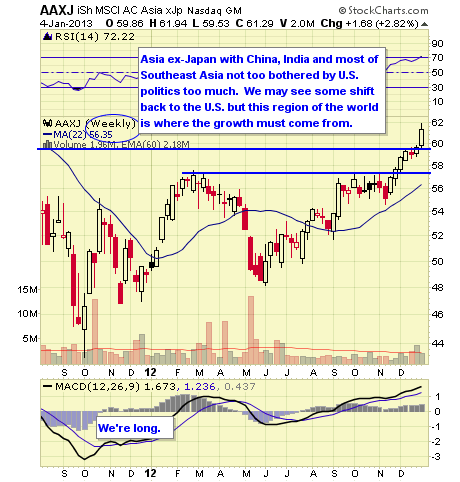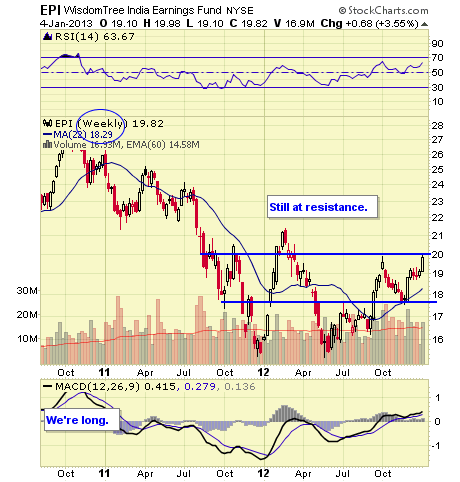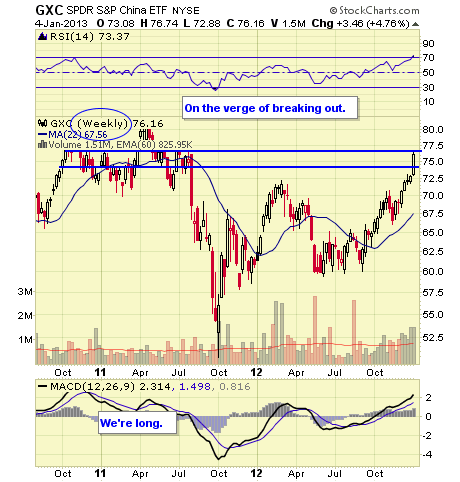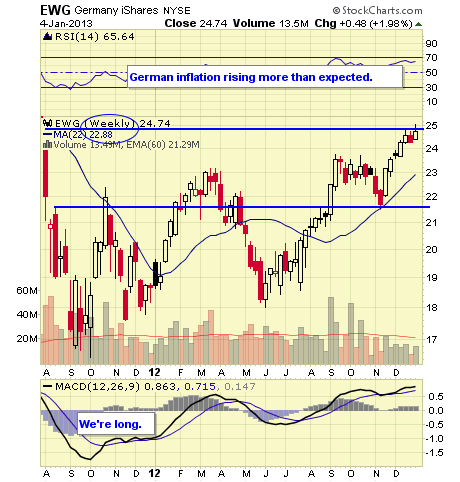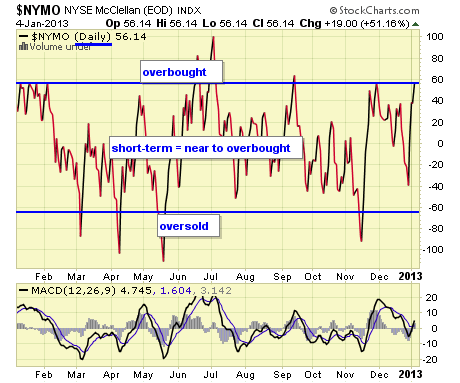 The NYMO is a market breadth indicator that is based on the difference between the number of advancing and declining issues on the NYSE. When readings are +60/-60, markets are extended short term.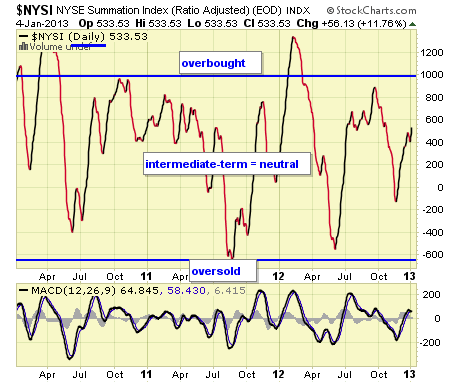 The McClellan Summation Index is a long-term version of the McClellan Oscillator. It is a market breadth indicator, and interpretation is similar to that of the McClellan Oscillator, except that it is more suited to major trends. I believe readings of +1000/-1000 reveal markets as much extended.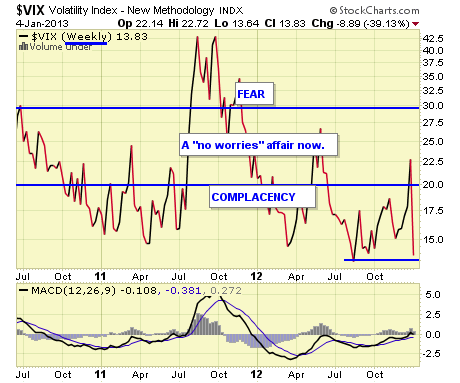 The VIX is a widely used measure of market risk, and is often referred to as the "investor fear gauge." Our own interpretation is highlighted in the chart above. The VIX measures the level of put option activity over a 30-day period. Greater buying of put options (protection) causes the index to rise.
Concluding Remarks
You can't really top the action this week. But you have to pause to think how much "time" bulls have before another debt ceiling crisis hits in February and March. Further, higher taxes facing most Americans now isn't what the President was selling, it seems. Once folks get their first diminished paycheck, they'll be demanding some answers.
Now earnings, already publicized as weak, will have to beat expectations to rally markets. Alcoa on deck Tuesday.
Bulls have one thing going for them -- the Fed and massive amounts of liquidity that are being put to work.
Disclaimer: The ETF Digest maintains an active ETF trading portfolio and a wide selection of ETFs away from portfolios in an independent listing. Current "trading" positions in active portfolios, if any, are embedded within charts: Lazy & Hedged Lazy Portfolios maintain the follow positions: VT, MGV, BND, BSV, VGT, VWO, VNO, IAU, DJCI, DJP, VMBS, VIG, ILF, EWA, IEV, EWC, EWJ, EWG, & EWU.
The charts and comments are only the author's view of market activity and aren't recommendations to buy or sell any security. Market sectors and related ETFs are selected based on his opinion as to their importance in providing the viewer a comprehensive summary of market conditions for the featured period. Chart annotations aren't predictive of any future market action rather, they only demonstrate the author's opinion as to a range of possibilities going forward.
Disclosure: I have no positions in any stocks mentioned, and no plans to initiate any positions within the next 72 hours. I wrote this article myself, and it expresses my own opinions. I am not receiving compensation for it. I have no business relationship with any company whose stock is mentioned in this article.