In 2012, the two registered retirement accounts that I "manage" for my wife and myself returned about 5%. Compared to the markets that's not very good. The S&P Dividend ETF (NYSEARCA:SDY) delivered 11.6%, the S&P 500 (NYSEARCA:SPY) delivered 16%, and the Dow Jones Industrial Average (NYSEARCA:DIA) delivered a 9.9% total return in 2012.
That's the cost of playing defense. Or at least, that's the cost of practicing balanced asset allocation. But did I go too far? When the equity markets are going on a decent run such as 2012, you are not going to participate in full. And even though I am confident with my decision to play defense, I will have to admit that it's human nature to feel left out - somewhat. Self-directed investors can be competitive.
And on that I'm now going to brag to ease my bruised ego.
Those who read my first article for Seeking Alpha, Confessions of a Scaredy Cat Investor (here), know that I did quite well from 2007 to 2011 when I was certainly more exposed to the very volatile (but very well performing Canadian materials stocks) and gold. I also had some individual stock picks that did quite well, including Enbridge (NYSE:ENB), TransCanada (NYSE:TRP) Crescent Point Energy (CPG on the TSX) and Tim Hortons (THI). I managed a 74% total return from 2007 to 2011, when equity markets (indexes) were not offering up very much.
I wanted to protect my (our) gains and level out the roller coaster ride known as volatility, so I took some equities off of the table and added more bond exposure. My goal was to create an asset mix that could offer some modest capital gains over time, deliver a very healthy income stream (to reinvest) and mostly deliver very low volatility. Mission accomplished on a couple of fronts. The income is very strong and the volatility is very low. When the equity markets had their two modest drops in 2012 - one that saw the S&P 500 fall over 10% (and nearly a 15% drop in Canadian markets) my accounts never fell more than 2% from the new highs they were making. That's a pretty low beta, but certainly at the expense of Alpha. At least in 2011-2012.
And on the income front, income generated from dividends and bond ETFs and a covered call ETF increased some 17% from 2011. I had only made contributions of 1.5% (new monies) to the portfolios in 2012. Almost all of the heavy lifting for income growth came from existing holdings. And that's a very decent increase to say the least. In fact that was a real head scratcher when I checked the income components from the 2011 and 2012 year-end statements. And that's perhaps an increasing yield that would do a purist Dividend Growth Investor proud. Furthermore, almost all of my gains in 2012 were due to income.
Moving forward, those of us with significant bond ETF exposure face the double-barreled risk of falling yields and falling ETF unit prices. I'll admit that my core bond ETF holding, a 1-5 yr laddered corporate bond ETF (CBO on the Toronto Stock Exchange), is delivering a decreasing revenue stream. It fell 3% in 2011, and 3% or more in 2012. I know that more, and likely larger cuts to the yield are on their way. That's why I balance that falling yield with some higher yielding corporate ETFs from the U.S. and Canada. My covered call Canadian Banks ETF was delivering 10-11% income, but that has fallen to 6% as the covered call premium on the Banks' dividends has largely disappeared with the recent surge in share prices of Canadian banks -a good problem to have I'd guess.
The Great Income Race for me in the near future will also be a balancing act, or tug of war, between these falling yields and the growing equity Dividend Growth component of my portfolio(s). And like Dividend Growth Investors, I know that it's all about the income moving forward. One gets to retire (that will be semi-retire in my case) when their investment income replaces their income from employment. Of course many use investment income and also draw down on their holdings. And on that front, remember the government actually forces you to draw down funds from your (non-Roth) 401k sheltered retirement plans. That generally occurs when you hit 70 ½. What's the deal with the half? Only 4 and 5 year old kids add the half when asked how old they are.
So here's the plan. And it's a strategy that others who are defensively positioned might want to consider. All together... De-fence!
I have lowered the volatility in our portfolios, and that allows us to sleep at night. The portfolios (with some recent tweaks in 2011 and 2012) are delivering some very healthy income. It is that income that will continue to drive the total returns, and drive income growth. But again, I have that battle between falling bond income and rising dividend income.
So, I will now direct all (or most) of our investment income to two dividend growth ETFs. In the U.S., the Dow Jones Industrial Average. See this article on DIA as Dividend Growth proxy. It's hedged to Canadian dollars, as I'm not too excited about the fact that the U.S. national pastime is now printing money. And I hold a Canadian Dividend ETF comprised of mostly dividend growth stocks - and it's also an ETF with a current yield above 5%. There's also the likelihood that the Canadian Banks Covered Call product will again start to deliver a premium if the banks end their current run.
Growing income. Low volatility. Sounds like a plan.
I still see many reasons to play defense. Europe is a mess. The U.S. announced again that it has no plan to eliminate the deficit within the next decade or two. The printing presses are working overtime to distort economic growth (is the growth real?). The failed hand of government gets larger and larger in Europe and the U.S.
And let's not forget that in this new "normal" and with the secular bear that began in 2000, portfolios with a balanced mix of bonds and equities (and let's not forget the gleaming asset class known as gold) outperformed the equity indexes on total return.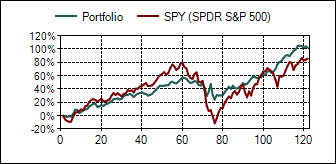 Thanks to low-risk-investing.com, here's a simple portfolio (above) with a 50/50 S&P 500 and TLT mix - over ten years. TLT is a 20-year Treasury Bond Index ETF. The above asset mix delivered a 102% total return over ten years. The Dow or S&P 500 would have offered you an 85% total return over that last ten years. There simply has been no cost for holding a lower volatility asset mix over the last decade or more.
And again, add in 10-25% gold over those periods and you will have an even greater outperform.
But that will be the question moving forward for many total return investors, will a balanced portfolio continue to beat "the markets" or have we returned to what investors think is the norm, and that is - equity markets delivering the best long-term results over time?
Personally, I'm not willing to take a chance on heavy equity exposure for (potential but not guaranteed) increased gains. It's not worth the lost sleep.
And of course the more pressing question for me will be - can growing dividends combat falling bond yields?
Stay tuned.
Disclosure: I am long DIA, ENB, TRP, THI. I wrote this article myself, and it expresses my own opinions. I am not receiving compensation for it (other than from Seeking Alpha). I have no business relationship with any company whose stock is mentioned in this article.
Additional disclosure: Please note that Dale Roberts aka cranky, the crankywriter, the scaredy cat investor is not a licensed investment advisor, and the above opinions should only be factored in to an investor's overall opinion forming process. Consult a licensed investment advisor before making any investment decisions. Pretty please.