The Indian stock market has had an incredible run as of late, up over 25% in the past 7 months. But under the hood, all may not be well, and India has the makings of a country heading toward its worst crisis since former Finance Minster (now Prime Minister) Manmohan Singh's early 1990's economic liberalization ushered two decades of prosperity.
Technically speaking, despite the sharp rally, India remains in a longer-term downtrend against Emerging Markets as a whole. Why are we seeing this?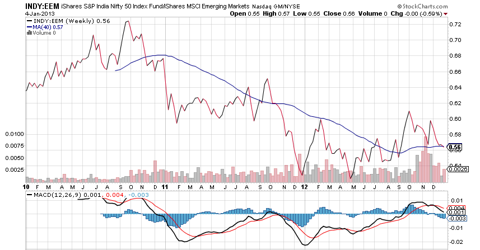 First, India has faced a pervasive inflation problem since strong inflationary pressures hit the Rupee during the global slowdown of 2011, forcing a tight monetary policy regime by the Reserve Bank of India. One of the reasons for the market rally has been the belief that inflation has been tamed in India. At first glance this appears to be so.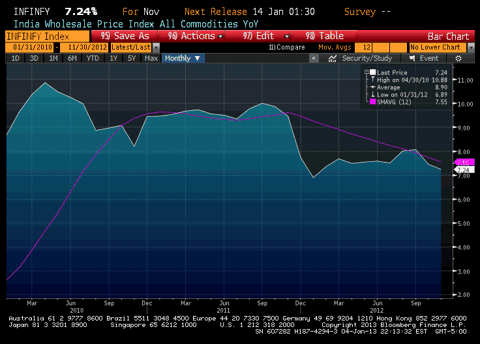 Figure: India Wholesale Inflation YoY
Short-term bond markets are also signaling further monetary easing, which of course has lathered up the bulls.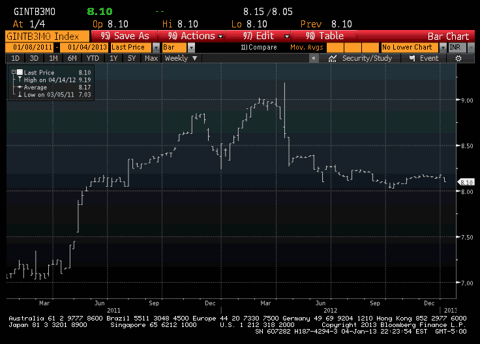 Figure: INR 3 month T-Bill
What makes India ripe as a short is its continued reliance for foreign capital. This factor has actually gotten worse since the mini crisis in 2011. India is the quintessential poster boy for hot money flows by global investors. When investors are starved for yield, as they are now, high-yielding countries like India benefit. But when the money comes out, countries that require outside capital have little to no defense. Remember Iceland?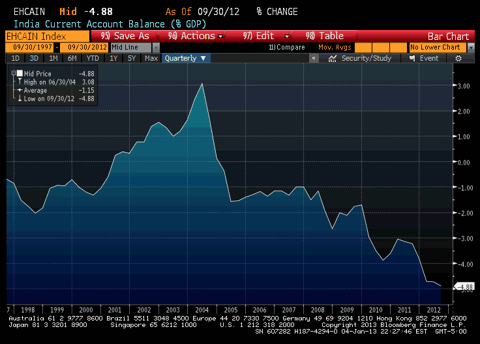 Figure: India Current Account Deficit
Every trade needs a catalyst. With India, it's going to be an increase in inflation expectations, which would likely need to be catalyzed by strong economic growth, an increase in inflation expectations - or both. Admittedly, just looking at the CRB index as an inflation proxy, we don't have that yet, but we also no longer have systemic bleeding as we have had since mid-2011 and that's a big deal when we're discussing what is arguably one of the most vulnerable macroeconomies around.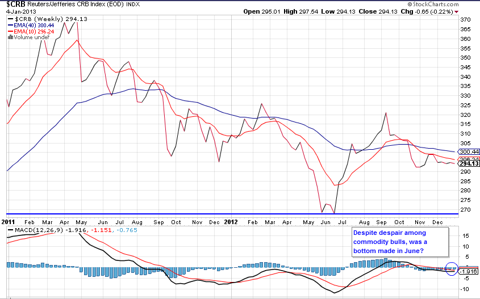 Thus, given India's unresolved and damaged fundamentals from the 2011 crisis, an Indian short provides a strong asymmetric hedge to investors looking to short what I believe is a final hurrah in the global equity bull market. Should inflation expectations pick up, which I expect later this year, the short should become a profit center. Shorting India is easy these days and can easily be executed in U.S. markets through the popular ETFs, INDY and INP.
Disclosure: I have no positions in any stocks mentioned, and no plans to initiate any positions within the next 72 hours. I wrote this article myself, and it expresses my own opinions. I am not receiving compensation for it (other than from Seeking Alpha). I have no business relationship with any company whose stock is mentioned in this article.