Last Monday, Johnson & Johnson (NYSE:JNJ) announced that it had agreed to acquire Mentor (MNT) for $1.07 billion or $31/share, a 92% premium to the prior day's closing price. While this may sound like a whopping deal for MNT investors, the fact remains that JNJ stole Mentor and likely underpaid for the company. Mentor shares, already down 57% on the year, would have needed to be taken out at a 132% premium simply to match the price level at which they were trading not too long ago. While another 30-40% on top of JNJ's offer would be great for Mentor's long term shareholder base, don't expect it -- JNJ has a war chest of cash to outbid anyone, and at a time when elective procedures are off due to the current recession and raising cash is almost impossible, JNJ is destined to take the position of market leader on the cheap.
Let's take a quick look at what JNJ bought and then we want to throw out two other names to think about as valuations come close to rock bottom among aesthetic stocks.
Mentor, the market leading maker of breast implants for reconstructive/aesthetic procedures, also develops PurTox, which is expected to launch by 2012 and aggressively compete with Allergan's (NYSE:AGN) prized Botox line. While Mentor had sound leadership in its field (50% US implant share and accelerated penetration into silicone breast implants, which are priced twice as high as their saline counterparts; estimates from Morningstar suggest Mentor could be doing $600 million in sales just from breast implants by 2015) and was converting 15% of its sales into free cash flow, the company lacked the distribution force JNJ will be bringing it. JNJ, which already has great relationships with dermatologists and plastic surgeons, will now be able to cross sell Mentor's portfolio of dermal fillers and silicone implants to customers.
In 2008, the stock tanked as investors fretted over the fact that implant procedures are considered elective and un-reimbursable – with consumers shouldering large out of pocket expenses in a poor economy, volumes would nosedive – some of that happened, but not to the degree the street was modeling at their worst case. Longer term, the aging population – people over the age of 65 reflect 15% of the US population but one third of its medical costs – provides a secular tailwind for cosmetic products created by companies like Mentor, so it is safe to say that JNJ did its homework on this one.
We think Allergan and Medicis (MRX) may themselves be takeover targets.
Medicis markets dermal filler Restylane, which is the most widely used dermal filler (dermal filler works like Botox, except it targets the mouth instead of the eyes/forehead) in the US and brings in 33% of Medcis' sales.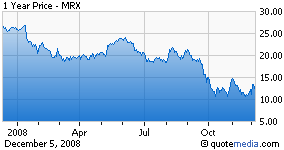 Dermal fillers are popular among 50-65 year olds, which contrasts with the lower aged Botox market (35-50 years old): the filler market is expected to ramp up over the next 15 years as the population ages. Medicis is also a major player in the acne products space; Solodyn represents more than half of Medicis' sales and this product recently won a patent dispute that protects the treatment from generic competition for another 2-3 years. Lastly, Medicis is working on its own Botox-like product, Reloxin.
Jonah Shacknai, who founded Medicis in 1988, may decide to sell the firm altogether rather than pass the baton to someone else since the company could arguably have a titanic problem on its hands over the next couple of years as the dermal filler market becomes increasingly competitive and MRX faces the risk of Reloxin launch delays and/or generic pressure on its franchise acne drug.
MRX currently converts 20% of its sales into free cash given the industry-wide model of heavy R&D commitments up front and low working capital requirements on the backend. While shares spiked last Tuesday on the patent dispute win, they've retreated a bit and now fetch less than 5x on an EV/EBITDA basis and remain down 50% on the year. While the company could lose 40% of its sales if its launches fail and Solodyn gets killed by generics in a few years, speculators thinking Shacknai cashes out before those problems even come close to manifesting may want to take a stab at the stock here and sit tight as the economy recovers.
Allergan, meanwhile, is Mentor's top rival in the breast implant market (a market Allergan entered through its Inamed acquisition) and will likely see erosion in its Botox line (currently 30% of sales) once MNTs Puretox launches and JNJ refines the contours of what it hopes to offer plastic surgeons.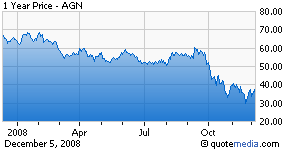 However, its opthamology business is inarguably attractive given its double digit growth and reimbursable status (70% of AGN's product line is reimbursed by 3rd party or government payers) – the numbers of dry eye and glaucoma cases expected to surface in the next 2 decades as Baby Boomers enter their peak years bodes well for Allergan, obviously.
More importantly, Allergan's broad portfolio of cosmetic surgery, eye care, and specialty pharmaceutical products could be a treasure trove for a mega cap pharmaceutical company looking to diversity itself away from the secular decline in patented drugs and equivalently troubling inability to innovate at the rate of smaller biotech companies. Allergan currently has Posurdex – for macular Edema – in early clinicals and a Botox application for migraines – in Phase 3 trials. Its Lap Band is a clear alternative to gastric bypass and compelling product here in the US, where 1 out of every 3 Americans is considered obese.
On an enterprise value basis, Allergan trades at 3.5x its cumulative trailing five year R&D spend. Pfizer (NYSE:PFE), beleaguered as it is by its parched drug pipeline, could arguably make a run for Allergan, a combination that would immediately position the acquirer among the world's leading ophthalmology companies and reprieve Pfizer investors who are worried sick about the 2011 Lipitor overhang. I am modeling somewhere around $2.50 in 09 Allergan EPS, which implies a 15x forward multiple – I think getting constructive in the mid 20s price level makes more sense than jamming yourself here at an above market multiple.
Bottom Line: Should the economy continue to worsen and Mentor face delays in its anti-wrinkle product launches, the possibility that JNJ overpaid for Mentor could prevail – that is a low probability event, in my view, and this deal will likely go down as one of JNJ's shrewdest moves in its 120 year history. Investors looking to speculate on who else might get picked off should take a good hard look at Allergan and Medicis – I don't think you'd be wasting your time here as these companies have already done all the heavy R&D lifting for their prospective suitors, currently generate attractive returns on capital, and throw off plenty of cash.
Disclosure: Author's family owns PFE and JNJ.
click to enlarge