Last February, I wrote an article about Avanir Pharmaceuticals (NASDAQ:AVNR) predicting that its stock would do little more to please shareholders in 2012 than it had up to that point.
At the time, the company's stock was trading at $2.93, up more than 40% on the year. Shares went on to trade as high as $4.05, only to eventually plummet to the current 52-week low of $2.07. When the music stopped in 2012, the stock sat at $2.62, 11% lower than it was when the article was written. Looking back, I can say the prediction was both reasonable and accurate. You may review that article in its entirety here.
So here we are in 2013, and with the stock already up more than 12% year-to-date and Piper Jaffray having recently initiated coverage on Avanir, giving it a $6.00 price target, the question must be raised once more:
Is this the year Avanir shareholders are rewarded for their patience?
The Nuedexta Launch
It has now been two years since the launch of Avanir's flagship product, Nuedexta, which was approved by the FDA for the treatment of PBA. PBA is a disorder that occurs secondary to neurologic disease or brain injury that causes awkward involuntary emotional displays, namely involuntary laughing and crying. Though Nuedexta's primary component, dextromethorphan, has been referred to as the "aspirin of the neurology world", after two years on the market, it certainly isn't being prescribed by doctors as such. The primary excuse for Nuedexta's lackluster sales, thus far, has been lack of awareness of both PBA and Nuedexta. That story isn't going to fly for much longer. To say that PBA is "a little known condition" at this point is to say that Avanir has fallen well short of the mark with its sales and marketing efforts.
While the launch of Nuedexta for PBA may seem less than spectacular, it is not a reason, in and of itself, to flee the scene. It is widely believed that a reformulated version of Nuedexta may also be effective as a treatment for certain types of pain. The pain market is simply enormous, the proof of concept has been well established, and Nuedexta is a non-narcotic with a relatively benign safety profile. There is also some speculation that Nuedexta may be helpful in treating agitation in Alzheimer's patients. While the Alzheimer's population is quite large and continues to grow with our aging population, there has been little more than anecdotal evidence to support the idea that Nuedexta is effective in treating agitation in the demented. The company is currently involved in a large phase II study for central neuropathic pain in multiple sclerosis and another phase II for Alzheimer's agitation. While the potential for approvals in pain or agitation indications may be years off, widespread off-label use of Nuedexta is certainly a possibility. Unfortunately, there is little evidence that off-label prescribing is gaining any real traction or momentum.
The Sales Force
The Avanir sales force began as a team of 75 whose efforts were primarily focused on visiting neurologists and psychiatrists. It has been retooled a couple of times and the current look consists of about 55 sales reps completely focused on calling on long term care facilities, where sales growth is at its strongest, and another 70 or so primarily focused on the retail setting.
EU Approval
A little more than a year ago, Avanir submitted a marketing authorization application to the European Medicines Agency. The company is expecting the agency's opinion in a few months, and though approval is largely expected, Avanir has hinted that it may not be awarded the same broad label it received in the US and that, even with a broad label, reimbursement for Nuedexta may still be an issue to contend with. Regardless of the label, if Nuedexta is ultimately approved for marketing in the EU, its sales there will be at a highly discounted rate and are likely to contribute very little to the company's bottom line in 2013.
EU Partnership
An EU partnership deal is expected to follow approval there and will likely consist of an upfront payment in the range of $10M-$20M with royalties in the range of 8%-12%.
Patent Litigation
Avanir is involved in patent litigation with five generic drug manufacturers seeking to make a generic form of Nuedexta. Though it is widely thought that the patents will hold and Avanir will maintain marketing exclusivity through 2023, the litigation will remain an overhang until resolved and nothing is expected to happen with the case until late 2013.
The New TV Commercial
Avanir has recently begun to promote PBA via a television ad campaign aimed at spreading awareness of the condition. Interestingly, Nuedexta is not mentioned once in the advertisement I have seen. This particular campaign is very young and the effectiveness of it may not be known for some time, but I have little reason to think that it alone will reshape the current growth rate. You may view the new PBA commercial here.
CEO Letter to Shareholders
Avanir's CEO, Keith Katkin, recently sent a letter to shareholders outlining the company's path to becoming a mid-cap specialty biopharma. While I think that a larger market cap is an unusual thing for a CEO to outwardly strive for, it is good to know he has goals.
From the letter:
…I firmly believe that Avanir is well on its way to becoming the next leading mid-cap specialty biopharmaceutical company. We have a rare combination of an FDA-approved product that provides significant benefits for patients with PBA, that can generate meaningful cash flows, a significant number of additional development opportunities, and a commercial and R&D infrastructure that allows us to capitalize on all of these opportunities.
General Information
1 Year Chart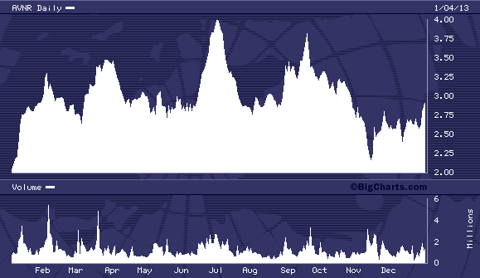 The company's stock currently trades at $2.94 with 136.83M shares out, giving it a market cap of $402.28M. Institutional ownership stands at about 70%, with the short interest as of 12/14/12 being 22.64M shares.
The consensus EPS estimate for FY 2013 is -$0.24 and considering that the average weekly script growth since the beginning of the launch is about 1% (and declining), Avanir has its work cut out for it if it hopes to increase the current run rate of $70M by the more than 80% that is necessary to achieve breakeven and become profitable this year.
Summary
While I believe that Avanir will eventually become a profitable enterprise and a real takeover target for big pharma long before it ever reaches mid-cap status on its own, 2013 just isn't the year that shares of Avanir will break into the stratosphere. There are those who believe that an EU approval for Nuedexta would push the stock up 50% or more on its own. I feel that approval has been so widely expected for so long that much of it is already baked in to the share price. Whatever kick the stock may receive from any irrational exuberance will be relatively short lived. I do see a potential upside of 19%-26% from current levels, but investors with bigger plans for their AVNR profits will require a bit more patience.
Disclosure: I am long AVNR. I wrote this article myself, and it expresses my own opinions. I am not receiving compensation for it (other than from Seeking Alpha). I have no business relationship with any company whose stock is mentioned in this article.