We are pleased to read that merger speculation involving SUPERVALU Inc. (NYSE:SVU) is more than idle chatter and that significant progress is being made with strategic deal talks involving Cerberus Capital Management LP. According to a recent report from Bloomberg, Cerberus is nearing a deal to acquire some of SUPERVALU's assets and become a shareholder in the new SUPERVALU Inc., according to three people familiar with the matter. The parties have agreed to the framework surrounding the deal and are expecting to unveil it on January 10th, when SUPERVALU announces its Q3 2013 EPS. According to a December report from Bloomberg, Cerberus and SUPERVALU were in discussions in which SUPERVALU would sell its Albertsons and Save-A-Lot operations to Cerberus, and Cerberus would take a stake in the rest.
We're not surprised that Cerberus would be involved with SUPERVALU in such a strategic deal considering that Cerberus partnered with SUPERVALU and CVS Caremark (NYSE:CVS) in acquiring the assets of Albertsons Inc in 2006. As part of that deal, Albertsons' 655 locations in Arizona, Northern California, Colorado, Florida, Louisiana, New Mexico, Oklahoma, Texas and Wyoming were hived off into a new company (Albertsons LLC) and Cerberus acquired Albertsons LLC. The investor group collectively spent $17.4B on the deal in terms of cash and assumed debt and $11.4B came from SUPERVALU in order to acquire Albertsons' retail grocery operations other than the Albertsons LLC stores. These figures most certainly do not compare favorably to SVU's $6.9B in Enterprise Value as of January 2013.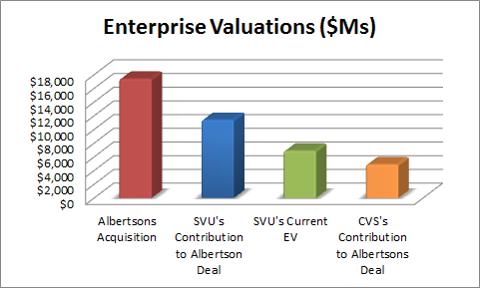 Source: Bloomberg and SUPERVALU's FY 2007 Annual Report
We were disappointed that deal speculation involving SUPERVALU has primarily been centered around private equity buyers like Cerberus. We would have preferred to see more grocery chain operators step up with regards to acquiring SUPERVALU in whole or in part. We are aware that SUPERVALU's performance is falling short of its competitors like Kroger (NYSE:KR), Safeway (NYSE:SWY), Ahold (AHONY.PK) and Delhaize (DEG). However, SUPERVALU's struggles have resulted in the company trading at a cheap price on an enterprise value/cash flows basis, even when we take into account SVU's outstanding indebtedness. Even with SVU's recent run-up, the price an investor would pay based on its free cash flows and pre-tax interest expenses is still cheaper than that of its peers, especially Kroger.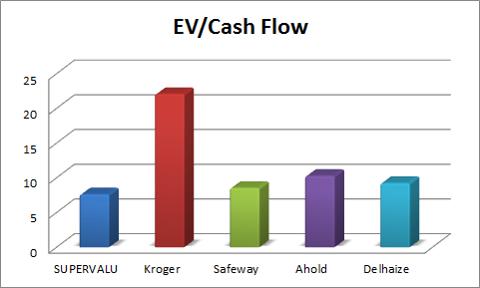 Source: Morningstar Direct
We think that a grocery chain should have extended an offer to buy SVU in whole or in part in July when it missed its Q1 2013 EPS estimates, withdrew its FY 2013 guidance and was trading at $2 because everyone thought it was going belly-up. We published a couple of reports in October in which we highlighted synergies that would accrue to Kroger or Safeway if those chains had the foresight and forward-looking thinking to take advantage of SUPERVALU's distressed condition in order to acquire its portfolio of stores. We are of no illusion that legacy Kroger or Safeway is much stronger than SVU; however, Kroger and Safeway can use its relatively stronger position in relation to SVU to extract the following synergies from operating SVU's stores that SVU cannot obtain by itself:
Increased Purchasing Power to better compete with Wal-Mart (NYSE:WMT).
Rationalization of Competitive Environment by eliminating a large competitor.
Rationalization of Store Assets: An acquirer can expand by renovating SVU's store base (which it owns 40% of the locations) versus building new, expensive stores at $10M-$15M a pop.
Reduced Financing Costs on the Legacy SUPERVALU operations as Kroger and Safeway have much lower borrowing costs than SVU and those chains don't have to pay 8% interest rates on an over-collateralized real estate loan.
If Ahold or Delhaize was to acquire SVU, it would be expanding its footprint in the US and diversifying away from the weak European economy.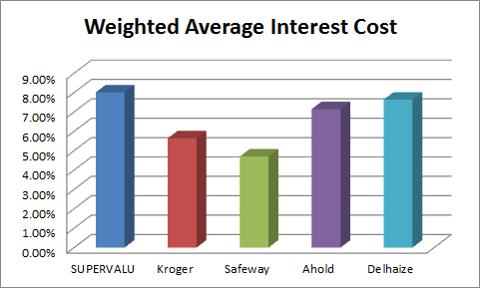 Source: Morningstar Direct
Another reason why we are disappointed in the lack of grocery chains stepping up to acquire SUPERVALU is because we believe that the management of those stores thinks that they can steadily pick-off SUPERVALU's market share for free rather than spending money to acquire SUPERVALU or its operations. We absolutely couldn't disagree more with that thesis. While SVU's four biggest competitors have better comparable-stores sales growth or identical store sales growth than SVU, Wal-Mart has been generating stronger comp-sales growth than SVU's grocery chain peer group in its most recent fiscal year. Although Kroger has higher comps than Wal-Mart this year, Kroger's quarterly comps have declined from 5% in Q3 2012 to 3.2% in Q3 2013. SUPERVALU has been increasing its price-reduction efforts and this has kept a lid on the comp-sales performance of its peers. SVU's ability to generate free cash flows and service its debt coupled with its unused credit line allows it to stick around and force its grocery store peers to compete with it instead of Wal-Mart. Safeway's CEO Steven Burd recently announced his retirement and it remains to be seen if his successors can find a way for SWY to increase its EPS other than through share repurchases.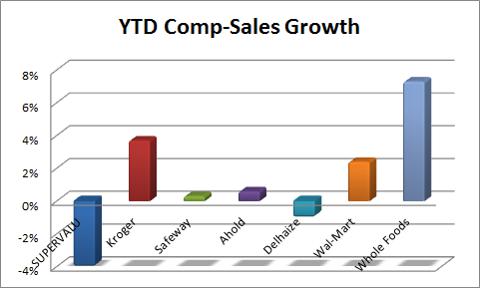 Source: MRQ Reports for SVU, KR, SWY, AHONY.PK, DEG, WMT and WFM
The last reason why we are irritated with all the takeover talk relating to SVU revolving around private equity firms instead of grocery chains is because Cerberus still operates over 200 Albertsons LLC store locations. Depending on how many stores Cerberus acquires from SUPERVALU, Cerberus will be one of the largest firms in the grocery store industry. While Cerberus is not a grocery chain, they will be working to extract value from the stores and this will be made easier if they acquire stores that SVU owns outright rather than stores that are leased. If Cerberus is successful with stabilizing the sales of the stores that it will be potentially acquiring, the other retailers will be kicking themselves that they missed out on the super value that was SUPERVALU Inc., and that they let the synergies of acquiring SVU accrue to a private equity firm instead of their shareholders.
In conclusion, we are pleased to see SUPERVALU making progress in pursuing strategic alternatives. Although we have more confidence in SVU's new CEO Wayne Sales than we had in his predecessor Craig Herkert, we are aware that he has his work cut out for him plus he was a non-executive board member from 2006-2012 (Non-Executive Chairman from 2010-2012) and he is not totally innocent of SVU's struggles during this time period. We remember Wayne Sales was CEO of 2000 to 2006 at Canadian Tire (OTCPK:CDNAF) before retiring from that company and joining SVU's board. Wayne Sales had a pretty strong record of performance as CEO of Canadian Tire, but he'll have to find a way to repeat that record of achievement in his new job. We are pleased that he is willing and able to sell off assets in order to raise money in order to pay down SVU's debt, and we believe that this will give the company breathing room as it seeks to restructure and turn itself around. We're also pleased that SVU is not selling itself outright because we believe it carries more value on a sum-of-the-parts basis than as one combined company and we believe that Wayne Sales and Cerberus will help SVU's long-suffering shareholders recover a significant portion of their investment in SVU.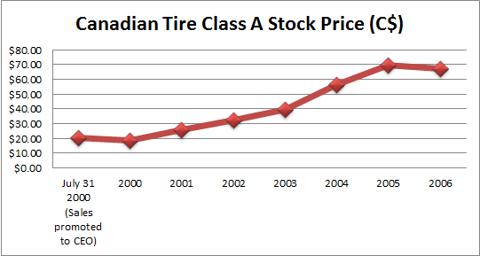 Source: Morningstar Direct
Disclosure: I am long SVU. I wrote this article myself, and it expresses my own opinions. I am not receiving compensation for it (other than from Seeking Alpha). I have no business relationship with any company whose stock is mentioned in this article.
Additional disclosure: This article was written by an analyst at Saibus Research. Saibus Research has not received compensation directly or indirectly for expressing the recommendation in this article. We have no business relationship with any company whose stock is mentioned in this article. Under no circumstances must this report be considered an offer to buy, sell, subscribe for or trade securities or other instruments.