United Technologies Corporation (NYSE:UTX) is a diversified conglomerate, providing high technology products and services to the building systems and aerospace industries worldwide. UTX operates in six segments: Otis, Carrier, UTC Fire & Security, Pratt & Whitney, Hamilton Sundstrand and Sikorsky. With the reshaped, refocused portfolio through divesting and cost reduction, UTX anticipates organic sales growth in all of its businesses despite softness in Europe and declining U.S. defense spending.
Latest Highlights
As reported by Bloomberg on January 5, 2013, UTX's Sikorsky helicopter unit is in position to win a U.S. Air Force contract valued at as much as $6.8 billion for 112 rescue helicopters after competitors failed to bid.
On December 13, 2012, UTX's Chairman & CEO Louis Chênevert stated:
"In 2013, UTC's reshaped portfolio will be well positioned for accelerated top line growth. We anticipate organic sales growth at each of our five businesses, even with continued softness in Europe and a decline in U.S. defense spending. We expect sales growth, our relentless focus on cost reduction and productivity, and the incremental benefits from our portfolio transformation to drive 10 to 16 percent earnings per share growth in 2013, despite significant pension headwinds."
Refocusing Portfolio through Divesting
On December 22, 2012, UTX announced it has reached an agreement to divest its UTC Power fuel cells unit to ClearEdge Power, based in Hillsboro, Ore. Divesting UTC Power is another step forward in UTX's ongoing portfolio transformation to focus on its core of aerospace and building systems. The transaction is subject to customary closing conditions. Closing is expected early in 2013.
On December 13, 2012, UTX completed the sale of industrial products businesses, including Milton Roy Co., Sullair Corp. and Sundyne Corp., to the Carlyle Group (NASDAQ:CG) and BC Partners for $3.46B. As reported,
"sale of the three former Hamilton Sundstrand industrial products businesses is another step forward in UTC's ongoing portfolio transformation to focus on its core of aerospace and building systems. As previously announced, proceeds from the sale will be used to repay a portion of the debt incurred to finance the acquisition of Goodrich Corporation, which closed earlier this year."
On December 12, 2012, UTX announced that it will sell the power systems business of its aircraft engine unit, Pratt & Whitney, to Mitsubishi Heavy Industries. The power systems unit makes industrial gas turbines and geothermal power systems based on Pratt & Whitney's aircraft engine technology. As stated by UTX, "Divesting Power Systems allows UTC to focus on its core aerospace and commercial businesses." The deal is expected to close in the second quarter of 2013.
Analysts' Calls and Earnings Estimates
On January 4, 2013, UTX had its "buy" rating reaffirmed by analysts at Sterne Agee with a $99.00 target price. On the same day, analysts at Credit Suisse initiated coverage on UTX with an "outperform" rating and $93.00 price target. Credit Suisse noted,
"We think that capital allocation, cost-reduction at GR and CCS, and Otis share recovery offer interesting levers for the company to pull in 2013, and will help offset a sluggish macro environment. UTX has suffered from being viewed as a "non-US play" given its high international exposure. Since our China trip in November we have thought investor sentiment here should reverse. We also think long-cycle industrials offer a better risk/reward than short-cycle, given recent performance. Aside from the tailwind to CCS/Otis in Asia, organic growth should improve (to +4% in '13 vs 0% in '12) helped by U.S. housing trends, stabilization in Otis Europe AM, a sharp recovery in Transicold orders, and a normalization in Aerospace Systems/Pratt commercial AM."
On Thursday, analysts at Jefferies Group also reiterated "buy" rating on UTX with a $88.00 price target. Lastly, Sanford C. Bernstein reiterated a "market perform" rating on UTX with a $84.00 price target.
Analysts, on average, are estimating an EPS of $1.03 with revenue of $16.62B for the quarter ending in December 2012. Analysts are also predicting a full year EPS of $5.32 with revenue of $57.87B for fiscal 2012. For 2013, analysts are projecting an EPS of $6.06 with revenue of $65.01B, which is 12.40% more than 2012, as seen from the chart below.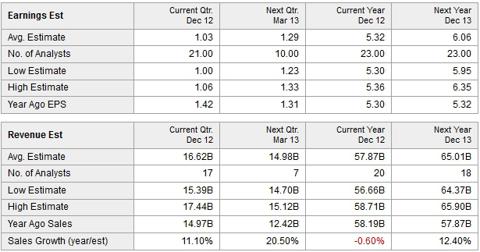 Source: Yahoo! Finance
Key Stats and Valuation
UTX has an enterprise value of $99.73B with a market cap of $77.89B. UTX has a total cash of $6.24B with an operating cash flow of $6.68B and a levered free cash flow of $1.69B, ttm. By using the data obtained from Morningstar, UTX's key stats will be compared to its competitors in the industry of diversified industrials, including General Electric Co. (NYSE:GE), Boeing Co. (NYSE:BA), Honeywell International, Inc. (NYSE:HON) and Textron Inc. (NYSE:TXT). UTX has lower revenue growth and EPS growth (3 year average) of -0.9 and 3.9, as compared to the industry averages of -0.1 and 10.8. UTX also generates lower operating margin of 13.3%, ttm, and net margin of 7.6%, ttm, as compared to the averages of 15.4 and 8.6. UTX has a higher ROE of 18.5, compared to the average of 14.9. UTX has a higher debt-to-equity of 0.9, compared to the average of 0.8.
UTX's P/E of 17.5 is slightly higher than the industry average of 17.4 and higher than UTX's 5 year average of 14.9. UTX's P/B of 3.1 is lower than the industry average of 2.5 but higher than UTX's 5 year average of 3.2. UTX's forward P/E of 11.8 is lower than S&P 500's average of 14.2. UTX has a PEG ratio of 1.2.
Technical Analysis
UTX closed at $84.98 with 0.79% gain on Friday. The volume of 3.86M is 3.5% less than 30 day average volume of 4.00M. UTX has been trading in the range of $70.71-$87.50 in the past 52 weeks. UTX has a beta of 1.05. The MACD (12, 26, 9) indicator had been showing a bullish trend since January 3, 2013 and the MACD difference diverged on Friday. The momentum indicator, RSI (14), is showing a strong bullish momentum at 70.88, where above 70 is considered as over-bought. UTX is currently trading above its 50-day MA of $79.34 and 200-day MA of $77.48. The next resistance is $85.96, the R2 pivot point, as seen from the chart below.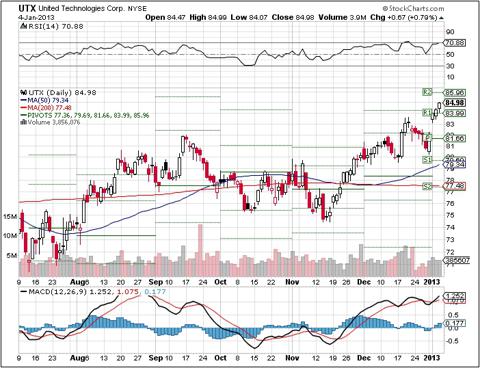 Source: StockCharts.com
Options Strategy
By refocusing on its core strengths through divesting and cost reduction, UTX is expected to solidify its balance sheet and generate steady cash flow continuously. For bullish investors, a credit put spread will be reviewed which will allow investors to acquire UTX stock at a lower price while gaining upside potential.
Short 1x May 18, 2013 put at the strike price of $77.50 for the credit of $2.07
Buy 1x May 18, 2013 put at the strike price of $72.50 for the cost of $1.10
The maximum profit is $0.97, and the maximum risk/margin requirement is $4.03 ($5 loss - $0.97 credit received). If UTX closes above $77.50 on May 18, 2013, 24.07% return on margin will be gained. If UTX falls below $77.50 upon options expiration, UTX stock will be acquired at $76.53, which is 9.94% below the current price of $84.98. The projected annual dividend yield will be 2.82% based on the stock acquisition cost of $76.53 with projected dividend of $0.54 per quarter.
Note: All prices are at the time of writing on January 4, 2013 and all calculations are before fees and expenses. Investors and traders are recommended to do their own due diligence and research before making any trading/investing decisions.
Disclosure: I have no positions in any stocks mentioned, but may initiate a long position in UTX over the next 72 hours. I wrote this article myself, and it expresses my own opinions. I am not receiving compensation for it (other than from Seeking Alpha). I have no business relationship with any company whose stock is mentioned in this article.