So on Friday we had the largest number of job losses since 1974. But stocks rallied hard and bonds sold off: highly illogical as Mr. Spock would say. Though exactly the same thing happened back in 1974 when stocks staged a stunning rally despite shatteringly poor economic news as investors called a bottom.
It seems that the market has taken solace from talk of the incoming President-elect Obama's pledge of the largest infrastructure spending project since the 1950's to stimulate economic growth. There's also Congressional agreement in principle with the current Bush administration on a temporary bailout of basket case automakers with a vote on Tuesday. There is talk of a car Czar to make sure the Big 3 don't misbehave (again). Nicholas II is not available due to his untimely demise so it will probably be someone like Jack Welch. Nobel winner Krugman thinks it's all a waste of time.
Today's Market Moving Stories
It's worth reflecting on last Friday's abysmal nuclear-winter-jobs-numbers for a second to consider the massive revisions to the previous month's figures. It turns out that the US economy shed 400k jobs in September. So even before the collapse of Lehman Brothers (LEH) it was appallingly weak.
American mortgage delinquencies, as measured by the Mortgage Bankers Association, increased in Q3. The share of mortgages 30 days or more delinquent rose to 6.99% in Q3 from 6.41% in Q2, driven by a jump in seriously delinquent mortgages (more than 90 days late). The delinquency rate on subprime mortgages rose 136bp to 20.03%. But not surprising when you read stories like this. Bottom line is that the core problem just keeps coming back to stalk us. Xmas is cancelled.
With all this chat of an Obama New Deal for infrastructure, CRH is doing quite nicely. But buying an illiquid December market on the back of a carrot not sliced, never mind cooked, can be like purchasing a solo album by the drummer from your favourite group.
The usually reliable German paper Handelsblatt is reporting that the German government is planning to guarantee inter-bank loans via an independent institution. The Bundesbank confirmed that a working group is drawing up preparations for such a clearing house. This is the first sensible thing any continental government has come up with! If banks start lending to each other, well maybe they might then even lend to third parties again.
The BIS (Bank for International Settlements) quarterly review says that the benefits for State guarantees are likely to outweigh the costs, but a clear exit strategy is required. Are you listening Ireland (where there doesn't seem to be any strategy at all).
A Charlie Rose interview with "The Black Swan" author Nassim Taleb features Taleb suggesting Dr. 'Doom' Roubini is an optimist! The whole interview is here.
That said there are now 2,267 companies around the globe offering profits to investors for free.
Data Today
Monday's key UK data release is producer prices data for November at 09.30 GMT. A further plunge in producers' prices will add to growing fears that the UK is heading for deflation.
From Germany we get industrial production numbers which no doubt will be dire.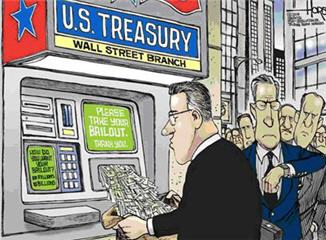 Disclosures: None