In early December, Freeport-McMoRan (NYSE:FCX) announced it was buying two oil and exploration companies, McMoRan Exploration (NYSE:MMR) and Plains Exploration and Production (NYSE:PXP). The deal was received very negatively by the market; Freeport's stock fell roughly 20% in the two days after the deal was announced. The deal diversifies Freeport's revenue from a pure mining operation to include E&P activities. The deal also means that Freeport is no longer one of the purest ways to gain exposure to copper prices and risks alienating the investor base, which use Freeport to gain exposure to copper.
To compare pre- and post-merger revenue, I compiled a table of revenue from the three companies and categorized them. I then took the percentage of revenue from each of the categories for Freeport as an independent company and all three components as a whole. The revenue values used are from each company's CY 2012 Q3 earnings reports.
CY2012 Q3 Freeport McMoRan Operating Revenues
Activity
Pre-Merger Percentage
Post-Merger Percentage
Copper Sales
81.95%
70.03%
Oil & Liquid Sales
--
12.62%
Gold Sales
8.52%
7.28%
Molybdenum Sales
6.98%
5.97%
Natural Gas Sales
--
1.81%
Cobalt Sales
1.61%
1.38%
Silver Sales
0.93%
0.80%
Oil & Gas Services
--
0.08%
Other Operating Revenues (from PXP)
--
0.04%
From the table, the new combined company will still earn the vast majority of revenue from metal mining and sales. Freeport has historically been thought of as a copper company. Before the merger, Freeport got roughly 82% of revenue from copper sales. After the merger, this will drop to 70%. From a revenue prospective, the merger does provide some diversification to Freeport, but not a significant amount. The company is still heavily dependent on copper.
Another aspect to consider is the new commodity exposures the company would have. It will have exposure to natural gas, oil, and natural gas liquid pricing. While this does reduce the relative exposure to each commodity, all of the commodities the company has exposure to, potentially excluding gold, are pro-cyclical, so they should all be somewhat correlated.
This purchase also complicates the buying decision on Freeport because of the drastic increase in operational risks. MMR was struggling as a company before Freeport bought it, while PXP was doing well.
While the MMR and PXP purchases do provide some diversification with exposure to other pro-cyclical commodities (as well as additional operational risks), the company still generates over 70% of operating revenue from copper production. There are other more pure-plays on copper still, but the new Freeport is still predominantly a copper play for those looking for copper exposure.
Look to buy Freeport whenever the yield reaches 4%. Over the past three years, this yield level has drawn out buyers and has proven to be a strong support level. The chart below, with rolling yield (from marketwatch.com) illustrates this.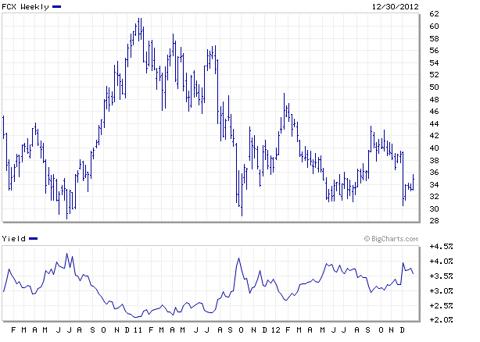 While this purchase means Freeport is no longer the same company it has been for the past three years, it has reiterated that it will continue paying the current dividend through this process. As a result, I believe the level when FCX yields 4% will still provide strong support and will prove to be a good entry point.
Disclosure: I am long FCX. I wrote this article myself, and it expresses my own opinions. I am not receiving compensation for it (other than from Seeking Alpha). I have no business relationship with any company whose stock is mentioned in this article.