Events from the last few weeks have made it clear to me that the United Sates is poised to become a big exporter of Liquefied Natural Gas [LNG]. Exporting of natural gas from the United States requires regulatory approval, and it appears the people who hold that power want to see the export of natural gas happen.
First, the Department of Energy [DOE] released a report they had commissioned that showed LNG exports would have an overall positive economic impact on the United States. The report states:
Across all these scenarios, the US was projected to gain net economic benefits from allowing LNG exports. the study concluded. Here

Moreover, for every one of the market scenarios examined, net economic benefits increased as the level of LNG exports increased. In particular, scenarios with unlimited exports always had higher net economic benefits than corresponding cases with limited exports.
Second, during an interview with David Gregory on Meet The Press, President Obama stated the following when asked what his priorities are for his second term:
Number three. You know, we've got a huge opportunity around energy. We are producing more energy and America can become an energy exporter. How do we do that in a way that also deals with some of the environmental challenges that we have at the same time?" Here
Finally, the DOE has already begun approving some LNG projects. In April, the DOE voted to approve Cheniere Energy's (NYSEMKT:LNG) request to export LNG from the Sabine Pass facility. In August, Exxon (NYSE:XOM) and its partner Qatar received approval to export LNG from its Golden Pass facility to free-trade countries. In December, Sempra Energy (NYSE:SRE) applied to receive U.S. government approval to construct export facilities at its Cameron LNG terminal in Louisiana. Sempra had earlier received approval to export LNG to free-trade countries.
The projects I listed are just the beginning, as there is a queue at the DOE door awaiting approval for various projects. Companies first request to export LNG to free-trade partners and then must submit another request to export to non-free trade countries. There are currently 15 requests awaiting DOE approval for approval to export to non free-trade countries.
Assuming LNG does become a reality, there are several positive benefits for the country. More jobs from the construction of the LNG terminals, more revenue for federal and state budgets from licensing and taxes, and a reduction in the trade deficit.
Won't Happen Without a Fight
Although I believe LNG export is coming, it will not come without a fight. As one would expect, environmentalist agencies, such as The Sierra Club, vow to fight the exporting of LNG, since they believe LNG exporting will require more hydraulic fracturing, which they want to stop. Some politicians, such as Congressman Ed Markey from Massachusetts, have stated they oppose LNG exports; they complain it will result in higher natural gas prices for consumers and businesses. Even some American businesses oppose LNG export or feel exports should be limited. The American Public Gas Association stated they oppose LNG for the following reason:
APGA opposes the large scale export of LNG because it imperils critical national goals of abundant and affordable energy, reduced dependence on foreign oil and the opportunity for cleaner air by using natural gas for electric generation.
Andrew Liveras of Dow Chemical wants to limit the amount of gas exported, believing low feedstock costs benefit American business.
Despite those protests, I believe LNG export will happen, as there are more parties interested in making it happen than opposed to it, and the export momentum is building. I could see a cap on the amount of gas being exported receiving support, but do not believe exporting will be banned.
The Process
Natural gas is predominantly transported by pipeline, making export to other countries difficult. Liquefied Natural Gas was developed in 1964 as a solution to this problem. With LNG, gas is liquefied at an LNG terminal and then loaded onto tankers for transport to foreign countries. When the tanker arrives at the foreign port, the LNG is regasified into its original state for distribution. Natural gas in LNG form takes up approximately 1/600th the volume of the same amount of natural gas.
Before the LNG process begins, the natural gas goes through a separation process to remove any impurities and moisture. The natural gas is then liquefied by lowering the temperature of the gas to approximately -260 degrees Fahrenheit (-160 degrees Celsius). This temperature drop liquefies the methane present in the natural gas, making transportation in the form of LNG possible. Once the LNG process is complete, the LNG is loaded into specially-designed insulated tankers that can maintain the temperature necessary to keep the natural gas in its LNG state.
Why the Rush To Export
Unlike oil, which has international prices, natural gas is priced based on the supply in the local market. The United States, Canada, Russia, Australia and the Middle East countries have large reserves of natural gas, thus prices for natural gas in those countries are low. European and Asian countries have limited natural gas resources, which results in much higher natural gas prices. This price differential presents opportunity for producers, shippers and countries.
For producers, drilling for natural gas and getting paid $3.30 per million British thermal units (mmBtu) leaves little room for profit. Turning that natural gas into LNG and transporting it to a country where you may get five times the price is a more rewarding venture.
Movement of natural gas/LNG is a boon for pipelines companies and shipping companies. The natural gas has to get to the LNG terminals, that will happen through pipelines. The same pipeline companies may be involved in the separation and fractionation process along the way. It takes specially designed ships to transport LNG; the more LNG that gets shipped, the more the tanker companies profit.
Europe has limited natural gas supplies and relies heavily on Russia for natural gas. At times, the Russians have threatened to reduce supplies to Europe if a political or financial issue was not resolved to the Russian's liking. Increasing LNG imports would reduce their reliance on Russia and perhaps reduce cost. Asia too, has limited natural gas supplies and must rely on other more expensive forms of energy for manufacturing and power generation, which decreases their competitiveness. Increasing LNG imports can diversify their energy mix and reduce cost.
For the exporting companies, increased exports improves their balance of trade ratio and raises revenue through taxes and fees.
That's Great, But Where Do I Make Some Money?
It was not that long ago that "experts" predicted the United States would run out of natural gas and LNG imports would be needed. In anticipation of that, several companies built LNG import terminals, Exxon Mobil's Golden Pass is an example of this. That all changed with the advent of hydraulic fracking, which has released a flood of natural gas. The flood of natural gas has resulted in companies refurbishing their import terminals to change them to export terminals and other companies applying for permits to build export terminals. Let's review the various LNG export businesses.
Producers
To export LNG you need natural gas, lots of natural gas, it seems logical that the producers with the most natural gas would benefit.
Exxon Mobil - XOM is the largest producer of natural gas in the United States and has the ability to increase natural gas production if they want. Exxon's Golden Pass terminal has received permission to ship LNG, and plans are in the works to transform Golden Pass from an import facility to an export facility. XOM is also sitting on a huge gas field of at least 8 trillion cubic feet at its Point Thomson Field in Alaska. Exxon and its partners intend to pipe this gas west to an LNG plant for shipment to Asia. Although I own Exxon, and I do believe they will benefit from LNG export, XOM is so big that it is not likely LNG export will move the earnings needle to a great extent. Unites States natural gas production is only 14% of XOM's total worldwide production; LNG exporting may add to that production, but not significantly.
Chesapeake - (NYSE:CHK) Chesapeake Energy is the second largest gas producer in the Unites States and has access to some of the best natural gas acreage in the country. However, Chesapeake has a problem, and that is its huge debt load, which the company is now trying to fix. To reduce its debt, CHK has been selling some of its acreage and midstream assets. CHK has also been on a mission to reduce its dry natural gas production and increase its liquid production to produce a more balance mix of product. Chesapeake is a big promoter of natural gas transportation and LNG export. In a recent analyst presentation, CHK management stated a $0.10 move up in natural gas prices adds 100 million in revenue to CHK's bottom line. Any improvement in natural gas prices is a big positive for CHK and increased export of LNG is a positive for natural gas process. Would LNG export be a game changer for Chesapeake? No it would not, but it would be helpful to CHK's bottom-line.
Southwestern Energy (NYSE:SWN) - Southwestern Energy has one of the highest ratios of dry gas production to liquids production in the industry. SWN is also one of the most efficient producers in the industry, focusing on a limited number of plays and then building a large production base in the area. For years, SWN has owned the Fayetteville shale area and has now expanded into the Marcellus. Although SWN does hedge its gas production, it has been hurt by low natural gas prices, which has forced it to shut down some rigs and look to add oil production. SWN also has as part of its structure a midstream business that adds significantly to its cash flow. I believe SWN would benefit from an increase in LNG exports. With dry gas such a large percentage of its production, and with some midstream assets, SWN would benefit greatly by increased natural gas use and price increases. SWN is an efficient producer with a solid balance sheet; any rise in natural gas prices shows up quickly in the company's revenues and ultimately, in an investor gain.
Midstream Companies
When natural gas is produced, it has to be transported to the processing plants and then to the customers. The more natural gas that flows, the more the midstream companies benefit. Increasing LNG exports would increase natural gas flow through pipelines as well as increase the need for processing facilities.
Cheniere Energy - Cheniere Energy is primarily engaged in LNG-related businesses. LNG owns and operates the Sabine Pass terminal in Louisiana through a 89.3% ownership interest in Cheniere Energy Partners (CQP). LNG also own and operates the Creole Trail Pipeline, which interconnects the Sabine Pass LNG receiving terminal with downstream markets. No other company is more poised to benefit from LNG exports than Cheniere. Demand for LNG from its Sabine Pass facility is so high that LNG is already making plans to expand it. LNG will be the first company to export LNG, as it anticipates beginning export in 2014. LNG has also applied to build an additional plant in Corpus Christi, which would begin production in 2017/2018.
Kinder Morgan (KMI) - With approximately 62,000 miles of pipelines, Kinder Morgan is the largest natural gas transporter and largest storage operator in North America. Any increase in LNG exports will increase natural gas flow, which will benefit Kinder with its vast natural gas pipeline network and numerous processing plants. As I have previously written, Kinder Morgan is a complicated entity. Kinder Morgan is the General Partner, Kinder Morgan Energy Partners (KMP) is a Limited Partnership, Kinder Morgan Management (KMR) has the same assets as KMP, but pays its distribution in stock, and El Paso Partners (EPB) is the Limited Partnership Kinder Morgan acquired when it bought El Paso. In my opinion the two best entities to own are KMI, which has forecast double digit dividend increases far into the future, or KMP with its healthy dividend and excellent assets.
Enterprise Product Partners - (NYSE:EPD) - The majority of the LNG export terminals will be built along the Gulf of Mexico coast, Enterprise Product Partners has more natural gas processing plants and infrastructure in that area than any other midstream company. The map below shows their infrastructure.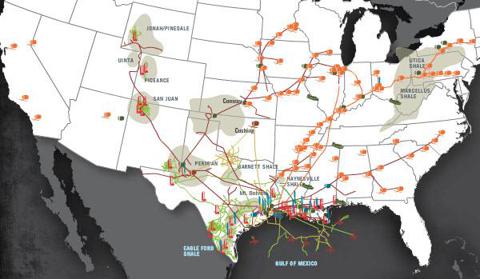 As you can see, EPD has an enormous amount of infrastructure along the Gulf, and as such, will benefit from LNG exporting. With their various pipelines and cracking units, etc. surrounding the Gulf, it is hard to believe EPD will not be a winner when LNG exports begin in earnest.
Utilities
Sempra Energy - Sempra Energy is a San Diego based utility with operations in California and South America. Sempra has received permission to export natural gas to free trade partners and to begin construction of a natural gas liquefaction and export facilities at its Cameron LNG terminal. At an analyst conference in March, Sempra Energy referred to LNG export as their most exciting future opportunity. For utilities that struggle to find growth, a LNG export facility would be positive for their earnings, in Sempra's case, the natural gas pipeline that supplies the LNG plant is also owned by Sempra, so they would receive some added benefit from that. Unlike some other companies, Sempra plans to operate their facility as a toll road, charging producers a toll fee to export the gas through the facility. Sempra is looking for a partner(s) to sign onto a 20-year tariff agreement; the partner would also agree to participate in development costs. Sempra anticipates operation in late 2016. A possible benefit for investors to Sempra's LNG plant development, Sempra may create an MLP that would include Sempra's pipeline assets along with the LNG facility.
Dominion Resources (NYSE:D) - On Friday, January 5th, a Maryland Court ruled in favor of Dominion Resources in a dispute with the Sierra Club, declaring that the Virginia-based energy company can export liquefied natural gas from an expanded terminal facility in Calvert County, Md.
Dominion will now move forward with engineering, marketing and regulatory review processes for the Cove Point expansion. The company still needs approval for the project from the Energy Department and the Federal Energy Regulatory Commission. Dominion's Cove Point terminal would export gas produced in the near-by Marcellus play. Dominion will work with Norway's Statoil (STO), which has import capacity at Cove Point and production acreage in Marcellus, to build a connection between Marcellus and the proposed export plant.
Cove Point, like other terminals, was originally built to import LNG, but will now be constructed to export LNG. Dominion has forecast additional development costs of $2.5 to $3.5 million for the Cove Point terminal. Dominion expects first export in late 2016.
Dominion, with its 11,000 miles of natural gas transmission, gathering and storage pipeline and one of the nation's largest natural gas storage systems, with 947 billion cubic feet of storage capacity, is a natural for LNG export. Once started, I would expect LNG export to add nicely to Dominion's bottom line.
Tankers/Shipping
Anyone who has ever invested or followed the fortunes of the shipping industry knows it tends to be a boom and bust business. Demand increases, shipping rates climb, companies build more ships, too many ships get built, rates fall and profits float away. Since LNG export in the United States is years away from taking off, knowing what international shipping company may benefit from U.S. LNG exports is difficult as many of the shipping companies are, as you would expect, building more ships. Therefore, I will mention just the one that I think has the most potential for success.
Golar LNG (GLNG) - Golar is one of the world's largest independent owners and operators of LNG carriers, with over 30 years of experience. Golar has developed the world's first Floating Storage and Regasification Unit and is planning on developing a Floating Liquefaction unit. Golar currently has 26 LNG carriers with 13 more on the way, two of which are floating regasification units. Golar is also the 57.5% owner of Golar LNG Partners, which is the recipient of GLNG's drop downs.
During a recent presentation, Golar management stated that it sees gas markets in the Americas as an opportunities for further growth. Golar has been very aggressive increasing its dividend and currently yields 4.5%.
I believe Golar's floating regasification units and long operational history give it an advantage over its competitors, however, many things can affect the shipping business. Weak world economies, competition, commodity spot prices, etc. can disrupt the shipping cost structure, so investors should monitor shipping investments closely.
Final Thoughts
I believe LNG export is coming and eventually will be a relatively big business. There will be winners and losers, but there is no hurry to jump into these investments. The first LNG shipment is not expected until late 2014, and most plans call for commencement of shipping in 2016. An investor should research any of the above companies that I have mentioned, and if a stock is to their liking, put it on a watch list and wait for a market pullback; There is no reason to chase any of these stocks.
In my opinion, all of the above companies will benefit from the advent of LNG exporting. Depending on an investor's risk tolerance and goals, some companies may be more suitable than others. Utilities that have a growth aspect to their business are hard to find, and I believe D and SRE will benefit from the LNG business. The midstream businesses are sure to benefit, as the more natural gas flows, the more money they make. An investor willing to take a bit of gamble and get paid a nice dividend as well, may want to look at Golar. As for the producers, I am sure they will benefit, but the affect on the bottom line may be less.
One final word of caution. LNG export is a worldwide business; other countries like Australia, Canada, Papua New Guinea and several Middle East countries are looking to expand their LNG export ability and could affect pricing, which could disrupt many of the plans that are in motion. It is always hard to fight the law of supply and demand, but the world's energy needs are growing, and it seems likely America may be providing some of that energy.
Disclosure: I am long XOM, KMI. I wrote this article myself, and it expresses my own opinions. I am not receiving compensation for it (other than from Seeking Alpha). I have no business relationship with any company whose stock is mentioned in this article.