"Investing should be more like watching paint dry or watching grass grow. If you want excitement, take $800 and go to Las Vegas." --attributed to famed economist Paul Samuelson
The term "alpha" is especially important to those of us who read and write here at Seeking Alpha. We all know it's the first letter of the Greek alphabet and that the term "alpha male" or "alpha female" indicates the top of the pecking order.
Alpha, when it comes to stocks is commonly defined as
...a risk-adjusted measure of the so-called active return on an investment. It is the return in excess of the compensation for the risk borne, and thus commonly used to assess active managers' performances. Often, the return of a benchmark is subtracted in order to consider relative performance...
What we all want to find are the "alpha stocks". These stocks represent companies that are the top or best of a sector or industry. Stocks which represent "alpha" are calculated by metrics that measure relative valuation and outstanding performances compared to a peer group, sector or index.
Let's take an example like International Business Machines (NYSE:IBM). As an esteemed member of the 30 companies that make up the Dow Jones Industrial Average (DJIA), IBM was the single largest weighted stock component in 2012 representing 11.23% of the Dow's performance.
The DJIA in 2012 had a total return of 10.24%. Yet IBM had a total return in 2012 of less than 6% including its dividend. It underperformed its index benchmark from an annual basis. The annualized 3-year (12/31/2009 through 12/31/2012) total return (percentage-wise) for the DJIA is an impressive 10.87%. IBM's was closer to 17%-per-year (annualized) for a 3-year total return of around 50%. That's an "alpha" stock!
Guess which stock was the best total return performer of the DJIA in 2012? To many investor's surprise and amazement it was Bank of America (NYSE:BAC), which gained approximately 109% total return in 2012.
On December 30, 2011 BAC shares closed at $5.56. By Dec.31, 2012 the stock price had soared to $11.61. Go figure! Yet no one would call BAC the alpha stock among the financial sector or the DJIA (my vote would go to American Express (NYSE:AXP)).
BAC's annualized 3-year total return (12/31/2009 through 12/31/2012) was a 7.66%-per-year loss for a total annualized 3-year return of a minus (negative) 23%. Ouch!! By that standard alone BAC is not the alpha financial stock of the DJIA.
The 3-year chart below illustrates the difference in IBM's and BAC's share outcome. It's more a study of contrasts than similarities.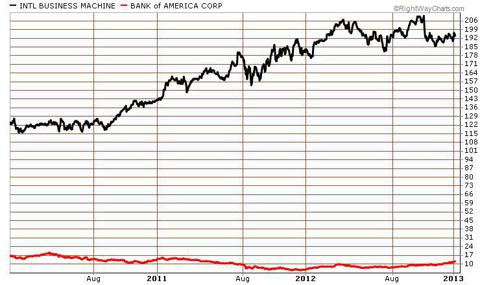 My point is that the "alpha" stock of the DJIA isn't necessarily last year's top performer and probably won't be this year's star. Let's also be clear that if you want an investing experience similar to watching grass grow or paint dry, avoid the stock market like the plague! The last 4 years underscores that statement.
Yet we can reduce risk and enhance our total returns in the stock market by following two important practices/disciplines (these aren't the only ones, just two of the most important ones ). First, invest only in the alpha stocks which have the best fundamentals and represent companies with the most competent leadership.
Secondly, control risk by being determined to limit the amount of losses you're willing to experience by using a combination of carefully chosen put options and by employing a reputable "stealth" trailing stop loss system. Rule #1 in investing is "don't lose money", and the "Smart Money" follows that rule religiously.
Three alpha stocks that are on the "Smart Money's" radar screen happen to represent stocks that are the best at what they do (i.e. the leader in its specific industry or sector). One of them is Whole Food Markets (WFM).
WFM has no publicly-traded peer that I'm aware of. The company is "the standard" in the natural foods supermarket business. In its last reported quarter (ending 09/30/2012) WFM increased year-over-year quarterly earnings by almost 50% and revenues by 24%.
In a recent article I wrote on WFM, I pointed out that
WFM is a growth story. With nearly $920 million in operating cash flow and levered free cash flow (TTM) of around $393 million, it wouldn't be a stretch for the company to double its dividend and still be cash-strong.
If that occurred, I'd anticipate a rapid rise in stock price from the current level of around $91 to around $105. At that point, if the share price stays above $105, a stock-split announcement may be in the offing by May 6th.
The 1-year chart below helps us to see patterns in the share price of WFM. It also points to a current decline in accumulation and the Relative Strength Indicator (RSI).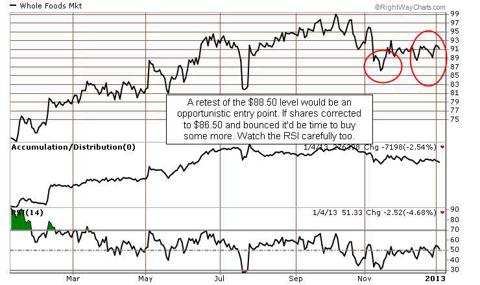 The very popular RSI or Relative Strength Indicator, is a momentum oscillator that compares the strength of gains against the strength of losses over a given period. RSI always ranges between 0 and 100. Values below 30 and above 70 are typically taken as oversold and overbought, respectively.
Let's switch topics to the financial sector which is coming off a positive year. With the Federal Reserve as the "wind beneath its wings", the big banks may continue to soar. That's why I'd call Wells Fargo (NYSE:WFC) the alpha financial stock for 2013.
Selling at less than 10 times anticipated earnings in 2013, we won't have to wait long to see how WFC fared in the last quarter of 2012. This coming Friday January 11th, its management will step into the earnings confessional and "spill the beans". Expectations have been tamped down, so I'm not anticipating any shocks.
When it comes to year-over-year quarterly earnings-per-share ((NYSEARCA:EPS) ) growth, the analysts' consensus estimate is for $.89. Quarterly revenue estimates have a consensus number of $21.29 billion, a 3.3% increase over the year-ago quarter.
EPS for the year (2012) is expected to come in at $3.35, an almost 19% increase over 2011. The final revenue numbers for 2012 should be close to $85.7 billion, which should help boost the operating cash flow and total cash (which stood at $176.43 billion by the end of WFC's last quarter).
Berkshire Hathaway (NYSE:BRK.B) and none other than Warren Buffett remain the largest shareholders. Berkshire owns nearly 15 billion shares, representing over 8% of the total outstanding shares of WFC. Talk about investing with the "Smart Money"!
Where would be a good entry price for prospective shareholders or for those who want to increase their holdings (like yours truly)? The following 1-year chart will give us clues to some possible answers.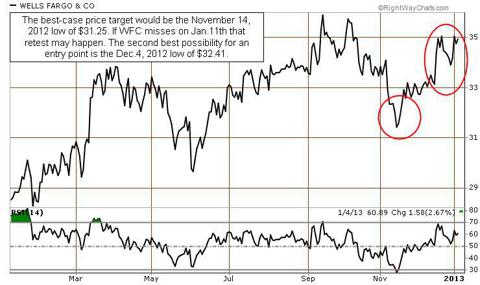 I'm going to wait for all the quarterly and annual earnings, revenues and cash-flow-from-continuing-operations news to be revealed before I do any more buying of WFC shares. Watching the RSI is another good idea from a technical standpoint.
Guess which DJIA stock has performed the best so far in 2013? It happens to be the company that will begin earnings season this Tuesday, January 9th, Alcoa (NYSE:AA), which is up 6.68% year-to-date.
The second best performer is the perennial "dog" of the Dow, Hewlett-Packard (NYSE:HPQ). Both AA and HPQ would, in my opinion, be examples of companies that are not "alpha", although that may change for AA.
In the meantime stick to the "best-of-breed" stocks, the alpha stocks like WFM, WFC and IBM in 2013. Give each stock you want to buy a chance to pull back and cool down. Be patient and be disciplined.
Remember, if you buy the shares of great, publicly-traded companies when the stock is "on sale" and you use a "safety net", you'll be less likely to lose money and more likely to experience investor success in the months ahead. Start with the alpha stocks and don't compromise!
Disclosure: I am long WFC. I wrote this article myself, and it expresses my own opinions. I am not receiving compensation for it (other than from Seeking Alpha). I have no business relationship with any company whose stock is mentioned in this article.