The industrial powerhouse, General Electric (NYSE:GE), is a great diversified combination of valuation, yield, and growth. GE was one of the 12 original companies on the Dow Jones Industrial Index. After 116 years, it is the only company remaining on the index. GE is diversified among six segments: Energy Infrastructure, Aviation, Healthcare, Transportation, Home and Business Solutions, and GE Capital. The company's current valuation and growth should allow it to bring its stock to life for the long-term.
Each of the company's segments provides important products and solutions for today's global economy. The Energy sector produces generators; gas, steam, and wind turbines; nuclear reactors; oil and gas extraction; water treatment solutions, mining motors, electrical equipment and more. The Aviation segment produces jet engines and other aerospace products and services for commercial and military aircraft. GE's Healthcare segment provides medical diagnostic equipment, disease research, drug discovery, and biopharmaceutical manufacturing technologies. The Transportation segment offers drive technology for the railroad, mining, transit, power generation, oil and gas, and marine industries. The Home and Business segment provides many familiar products that we use in our homes and workplaces such as: lighting, appliances, plant automation, hardware, and software. Finally, the GE Capital segment offers a variety of financial products such as loans, leases, fleet management, credit cards, and other products.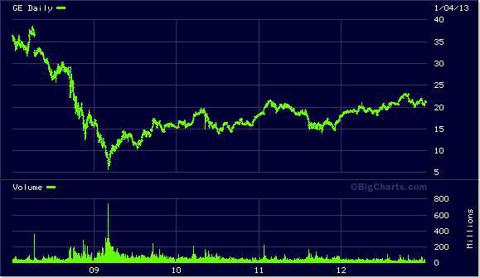 GE Capital is the segment that gave the company many of its woes during the financial crisis. However, with the economy making incremental progress, this segment should improve going forward. With improvements in housing and auto sales, GE Capital should see increases for home and auto loans. Also, the company just announced on Friday January 4, 2013 that GE Capital will serve as administrative agent on a $400 million asset-based revolving credit facility and as syndication agent on a $325 million cash flow term loan credit facility for Genesis Healthcare. This financing was used for Genesis to acquire Sun Healthcare Group.
General Electric now offers a dividend yield of 3.6%. GE did lower its dividend a few years ago due to its exposure to the financial crisis. However, that is in the past, and the company's yield is on solid footing once again. With $29 billion in operating cash flow for the past twelve months, the company is in a good position to pay shareholders even after making strategic acquisitions. The current dividend payment costs the company just under $8 billion.
The company is still undervalued with a forward PE of 12.69, a PEG of 1.25, and a price to book ratio of only 1.81. The stock price of $21 is now trading about 8% below its 52-week high of $23.
I like the fact that GE is trading under two times its book value per share. Typically, stocks are considered undervalued when they are trading at less than three times their book value per share. The current valuation has the stock in a good position for future earnings growth.
Over the long-term, stock prices tend to increase approximately at the pace of earnings growth. GE is expected to grow earnings annually at 11.27% for the next five years. If investors reinvest the dividends, they should achieve a compound annual growth rate (OTCPK:CAGR) of almost 15%. This CAGR should allow an investment in GE stock to approximately double in five years. With the financial crisis behind us and the economy chugging along like The Little Engine that Could, GE's stock should realistically meet these expectations.
Ultimately, GE's growth will be driven by the economic improvements in the global economy. In the United States,the Federal Reserve has been committed to keeping interest rates low to support economic growth through quantitative easing. Measures have been taken by the European Central Bank to prevent a European collapse, which is the weakest link of the global economy. Also, leaders in China are committed to stimulating the economy with significant infrastructure investments.
General Electric is poised to benefit from the steady global growth resulting from these various stimulus measures. All of the company's segments have a stake in supporting the global economy. As the world economy grows, more demand for engines, energy infrastructure, transportation solutions, and financing will drive growth for General Electric. The aging baby boomers will drive growth for the company's Healthcare segment.
GE as an investment is almost like owning a diverse ETF because the company handles a broad array of products and services that provide solutions to many of the world's economic needs and challenges.
Disclosure: I have no positions in any stocks mentioned, and no plans to initiate any positions within the next 72 hours. I wrote this article myself, and it expresses my own opinions. I am not receiving compensation for it (other than from Seeking Alpha). I have no business relationship with any company whose stock is mentioned in this article.