The J. M. Smucker Company (NYSE:SJM) is the 9th largest shelf-stable food manufacturer in the US. Business segments for Smucker's include US retail coffee, US retail consumer foods, and International foodservice. Smucker's is currently trading for $90.20 per share and is at its 52-week high. Smucker's offers a $0.52 per share quarterly dividend. At current prices, the stock yields about 2.3%.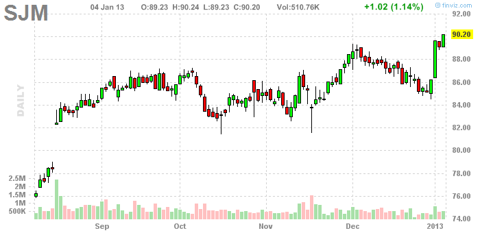 Smucker's focus is to own and market food brands that hold the number one position in their respective category. Despite its name, Smucker's is much more than a peanut butter and jelly company. Smucker's owns leading brands in the following food categories: coffee, peanut butter, fruit spreads, shortening and oils, baking mixes and frosting, canned milk and flour & baking ingredients. Smucker's reported $5.5 billion in net sales for the year ended on April 30, 2012.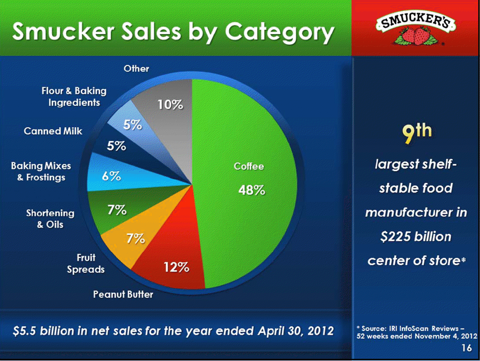 The coffee segment for Smucker's is of particular importance as it generates over 48% of sales for the company. Net US retail coffee sales increased to $2.3 billion for FY 2012 from $1.7 billion for FY 2010. This increase was led by the introduction of Folgers labeled K-cups, the Sara Lee beverage foodservice acquisition, and the acquisition of Rowland Coffee. The Rowland Coffee purchase helped Smucker's expand its reach with Hispanic coffee drinkers as the company now owns the major Hispanic coffee brands of "Cafe Bustelo" and my personal favorite "Cafe Pilon."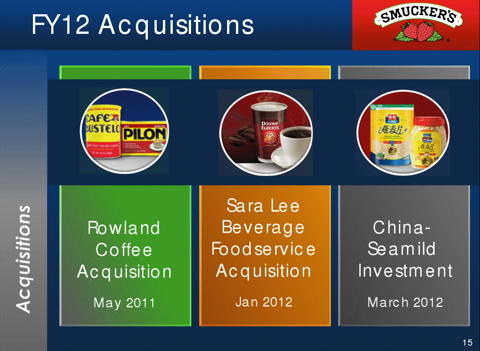 Smucker's has benefited significantly from the share price decline of Coffee futures in 2012. Coffee futures have declined from around $240 per 17 metric tons, to around $147. This is a decline of nearly 40% for Smucker's main raw material cost.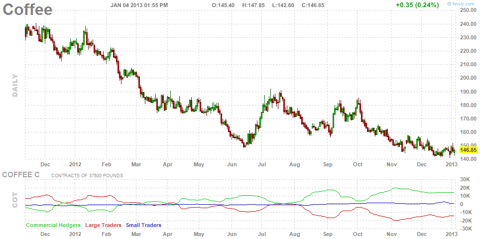 Smucker's has had consistent long-term growth in both net sales and earnings per share. The 10-year CAGR in net sales for Smucker's has been an impressive 24%, growing from $650 million for FY 2002 to $5.5 billion for FY 2012. 10-year earnings per share CAGR has been 13%, growing from $1.38 for FY 2002 to $4.73 for 2012.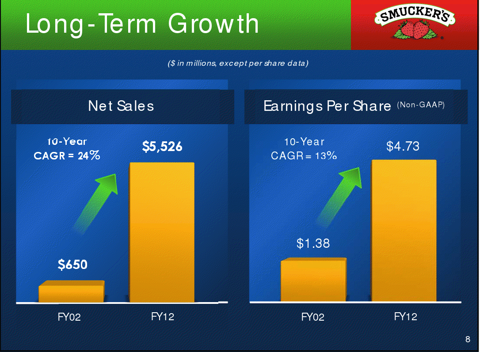 Smucker's has also been increasing its dividend at a steady rate. The quarterly dividend per share has grown from $0.32 in 2009 to a current $0.52 per share. This is a 60% increase since January 2009.

Along with its dividend, Smucker's has delivered shareholder value by repurchasing shares. Since FY 2010, Smucker's has repurchased 11.8 million of its shares. Since FY 2008, when including quarterly dividends, special dividends and share repurchases, Smucker's has returned over $1.8 billion to its shareholders.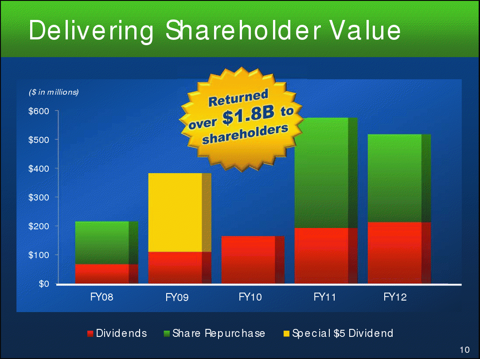 Conclusion
Smucker's is currently in a sweet spot due to much lower coffee prices. The market seems to have noticed this as the stock is up over 5.4% during the past week. The average analysts' estimates for EPS for next quarter is $1.39. I believe the current stock price is anticipating that Smucker's will beat this estimate.
Disclosure: I have no positions in any stocks mentioned, but may initiate a long position in SJM over the next 72 hours. I wrote this article myself, and it expresses my own opinions. I am not receiving compensation for it (other than from Seeking Alpha). I have no business relationship with any company whose stock is mentioned in this article.