Yesterday Saibus Research wrote a well-timed article on the merger speculation of SUPERVALU Inc. and Cerberus Capital Management LP. Most are familiar with SUPERVALU's distressed grocery model and the continued pressure on competition. SUPERVALU shares closed at $2.94 on Friday.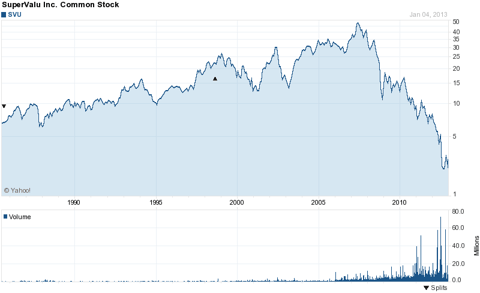 Cerebus Capital, a private equity firm, is known to have extensive experience in risk mitigation and spotting value in underperforming and/or undercapitalized businesses. The proposed business combination with Cerebus and SUPERVALU makes a lot of sense, as explained by Saibus Research:
We're not surprised that Cerberus would be involved with SUPERVALU in such a strategic deal considering that Cerberus partnered with SUPERVALU and CVS Caremark (NYSE:CVS) in acquiring the assets of Albertsons Inc in 2006. As part of that deal, Albertsons' 655 locations in Arizona, Northern California, Colorado, Florida, Louisiana, New Mexico, Oklahoma, Texas and Wyoming were hived off into a new company (Albertsons LLC) and Cerberus acquired Albertsons LLC. The investor group collectively spent $17.4B on the deal in terms of cash and assumed debt and $11.4B came from SUPERVALU in order to acquire Albertsons' retail grocery operations other than the Albertsons LLC stores. These figures most certainly do not compare favorably to SVU's $6.9B in Enterprise Value as of January 2013.
SUPERVALU operates around 64 million in retail square footage (as of February 25, 2012) through a total of 2,434 traditional and hard-discount food stores and according the company's 2011 10-K (Annual Report here), 62% of the properties are leased. In addition to its principal executive offices in Eden Prairie, Minnesota, the company maintains store support centers in Boise, Idaho and St. Louis, Missouri.
What Happens to the SuperValu Landlords?
As Saibus explained,
The parties have agreed to the framework surrounding the deal and are expecting to unveil it on January 10th, when SUPERVALU announces its Q3 2013 EPS.
So in three more days there could be more clarity related to the possible new ownership structure of SUPERVALU. It is clear that the "brick and mortar" for the company is significant and depending upon the outcome, REITs could benefit from the merger transaction.
Several REITs that have lease concentration with SUPERVALU include Inland Real Estate Corporation (NYSE:IRC), Kimco Realty (NYSE:KIM), Regency Centers (NYSE:REG), Equity One (NYSE:EQY), and Retail Properties of America (NYSE:RPAI).

As I wrote in a recent article (Inland Real Estate Corporation: A Wide-Moat REIT Forming in the Windy City) on Inland Real Estate Corporation:
Inland's tenants range from large national retailers to local chains to small independent stores. For the total portfolio (excluding properties held in the joint venture with IPCC - more on that below), the three largest tenants are SuperValu, Inc. (NYSE:SVU) (Jewel-Osco/Cub), which occupies 8.4% of the space and provides 7.5% of ABR (annual base rent); Roundy's (NYSE:RNDY), which occupies 4.9% of the company's square footage and comprises 5.1% of ABR; and Dominick's Finer Foods, a subsidiary of Safeway (NYSE:SWY), which occupies 3.2% of the company's space and provides 3.4% of ABR.
I went on to explain,
Supervalu is a tenant in both the Minneapolis/St Paul and Chicagoland markets under the Cub Foods and Jewel-Osco brands, respectively. Cub Foods and Jewel-Osco represent two of the strongest and well established brands in the Supervalu group of grocery operators and should maintain their relevance as grocery operators. In addition, Inland's grocery portfolio is extremely well-positioned and its top grocery tenants enjoy substantial market share (over 35%) making the real estate values more "critical" and much more valuable.
As I see it, any outcome - private equity buyer or sell to a competing chain - would be advantageous for a SUPERVALU landlord. It will be interesting to follow the earnings call later in the week and determine what Cerebus Capital brings to the table. Whatever that it is, I assume it could only be good news.

Source: SNL Financial
Disclosure: I have no positions in any stocks mentioned, and no plans to initiate any positions within the next 72 hours. I wrote this article myself, and it expresses my own opinions. I am not receiving compensation for it (other than from Seeking Alpha). I have no business relationship with any company whose stock is mentioned in this article.