DreamWorks SKG (NASDAQ:DWA) had a rocky end to 2012. After seeing its stock rise on positive numbers based on its hit Madagascar 3, the stock fell sharply after the beginning of November on disappointing returns on "Rise of the Guardians." I believe this is strictly short term trading that is ignoring the long term growth expectations of the company. This opens an excellent buying opportunity for value and growth investors with long term investment outlooks.
"Rise of the Guardians." the CG-animated holiday movie from Dreamworks produced a disappointing $32.6 million over the five-day Thanksgiving holiday and a US box office of $95 million through the final December weekend, according to entertainment website Box Office Mojo. Produced at a cost of $145 million, with an additional $80-$85 million spent marketing the film, it will be tough for Dreamworks to turn a meaningful profit on the film and the stock price has taken a hit, down from over $22 to a recent price trading between $16 to $17.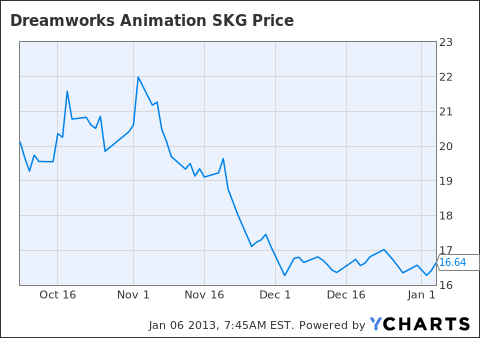 Lowering the Guardians
The lowered price was pushed by several agencies which downgraded the stock. Financial services outfit Stifel Nicolaus commented on their reasoning behind their own downgrade:
The rating change comes as the international opening weekend for "Rise of the Guardians" was somewhat weak and not enough to offset what continues to be weakening domestic performance. What we take from this Guardians experience is that where once there was an implied domestic box office floor on a movie from the company, particularly in the 3D era, of $150mn that is no longer the case. Also clearly no longer the case is the mantra that the lack of competing animated titles will automatically grant a movie clear box office sailing.
While these are good points made specifically to Guardians, it also shows what I consider to be a near-sighted failure of many rating agencies who look at entertainment companies. Short term, most analysts and Mr. Market as a whole get tied to the opening day weekend results of domestic theatrical releases.
DreamWorks did have some heady days in 2009-2010 when it had a dizzying run of hits with Monsters versus Aliens, How to Train Your Dragon and Shrek Forever After. It seemed that DreamWorks could do no wrong and the stock price went up to a high of $44.03 in May 2009. Worries over the economy and more erratic results have drastically lowered the share price: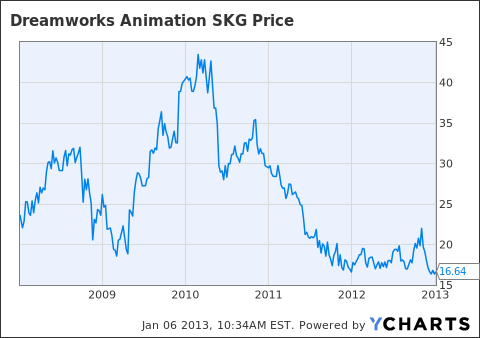 An important note is that 2009-2010 was the only time in Dreamworks history that it released as many movies as it expects to release on a yearly basis going forward.
International Success
Even movies that do not do as well in the US box office often recover their costs and even grind out a solid profit from overseas theatrical release. Many analysts concentrate too much on US box office when foreign box office is becoming even more important to the profitability of theatrical releases. Analysts see a mega hit like Shrek 2 that had a huge US box office of $441 million, taken against the $135 million production costs. They tend to undervalue the gravy of the additional $478.6 million gross Shrek 2 made from foreign box offices.
More importantly, analysts neglect the importance of international revenue for lesser movies, especially for quality animated films like those offered by Disney (NYSE:DIS) and DreamWorks. Foreign releases are where the profits are. Case in point is the 2010 DreamWorks release of Megamind which become profitable from international sales. DreamWorks earned a $148 million US box office off Megamind, failing to pay for the $130 million production budget plus marketing costs. However its foreign box office was an additional $134 million, making it a solid if not spectacular winner even before DVD and ancillary sales came in.
In fact, the International Box Office on Guardians is a respectable $165 million, giving it a worldwide gross of about $260 million. Add the fact that animated films in general, and DreamWorks releases in particular, keep generating more international revenue much longer than live action releases, I expect Guardians to pull in another $40-$50 million in 2013. Add in residual income streams from TV, DVDs and other electronic medium and Guardians should turn a small but tidy profit near term and provide an ongoing revenue stream long into the future.
Relatively Reliable Returns
One of the big issues in owning entertainment companies, especially small theatrical companies like DreamWorks who have only a few releases a year, is the general unreliability of earnings. The traditional Hollywood rule of thumb is that 75% of studio movie releases lose money off their original distribution. After distribution the follow on rights sales bring some of those releases to at least break even or even to a small profit. This grim reality is financed by the 10-15% of released movies that are huge box office winners.
DreamWorks is a relatively small studio, which has been releasing 1-2 new movies a year and the normal studio economics would have long put it into bankruptcy. It is incredibly nerve wracking for long-term investors, as the stock price fluctuates wildly based on the hype of every movie release: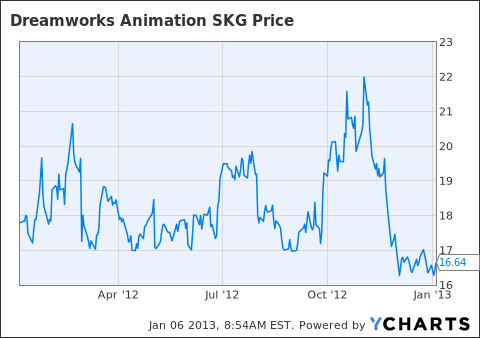 Looking at this price chart of the last 12-months, we see that over this time the overall price is slightly down, but enjoyed three sharp bumps in March (earnings news and announcements over 2012 releases), July (release of Madagascar 3: Europe's Most Wanted) and October (Expectations of Rise of the Guardians release). The stock is a short-term trader's dream, but we are looking at long term growth and value, so let us continue. While movie releases are always iffy earnings-wise the company has an excellent track record.
DreamWorks has a history of doing it much, much better than the 75% industry money losing proposition. Only one DreamWorks movie, the early 2000 Road to El Dorado failed to gross at least production costs, while the company has had to write down losses on a total of only three films. Three losers out of 25 is outstanding in the movie industry, especially placed beside the long list of DreamWorks mega hits like Shrek, Madagascar and Kung Fu Panda that DreamWorks has enjoyed. The bottom line is that while earnings will fluctuate from quarter to quarter as releases come and go, the odds the company gets between frequent box office smashes and rare misses gives them a grand advantage over the competition.
A 60% Production Increase Going Forward
DreamWorks also is ramping up production of its new releases. The company has 20th Century Fox as its new theatrical distributor and the company is intending three movie releases each in 2013 and 2014 and four in 2015. The last three years the company has been producing five movies every two years - or 2.5/year.
Given a pair of assumptions:
that DreamWorks will be able to continue their rate of success within the more active production schedule;
and that the company will continue at the 4/films a year after 2015:
that brings with it an expected 60% long-term revenue increase. This should also have the secondary affect of easing the quarterly earnings roller coaster. More releases each year should avoid quarters with decreased earnings from being between releases. This greater reliability of earnings should make the company more attractive to value and growth investors.
Broadening Its Revenue Base
DreamWorks is about to become an astounding play on China. In August 2012 the company announced the creation of the Shanghai Oriental Dreamworks Film & Technology Company, a joint venture with several Chinese state entertainment organs. The joint breakdown of ownership in the announcement indicated:
Oriental DreamWorks is a joint venture established by China Media Capital(NYSE:CMC), Shanghai Media Group (NYSE:SMG), Shanghai Alliance Investment, Ltd.(SAIL) and DreamWorks Animation . The Chinese companies will hold a majority stake of approximately 55% in Oriental DreamWorks and DreamWorks Animation will hold approximately 45%.
The company plans to eventually hire up to 2,000 animators and artists. While the unit has been given the assignment of developing and producing the next Kung Fu Panda installment (release in 2016) it is also looking to begin large scale television programming for the Chinese language markets.
I love this move since at one in the same time:
The lower wage market can lead to sharply lower production costs in the high cost animation business
Open up the vast Chinese market which has largely been closed to outside movie producers
Continue to expand DreamWork's production base which can further nurture increased production and greater economies of scale
Simultaneously the joint venture announced plans for "Dream Center" - a development along the planned Xuhui Riverpark. According to the joint announcement:
Plans feature designs from a number of international architectural masters and incorporate a series of theaters, cinemas, creative enterprises, tourist attractions, restaurants and commercial facilities. "Dream Center," together with the neighboring "Media Port of the West Riverbank," will create Shanghai's new landmark: a world-class cultural destination that is envisioned to be comparable to New York's Broadway and London's West End.
It is too early to be able to judge how much this joint venture will actually produce, however the potential is enormous. The investment was announced at 20 billion Renminbi - or about $3.2 billion.
Evaluating the Basics:
So how does DreamWorks look in light of this? Well the basic numbers show that the company has a recent price of $16.64, within a 12-month trading range of $16.04-$22.98. The company has an earnings per share in the trailing twelve months $0.83 for a price earnings ratio of 20. This is a bit of a premium to its competitors which have an industry average 16.4.
Most exciting to me is it has a tangible book value/share of $13.95, $1.50/share of cash and no long term debt. The price is at a measly 1.2/book value and 2.0 to sales.
While the PE is high versus the competition, Mr Market still looks to be wildly undervaluing the future of DreamWorks as seen by its increasing production and new investments into China. In addition, the more rapid production rate will continue to expand DreamWorks' steadily increasing media library and continue to drive increases in licensing and ancillary revenue.
There is a lot of guesstimate in looking out into 2016 and beyond. However based on expected increases in theatrical revenue, ancillary revenue and growing value of the DreamWorks library, I fully expect that earnings will hit into the $1.40-$1.50 range by 2016. This is assuming that the Chinese joint venture is merely breaking even and not making any affect to the bottom line. At merely an industry average 17 PE, that would indicate a share price of $23.80-$25.50 as a very conservative low estimation.
If the more aggressive 20 PE prevails then a share price of $28-$30 would be expected. This again would have any earnings from China as mere gravy. With a 65%-85% gain likely from the current $16-$17 price this looks like an outstanding investment for patient investors.
Conclusion
At prices below $20 DreamWorks is an extremely good investment for patient investors. Now is an excellent time to accumulate shares for long term positions. In addition, the typical bumpy nature of the share price will likely provide several buying opportunities throughout the year to add to positions.
Disclosure: I am long DWA. I wrote this article myself, and it expresses my own opinions. I am not receiving compensation for it (other than from Seeking Alpha). I have no business relationship with any company whose stock is mentioned in this article.