A secular bear market is categorized by below average stock market returns over a period of nearly a generation, while a cyclical bull market's average length approximates that of a business cycle. Since hitting bottom in March 2009, equities have enjoyed a nearly four-year cyclical bull market. The only question on every investor's mind should now be: is this the beginning of a new secular trend? Or simply a cyclical divergence within a secular bear market?
For example: from 1929 until 1941 (with dividends reinvested) the average inflation adjusted return of the S&P 500 (NYSEARCA:SPY) was -0.8%. The next secular bull did not disappoint and from 1942 until 1965 a 24-year run returned an annualized inflation adjusted 15.7%. Then from 1966 until 1982 the S&P 500 yielded an annualized real price appreciation with dividends of -1.1% until the most powerful secular bull market on record began returning an annualized 18.5% until 2000.
The principle difference between a secular bear and a secular bull is during the bull phase earnings multiples are expanding, while in the bear phase they are contracting. Stocks are always volatile, but in a rising market driven by multiple expansion, even vicious sell-offs are erased rather quickly (e.g. Black Monday). Thus remaining fully invested at all times is the best approach. However, during a secular bear multiple contraction causes the market to be range-bound for a very long period, capital appreciation becomes an uphill struggle and waiting for the right entry point becomes very important.
The end of a cyclical bear is marked by panic selling and a V-bottom, while the end of a secular bear is generally characterized by indifference: no one buys stocks because they have returned so little for so long. We have seen panic, but year after year we have not seen indifference. This leads to the conclusion that within a cyclical bull we wait for the end of our secular bear market.
Look at the chart below: the end of secular bear markets have been characterized by a falling Shiller CAPE, which slowly and painfully bottoms over several years (e.g. 1918-1922; 1948-1952 or 1978-1982). The analysis for our present circumstance is complicated by the sheer size of the stock market bubble that occurred until 2000. Stocks had never previously been so overpriced and thus years of mean reversion may yet remain.
Figure 1: Shiller 10 Year Cyclically Adjusted Price to Earnings (NYSEARCA:CAPE) over the History of the Market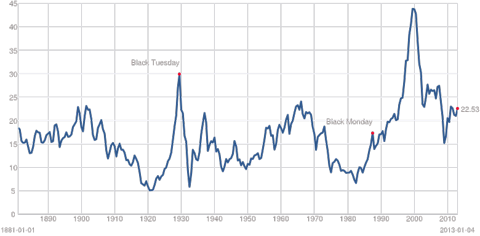 If we remain in a secular bear market the following conclusions should be drawn:
Favor Income over Growth - MLP and REIT investments accomplish this goal and reasonably priced alternatives are available including Kinder Morgan Energy Partners (NYSE:KMP), Omega Healthcare Investors (NYSE:OHI) and Linn Energy LLC (LINE), which yield 6%, 7% and 8%, respectively.
Favor Large-Caps over Small Caps - The TTM P/E of the S&P 500 is 17.4, while the TTM P/E of the Russell 2000 is 31.1. Of course analysts expect earnings making the forward P/E 15.4 and 13.2 respectively, but since these expectations are consistently penciled down TTM earnings are preferable to forward ones.
Buy reasonably priced bonds - The hardest part of the tail innings of a cyclical bear is reasonably priced income alternatives become hard to find. I would argue that Municipal Bonds are still attractively priced.
Sell Long-Term Put Options - Selling puts is an attractive method that can generate income. In a sideways market if the shares are assigned they will be at lower prices and closer to the bottom of a trading range. In a runaway bull market, selling puts can lag, but when the chances of huge appreciation seem less likely, selling puts can be less risky than holding the underling stocks.
Consider becoming a landlord - Interest rates are incredibly low and attractively priced properties are available for purchase. This is the most cumbersome and least liquid investment strategy. I expect in many locations it is possible to generate double-digit return on equity from purchase of a rental property.
Conclusions:
The stock market has never had to revert to the mean from such overvaluation compared to 2000. A number of other factors most notably the intervention of the Federal Reserve have become a major factor in the support of stock prices, thus predicting how long the market will continue to rally is quite difficult. While I have been consistently bullish on equities over the past two years this was in the context of a cyclical recovery in the midst of a secular downturn. While this cyclical recovery is not in danger at this moment it is now, when times are good, that investors should cast a critical eye on their investments.
As the market moves closer to all time highs investors must ask themselves: Is the third time testing 1500 the charm for the S&P 500, or are we about to bump our heads against the ceiling? In the longer term (e.g. 10 years) I remain very bullish, mostly due to incredibly low interest rates, which will force investors to take more risk, while lowering the cost of debt for corporations relative to their cost of equity.
Given the bullish rush of the past few days investors would be warranted to carefully think about how much risk they wish to take before jumping into the deep end. It is expected that this rally has room to run and the internal price action of the market is quite bullish. However, in the medium term (1-5 years) investors may need to temper their expectations. We are approaching the time to ask the hardest question in investing. That question is: When should I sell?
Disclosure: I am long OHI, KMP. I wrote this article myself, and it expresses my own opinions. I am not receiving compensation for it (other than from Seeking Alpha). I have no business relationship with any company whose stock is mentioned in this article.