Mylan (NASDAQ:MYL) is a leading provider of generic pharmaceuticals. The company more than doubled its revenue base when it acquired Germany-based Merck (NYSE:MRK) KGaA's generic pharmaceutical business in 2007. This acquisition significantly expanded MYL's presence in Europe where it generated 35% of generic sales through the first nine months of 2008. North America produced 53%. The remainder came from Asia.
The Generics segment produced 85% of MYL's nine month sales. It makes generic pharmaceutical products in tablet, capsule, and transdermal patch form. MYL offers roughly 180 generic pharmaceuticals in North America, which amounts to 457 total products.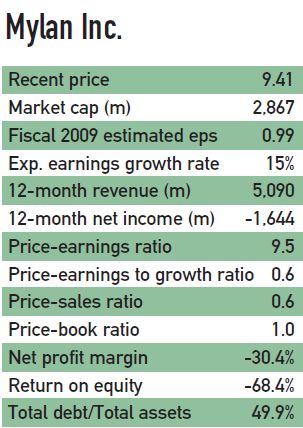 MYL also markets 74 products on behalf of third parties. It is among the top three generic pharmaceutical providers in France, U.K., Spain, and Italy. It is the top provider in Australia and New Zealand, and the fourth largest in Japan.
The Specialty pharmaceuticals segment produced 8% of sales. It manufactures branded specialty nebulized and injectable products. Two key products are EpiPen, an epinephrine auto-injector for the treatment of allergic reactions, and DuoNeb, a nebulized unit dose treatment for chronic obstructive pulmonary disorder.
The remaining 7% of MYL's revenues came from the sale of active pharmaceutical ingredients (APIs) and the distribution of certain branded generic products.
Prescription pharmaceutical sales tend to be noncyclical, yet shares of MYL have fallen sharply with the rest of the market. The sell-off may be in reaction to reports that difficult economic times are prompting some consumers to forgo medications or reduce dosages. Investors may also fear possible reforms from the Obama administration that may limit profits. However, because generics are less expensive than branded pharmaceuticals, we believe MYL is more likely to benefit from these developments.
Q3 revenues jumped 248% year-over-year to $1.66 billion. The acquisition from Merck added $687.2 million to the top line and the sale of MYL's rights to Bystolic added another $455 million. Excluding these contributions, organic sales rose 7.9% to $514.6 million thanks to new product launches and strong demand for a generic version of Duragesic. The adjusted gross and operating profit margins fell to 46.9% and 12.8%, respectively, from 49.1% and 22.1% in the prior year period. Adjusted net income increased 35.7% to $105.4 million, but adjusted earnings per share fell 25.8% to 23 cents due to a larger share count.
Investment risks include competition from other generic manufacturers and the possible failure of a new product to meet expectations. A more immediate concern is MYL's heavy debt load, which jumped to $5.5 billion from just $1.7 billion a year ago. The increase is due to the Merck acquisition. Yet operating cash flows are strong and there is no apparent need to tap the capital markets.
MYL is also on track to submit about 70 abbreviated new drug applications (ANDAs) by yearend. It has 112 ANDAs pending FDA approval, 23 of which have first-to-file status. Just last month, MYL received final approval on an ANDA for Levetiracetam, a generic version of Keppra. It also received tentative approval on an ANDA for Venlafaxine HCI Extended Release Capsules, a generic version of Effexor XR.
The branded versions generated about $4 billion in sales for the twelve months ending September.