In past articles, I have highlighted momentum strategies across asset classes that have produced excess returns per risk borne, or alpha, over long-time intervals. Momentum switching strategies between 1) Treasuries and high yield bonds; 2) investment grade bonds and high yield bonds; 3) between the highest quality (NYSE:BB) and lowest quality speculative grade bonds (CCC); and 4) between short duration and long duration bonds have historically produced elevated risk-adjusted returns. The purpose of this new series of articles is to demonstrate the success of these strategies, and give Seeking Alpha readers with differing risk tolerances tips on how to employ these strategies themselves to improve the performance of their respective fixed income portfolio. These are useful strategies for Seeking Alpha readers, especially those who allocate dollars to their investment plan on a subscription-like basis like 401k investors making automatic payroll deductions. These switching strategies can be used to adjust periodic allocations to capture the momentum effect and improve portfolio returns, especially in tax-deferred accounts.
Tailoring Your High Yield Allocation
Treasuries and High Yield Corporate Bonds
The most basic momentum strategy in fixed income is between Treasury bonds and high yield bonds. The monthly strategy switches between the two asset classes, owning the asset class that performed the best in the trailing one month.
In difficult market environments, Treasury bonds rise in value as a flight-to-quality instrument while risky assets sell off as credit spreads widen. In improving economic environments, speculative grade credits improve while Treasury bonds often weaken due to rising inflation that lowers real returns. Momentum strategies work under the principle that markets are slow to react to new information. Below is the historical performance of this strategy.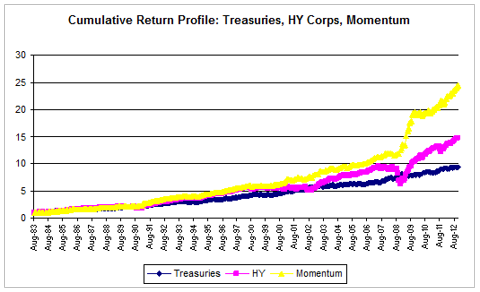 In December, the Barclays U.S. Corporate High Yield Index, replicated through the ETF JNK, returned 1.58% and the Barclays U.S.Treasury index, replicated through the ETF GOVT, returned -0.44%. Investors employing a momentum strategy would have overweighted high yield allocations given November's outperformance. December's relative performance marked the sixth consecutive month that the momentum strategy correctly allocated to the outperforming sector. While high yield returns in 2012 were historically high, the momentum strategy still outperformed both on an absolute basis and especially when adjusting for the strategy's lower risk by missing the 300bp underperformance of high yield to Treasuries in May.
Investment Grade Corporate Bonds and High Yield Corporate Bonds
For Seeking Alpha readers with a higher risk tolerance, momentum strategies are also available between investment grade corporate bonds and below investment grade corporate bonds. Below is the historical performance of this strategy.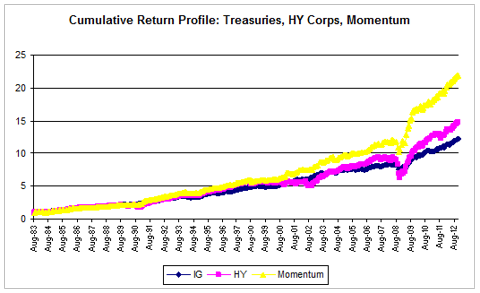 Investors should be cognizant of the fact that while adding investment grade corporate bonds instead of Treasuries increases the credit risk of this trade; historically, investors would not have been compensated with incremental returns. The lower correlation coefficient between Treasuries and high yield bonds over the sample period (r=0.05) than between investment grade bonds and high yield bonds (r=0.53) demonstrates that the individual return profiles move together less often, creating a more efficient switching strategy. Investors who have decided to eschew Treasuries altogether may still be interested in an IG/HY momentum portfolio, which has still generated average returns in excess of speculative grade credit alone, but with risk more closely reminiscent of an IG portfolio.
In December, the Barclays U.S. Investment Grade Corporate Index, replicated through the ETF LQD, returned -0.06%, underperforming the high yield corporate index. Investors employing a momentum strategy would have overweighted high yield allocations given November's outperformance. While the IG-HY momentum strategy marginally underperformed in 2012 on an absolute basis, it did produce alpha when adjusting for risk. Historically, this trade has produced returns equivalent to a high yield fund levered an additional 15%, but with variability of returns of only 70% of that equivalent return profile.
BB-Rated Corporate Bonds and CCC-Rated Corporate Bonds
For Seeking Alpha readers with an even higher risk tolerance, toggling between the highest and lowest rated cohorts of the high yield segment of the market based on momentum has also produced alpha over long-time intervals.
While there are not specific exchange traded funds that target BB or CCC-rated bonds specifically, funds regularly publish the ratings distribution of their investments. Understanding positive momentum in high yield bonds should help Seeking Alpha readers know when to dip down in quality to higher yielding single-B and triple-CCC rated bonds. More importantly, understanding momentum will help investors miss big negative swings in performance of these risk sub-sectors when credit losses begin to eat into portfolio returns. Below is the historical performance of a momentum switching strategy between BB and CCC-rated bonds.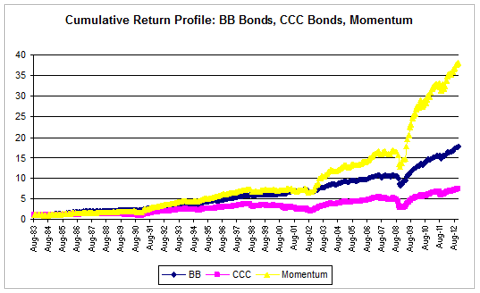 The outperformance of CCC-rated bonds in December (CCC return of 2.03%, BB return of 1.08%) should further bolster risk-taking into the early part of 2013, given high yield bonds tendency to outperform in January. Historically, this momentum switching strategy would have outperformed owning high yield outright by over 360bps per annum. Investors should also note that BB-bonds tend to outperform CCC-bonds over long-time intervals due to their lower default rates, so earning alpha by going to the bottom of the credit spectrum must be done tactically.
Adjusting Your Portfolio Duration
All three of the aforementioned trades have used momentum to opportunistically time entry points to increase or decrease credit risk. The trade below demonstrates that momentum is also useful in timing bets on another key component of fixed income returns: interest rates.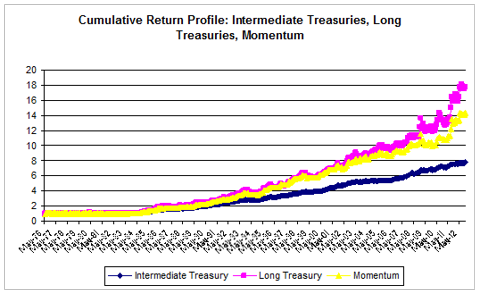 While this momentum strategy has not outperformed on an absolute basis over the entirety of the forty year sample period, the momentum switching strategy has produced alpha. The average annual return of the momentum strategy is only 0.12% lower than the long Treasury-only strategy, while exhibiting only about three-quarters of the volatility. Over the past one year, the momentum strategy has produced 95bps of outright outperformance to the long Treasury index, roughly the compensation for going down from AAA Treasuries to single-A industrials and utilities, while again only producing three-quarters of the risk.
There has been a great deal of interest in the long part of the Treasury curve with ETFs providing exposure in unlevered form (TLT, TLO), levered form (NYSEARCA:UBT) and inverse unlevered (NYSEARCA:TBF) and inverse levered form (TBT, TMV, TTT). Understanding momentum in rates movements can help Seeking Alpha readers position their portfolio appropriately, or give insight to tactical traders making bets on the long duration parts of the curve. In December, the intermediate part of the curve (-0.2%) outperformed the long part of the curve (-1.96%) as rates sold off modestly. Momentum suggests that this follows course on average in January 2013, which has held so far this month.
Summary
For Seeking Alpha readers interested in gleaning long-term alpha through momentum, I will be updating the performance of these four trades at the end of each month. By providing performance over the trailing one month, momentum investors can follow along with these trades in their own portfolios. Also look for a series of articles on fixed income/equity momentum trades and momentum trades within the equity universe that will also be updated monthly beginning in January 2013.
Disclosure: I have no positions in any stocks mentioned, and no plans to initiate any positions within the next 72 hours. I wrote this article myself, and it expresses my own opinions. I am not receiving compensation for it (other than from Seeking Alpha). I have no business relationship with any company whose stock is mentioned in this article.