Amazon's (NASDAQ:AMZN) paid units sold has far outpaced revenue growth over the past several years. This has led to a precipitous decline in the average selling price (ASP) of each unit sold for the company (see chart). I contend that this decline in ASP is what has led to the significant outpace of fulfillment expense to revenue rather than the explanation provided by Amazon management that it is a temporary investment to fuel future increased profitability and growth. My research and analysis will show that Fulfillment Expense is by far the primary driver of net income levels (with inverse correlation), and although Amazon's business model has been driving higher revenues and gross margin percentage, fulfillment expense will continue to scale faster than gross margin dollars, thus pressuring earnings potential for the foreseeable future.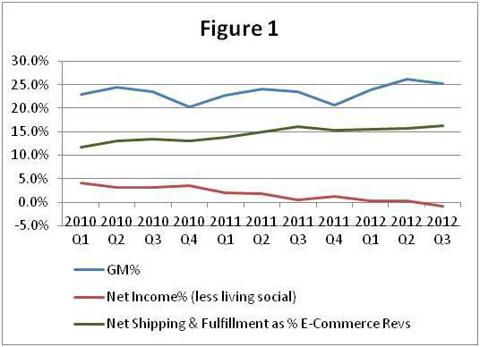 After three years (2008-2010) of stable gross margin (~22%) and net margin (~3%), Amazon's financial profile has been changing dramatically due to increases in operating expenses and the entrance into new businesses (retail consignment distribution and cloud services). As a result, over the past several quarters, gross margin has been increasing but yet Amazon's net margin has been declining (Figure 1). The company points to its temporary stepped up investments in operating expenses and capital expenditures that will be followed by a return to higher net margins. Let's examine those investments.
The Investments
There have been three main sources of Amazon operating expense investments in 2011 and 2012. Let's examine the increase in spending, what it has been used for and determine if they are truly temporary or need to be recurring:
Technology and Content (T&C): Since 2010, Amazon has developed the Kindle Fire to compete with advanced tablets from Apple, Samsung and Google, significantly expanded Amazon Web Services (AWS) vs. Google, Apple, Rackspace and IBM, and created Amazon Prime Instant Video to compete with Netflix and Hulu. In 2012 they will invest $0.7B alone on streaming video content, which pales in comparisons to Netflix's content spend of well over $2B in 2012. To account for these development, T&C has increased from 5.1% of revenue in 2010 to 7.4% of revenue in 2012. The delta from 5.1% to 7.4% on 2012 revenue is $1.4B. This increased spending has gotten Amazon in the game, but it has not been enough yet to make a dent in their competitor's market share. As an example, Apple's iPad currently enjoys more than 10 times the market share of Amazon's Kindle and in streaming video Netflix has 30 million customers compared to an estimated 100,000 for Amazon. This is an uphill battle for Amazon and therefore spending as a percentage of revenue will need to remain near 2012 levels. My model estimates T&C at 7.2% of revenue for 2013 and beyond.
Marketing: New consumer businesses (like tablets and streaming video) require significant exposure to be viable. Marketing expense has increased from 3.0% of revenue in 2010 to 3.7% of revenue in 2012 to push the Kindle Fire and Prime Instant Video. The delta from 3.0% to 3.7% on 2012 revenue is $0.4B. My comments in the T&C section apply hand-in-hand here as well and my model places 2013 Marketing Expense at 3.5% and then 3.4% thereafter.
Fulfillment: Amazon wants to bring its fulfillment centers closer to its customers to both decrease shipping costs and to shorten the delivery time, so as to look more like a virtual brick and mortar store in your backyard. To that end, they have added 17 fulfillment centers in 2011 (33% increase) and 19 fulfillment centers in 2012 (28% increase). The increase in square footage simply keeps up with revenue growth though (reference this article by Paulo Santos). Fulfillment expense has increased from 8.5% of revenue in 2010 to an estimated 10.6% of revenue in 2012. The delta from 8.5% to 10.6% on 2012 revenue is $1.3B (or $2.75 per share).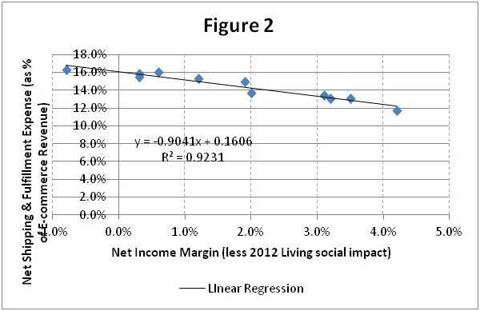 Let's focus on the third investment, Fulfillment expense, as this is at the center of debate. Figure 2 displays a regression analysis for the past 12 quarters where fulfillment + net shipping expense accounts for 92.3% of the variation in net income. Analysts and bulls believe fulfillment expense will subside back to "pre-investment" levels of 2009 at 8.5% of revenue as soon as 2013, but my analysis shows significant reason to expect that to not happen.
The ASP Decline Impact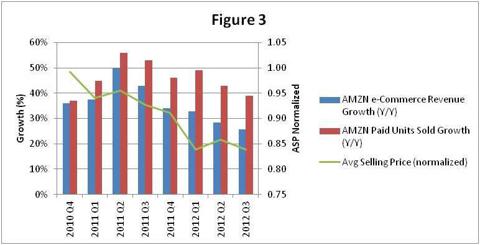 A direct result of Amazon's business model is an ASP decline of 16% over the past two years alone (Figure 3). This can be explained by two factors: (1) competition driven unit price declines in Amazon retail business (ease of price comparison and match on-line combined with drop in electronics prices and heavy discounting), and (2) growth of Fulfillment By Amazon (FBA). While the FBA business delivers high gross margins by being fee and commission based, it lowers revenue per unit substantially (by about a factor of eight). This yields less gross margin dollars per unit to cover the same fulfillment expenses, leading to lower net margin and cash flow. Thus, the very strategy that is driving up gross margin percentage is the smoking gun that is eroding profits.
Cost Per Unit Analysis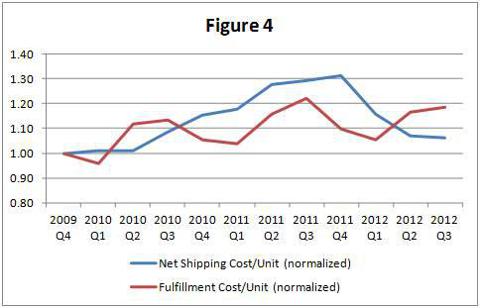 Figure 4 displays the normalized cost per unit sold for Amazon's net shipping and fulfillment expenses since just before the increases in operating expenses in 2011 and 2012. Net shipping cost (shipping revenue less shipping cost) per unit initially went up to a peak of 1.32x during the investment period but has come back down to about 1.06x the 2009 Q4 value, or, about equal to the 2010 Q3 levels. My analysis points to two factors: (1) these changes show good correlation with fuel cost changes during the period, and (2) there does seem to be some efficiency gains to account for the rest of the changes, potentially from being closer to the customer - but they have not yet been able to overcome the higher fuel expenses. All in all, I would consider shipping cost per unit to be largely tied to changes in fuel prices going forward, with some additional efficiency from fulfillment center customer proximity. But, with ASP declining and fuel costs not dropping any time soon, shipping expense per unit should continue to be a headwind on gross margin.
The more troubling graph is the fulfillment cost per unit line in Figure 4. This line trends upward both prior to the investment and during the investment. The cost to fulfill each unit is now 18.4% higher than it was in 2009 Q4 (and about 5% higher vs. 2010 Q3 for seasonal comparison). So, not only are units rising much faster than revenue, but fulfillment expense is rising per unit as well, which is creating an exponential cost increase. Let's look at the marginal annual changes in the fulfillment cost versus revenue, units and gross margin dollars in Figure 5.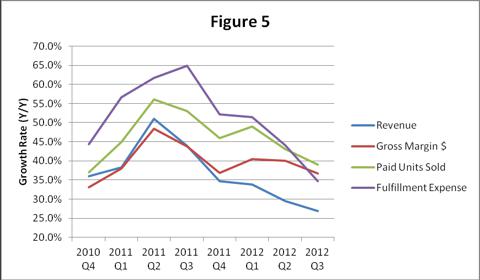 Fulfillment expense growth has significantly outpaced gross margin dollar, revenue and unit growth over the past three years (Figure 5), not because of some magical "investment" elixir, but because ASP's are declining substantially thereby driving unit growth well above revenue growth. While Amazon's attempt to drive significant efficiencies and economies of scale into their fulfillment operations has begun to show some signs of life in 2012 Q3, fulfillment expense per unit is still 18.4% higher than it was in the pre-investment period (Figure 4) and fulfillment expense is growing 800 basis points faster than revenue. So, with fulfillment expense 18.4% higher per unit than 2009 Q4, and units sold 19.2% higher than revenue over the same period, fulfillment expense is now 41% higher as a percentage of e-commerce revenue than three years ago!
Even if the new fulfillment center planned efficiency (including the Kiva Systems acquisition) continues the trend in Figure 5 and fulfillment expense returns to its pre-investment level of cost per unit in 2010 and then hold constant, the results on profits are highly troubling and are presented in Figure 6.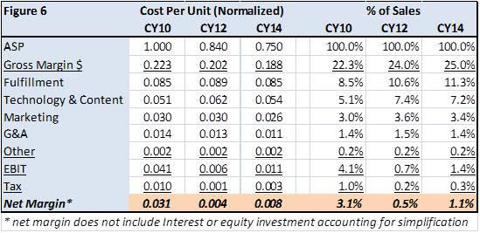 Through a cost per unit approach, Figure 6 shows the simplified and normalized income statement for Amazon prior to the investments (CY10), during the investments (CY12) and the potential based on this analysis post investment (CY14). For CY14, I assumed further reduction in ASP to be consistent with the current trend. Growth in the higher gross margin FBA and AWS businesses should overcome the shipping cost headwind and generate gross margins on the order of 25% by 2014. As you can see the gross margin percentage increase leaves less gross margin dollars per unit in 2014 (15.7% less) than in 2010 due to ASP erosion per unit. I assume 7.2% T&C, 3.4% Marketing, 1.4% G&A and 0.2% Other as discussed earlier in the article which leads to lower unit costs overall in these categories combined.
If this analysis holds, the end result is that Amazon will only achieve 1.1% net income in 2014. That would place earnings in the neighborhood of $2.30 a share at the end of 2014, or a two-year forward P/E of 112 for a company with declining growth and intimidating competition. As a comparison, Apple's (NASDAQ:AAPL) two-year forward P/E is 7.6, with a higher growth rate, 2.0% dividend and less volatile earnings. How is Amazon trading with a 1,370% higher multiple than Apple? Conspiracy theories abound.
Interestingly, on February 18, 2013 Amazon will increase FBA fulfillment and shipping rates on their partners. This could be a sign that management recognizes these trends presented here.
Conclusion
The Amazon business model, while good at delivering outsized growth, is wrought with profit peril. It draws massive pricing competition in its core markets and when coupled with its move to consignment distribution through FBA, unit growth has far outpaced revenue and delivered significant ASP erosion. These factors have driven the cost of fulfillment up dramatically, and in spite of improving gross margins, had led to net income dropping substantially. Trends show that these economic impacts on the income statement cannot be overcome anytime soon, and attainability of lofty profits as forecasted by analysts is in jeopardy. Anything Amazon does to alter the business model (end Prime, separate Instant Video into a paying subscription, raise shipping costs, sell Hardware at a profit, end discounting, etc.. ) will lead to reduced growth, so there is no easy answer for management. In spite of the obvious risks, investors have resoundingly approved the business model evidenced by the current bubble level valuation. Due to that, I believe Amazon will continue its business practices to feed that monster, setting up a very interesting short opportunity for 2013.
Disclosure: I am short AMZN. I wrote this article myself, and it expresses my own opinions. I am not receiving compensation for it (other than from Seeking Alpha). I have no business relationship with any company whose stock is mentioned in this article.