It's January 7 already, which means earnings season is almost here. I can't think of any stock everyone will be watching more than Apple (NASDAQ:AAPL). The tech giant is scheduled to report on Wednesday, January 23, after the bell. This quarter is scheduled to be a record revenue quarter for Apple, and potentially a record net income one as well, even if you include the extra week that last year's fiscal Q1 had. But as we're more than two weeks out from that report, an interesting phenomenon is starting to occur. It's one we saw last quarter. Analysts are starting to lower Apple estimates ahead of the quarter and issue bearish pieces on iPad sales, or iPhone production, etc. Last quarter, Apple beat on the top line and missed on the bottom line thanks to reduced expectations. Should we see this happen again, Apple investors may see shares take another run at $500 before the quarter is reported. Today, I'll show why I think so.
What happened last quarter?
About two and a half weeks prior to Apple reporting results, the average estimate for Q4 revenue was $36.39 billion and earnings per share of $8.91. By the Monday of the week Apple reported (it reported on a Thursday afternoon), estimates were down to $36.23 billion, and earnings of $8.85. By itself, that doesn't seem like much, but it is $160 million in revenue and six cents in earnings.
Then we had the whole iPad fiasco. While Apple was unveiling a new line of products, Tim Cook stated that Apple had surpassed the 100 million mark in iPad unit sales. Based on how many units had been sold prior to that quarter, this led many analysts to believe Apple only sold 15 million to 16 million iPads during the quarter. Earlier expectations were for about 18 million to be sold. As it was, Apple ended up selling just over 14 million.
But the main issue is that everyone panicked when they heard that number, and it included the analyst community. All of a sudden, analysts quickly cut their iPad forecasts, which obviously meant they were cutting their revenue and earnings forecasts as well. By the time Apple reported its earnings, the average analyst estimate was down to revenue of $35.80 billion, and earnings per share of $8.75.
Apple reported $35.97 billion in revenue, and $8.67 in earnings per share. Had analysts not taken down expectations in the weeks leading up to the report, it would have been a complete miss. Instead, Apple beat on the top line but missed on the bottom line. Both numbers were ahead of Apple's guidance for the quarter, $34 billion in revenue and $7.65 in earnings per share, as we know that Apple always provides conservative guidance.
Apple stock into the quarter:
Apple hit an all-time high of $705 late in September, but that stock price started coming down after the introduction of the iPhone 5. Some of the fall was probably due to profit taking, with shares up about $300 in the past year. However, there was a lot of nervousness over the iPhone 5. Supply issues led analysts to wonder if sales of the 5 would miss expectations, but they noted that sales of previous models could make up for the gap.
I put together the following chart, showing Apple's day-by-day closing price in the month leading up to the Q4 earnings report. Just two days before earnings, 10/23, is the day that Apple introduced the iPad mini and a host of other new products. That's the day when the 100 million iPad number was given, and some started to panic. Apple fell more than $20 that day. Going into earnings, Apple closed at $609.54, the lowest close since August 2.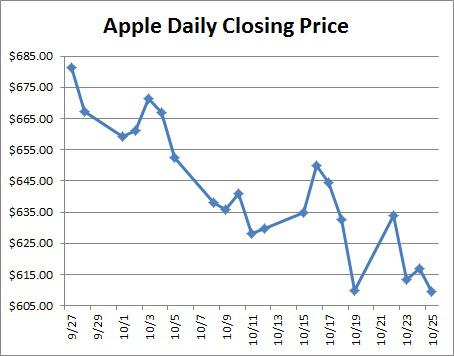 Are we starting to see a repeat?
We started to see some analyst negativity on Apple start in early December. The first note was in regards to regular iPad sales being lost due to the mini, which I discussed in depth as well. The worry was that regular iPad estimates were too high, and that increased sales of the mini would lead to lower margins and lower earnings. Mizuho Securities' Abhey Lamba got the talk going with the following note, which I included in my above mentioned article as well.
Although iPad remains the market leader in the tablet space and it continues to solidify its number one position, the company's higher end tablet is being increasingly cannibalized by the lower end iPad mini. In our view, the iPad mini offers almost the same value as the larger iPad but is available for a significant discount, which is a big driver in the current macro environment and it also speaks to the price elasticity of the tablet market. As a result, we are also seeing an increasing demand for sub $200 tablets where Android is gaining share [...] Regarding iPad estimates, we believe current consensus of $11 billion for the December quarter (up 24% year-over-year) is too high. Assuming an ASP of about $450 (down 25% year-over-year), consensus iPad shipment forecast is around 25 million, which seems quite high given the lackluster demand being experienced by larger iPads. We are modeling iPad units to be around 20 million and ASP around $475. We believe the company is likely to deliver iPad revenues slightly below $10 billion for the quarter.
The next note came from Sterne Agee's Shaw Wu, one of the analysts I've cited numerous times in the past on Apple. Wu slightly increased his iPhone estimate for the quarter, but took down his iPad forecast from 25 million to 23.5 million, which made him take down his revenue forecast as well. He also referenced supply constraints for the mini, as well as cannibalization for the regular iPad.
Just two days later, UBS analyst Steve Milunovich cut his price target on Apple from $780 to $700. While he didn't change his numbers for the current December quarter, he did do the following:
He trimmed his iPhone forecast by 5 million for each of the next three quarters.
He trimmed his iPad outlook by 2 million for those same quarters.
His September 2013 fiscal year profit outlook drops to $47 a share from $51.50.
For fiscal year 2014, he goes to $55.85, from $62.
About a week ago, it was Raymond James analyst Tavis McCourt who lowered his price target from $700 to $690. While he increased his iPhone unit sales number from 46 million to 48 million for the December quarter, he cut his March quarter estimate from 42 million to 37 million. He states that the change was due to a faster supply ramp, and overall, he's cut his two quarter estimate by 3 million.
Rob Cihra from Evercore Partners echoed a similar theme. While he remains bullish on Apple going forward, his price target was cut from $775 to $750. He increased his fiscal Q1 iPhone number from 49 million to 50 million. However, due to large production cuts, he cut his quarter-over-quarter iPhone growth number from minus 9% to minus 22%. Thus, his second-quarter iPhone sales number was cut to 39 million units, from about 44.5 million. He also maintained his 24 million unit iPad estimate, but now expects 10 million of that to be from the mini, as opposed to 8 million previously.
These are just the analyst notes we've seen so far, as we are still a couple of weeks away from Apple's actual report. While a couple of the analysts above actually raised some numbers for Q1, they lowered numbers for future quarters, more so than the Q1 raises. Investors have to remember that it's not always about the current quarter, but looking forward as well. Stocks trade on expectations, and if future expectations come down, so will the stock. A few weeks ago, the average price target on Apple was $775. That number is currently down to $740.
Estimates have come down:
Analysts have already trimmed their estimates on Apple, with much of the decline coming since Apple's fourth quarter report. At that report, Apple guided to fiscal Q1 revenues of $52 billion and earnings per share of $11.75. Now we know that Apple usually gives conservative guidance, but the earnings forecast was much weaker than expected. Apple on the conference call guided to just 36% gross margins. Their reasoning was an extraordinarily large introduction of new products, the largest in corporate history. In addition to some of those products being lower margin, like the iPad mini, Apple said it would spend more on shipping costs in an effort to get products to the consumer quicker. Most expect a margin rebound going forward, so this should be a one quarter issue.
Going into Apple's Q4 report, analysts were looking for Q1 revenue of $54.98 billion and earnings per share of $15.41. For the fiscal year, ending in September, analysts were expecting $193.97 billion in revenues and earnings per share of $53.24.
Thanks to Apple's low earnings guidance, analysts have taken down their earnings estimate for Q1 to the current average of $13.33. Also, the revenue average has come down a little to the current average of $54.54 billion. That implies that analysts believe Apple will come in about 4.9% above where Apple guided to on the revenue front, and 13.4% above on the earnings front.
The full-year estimates have come down a bit as well. I put together the following table, showing the average analyst estimates for the full-fiscal year, over time. As you can see, even in the last week or so, estimates have come down. The revenue numbers are in billions, and earnings per share are actual.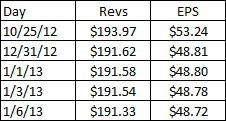 A large part of the last hit above has to do with the fiscal second-quarter estimates. Since January 3, the average revenue estimate for Q2 has come down from $47.06 billion to $46.94 billion, and the average for earnings per share has declined from $12.15 to $12.12.
Final thoughts and stock movement:
We've already seen Apple's estimates start to go down, and there have been a number of negative reports from analysts. This seems very similar to last quarter, where a number of late estimate cuts helped Apple to beat on the top line. I wouldn't be surprised if we repeat that process this time around.
As for the stock price, Apple has come down since late September's high of $705.07. Since then, we've seen lower highs and lower lows, which I've tallied in the following table. Except for one or two points, the trend has been lower and lower.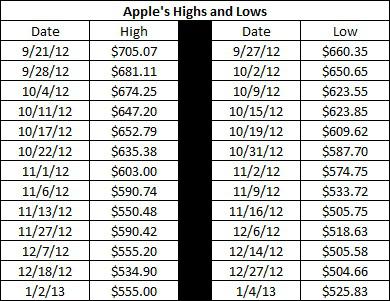 If we continue to see more analyst negativity, Apple's stock will continue to decline. For that reason, I'm including this article as a "short idea". I am not calling Apple a long-term short, in fact my opinion on the name is quite the opposite. What I'm saying here is that if we see a repeat of last quarter, Apple could be a good short for a trade up until earnings. If we see additional negative notes and estimate cuts, I would not be surprised to see Apple break below $500 before earnings, and I think we could trade all the way down to $475 at some point. Apple could be in for a repeat of last quarter, and if that is the case, shares could go lower over the next few weeks.
Disclosure: I have no positions in any stocks mentioned, and no plans to initiate any positions within the next 72 hours. I wrote this article myself, and it expresses my own opinions. I am not receiving compensation for it (other than from Seeking Alpha). I have no business relationship with any company whose stock is mentioned in this article.
Additional disclosure: Investors are always reminded that before making any investment, you should do your own proper due diligence on any name directly or indirectly mentioned in this article. Investors should also consider seeking advice from a broker or financial adviser before making any investment decisions. Any material in this article should be considered general information, and not relied on as a formal investment recommendation.