The smart money has been heading toward J.C. Penney (JCP) ever since the year 2010 when billionaire hedge-fund manager (Pershing Square) Bill Ackman embarked on a path to acquire 17% ownership of J.C. Penney. Those who don't have Mr. Ackman's confidence in J.C. Penney's future have aided the downward spiral from a yearly high stock price of $43.18 to approximately $20.50, a 52% decline.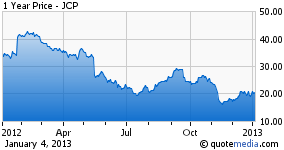 from Seeking Alpha
Mr. Ackman's fund, did not accumulate their J.C. Penney position at its peak. Mr. Ackman claims that he is in for $25 per share. Bill Ackman must be hoping that J.C. Penney will be reborn from the residue of its ashes like the Phoenix, the mythical bird of antiquity. The embers are accumulating as the retailer burns its cash in a blaze of glory.
Mr. Ackman probably, long ago, identified Ron Johnson, now the CEO of J.C. Penney, as a rising star in the retail industry. This vision may have occurred when he noticed that Mr. Johnson excelled at Target (TGT) and, perhaps even prior to that time when he stood out during his tenure at Mervyn Stores, a retail chain that recently exited the market place with a Chapter 7 bankruptcy.
When Mr. Johnson presided over the Apple (APPL) retail stores he was regarded as one of the world's most successful retail managers. He led a rise in sales from nothing to sixteen billion dollars in just eleven years, although there are some who attribute the success of Apple retail to Steve Jobs, who was unrelenting in his vigilance over Apple's retail image.
Mr. Johnson introduced many changes to the J.C. Penney organization. His actions involve an extreme transformation from J.C. Penney's previous 100 plus years of conservative retail practice where James Cash Penney spent his lifetime selling utility to his customers. He introduced a new array of high styled products unlike the functional merchandise traditionally sold at J.C. Penney. This merchandise is the basis for Mr. Johnson's presentation of a new, unique, store experience.
Presentation of an exciting store experience entices customers to purchase exotic merchandise at shops like Apple Stores and Tiffany & Co. (NYSE:TIF), but it does not entice bargain minded customers to purchase everyday items. J.C. Penney customers always shopped for ordinary merchandise that was available at reasonable pricing. They want value not a retail adventure.
A major change in J.C. Penney's new merchandise policy is the introduction of "Everyday low price." This strategy brings unchanging cost structure to Penney merchandise. This system works well at high end stores, but it does help in selling to a customer who is shopping for best price. Motivation for purchasing luxury merchandise is unlike that for purchasing utility merchandise. When selling luxury items a higher price may promote more business.
The declining cash position of J.C. Penney does not allow the organization much time to wait for their customers to embrace their new image. Everyday low prices could reduce the need for promotional advertising since one need not inform customers about changing prices and special deals. This cost reduction is great for the bottom line, but involves a downside. One price structure removes the excitement of shopping, and lack of advertising reduces store awareness. A customer no longer has reason nor will have any reminder to make a special trip to the store to obtain an advertised super bargain. Fewer trips mean less business.
J.C. Penney has eliminated the pennies designation following the dollar component of price in emulation of high end stores. This act is misdirected. A loss of markup ranging from 2% to 5 % on items in the $19 to $49 class occurs. A 2% reduction on seventeen billion dollars in sales amounts to $340,000,000. That's big money and is badly needed.
The most ambitious change contemplated by J.C. Penney is the installation of multiple boutique shops, each featuring the wares of one vendor. The promotion of such a concept is expensive and time consuming. J.C. Penney does not have time or money to discover the effectiveness of mini shops.
There is evidence that the new policies are not working. The "Everyday low price" policy has been reversed. The J.C. Penney web site now sports a banner that demonstrates a reversal of their new one price policy.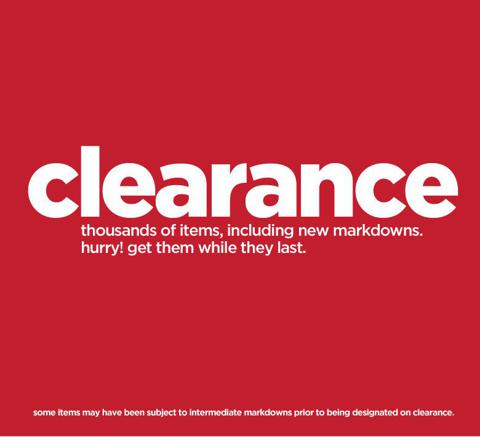 The customers who went along with the recent image changes may lose trust and become confused as the new merchandising plan disintegrates.
J.C. Penney is not Apple, which Mr. Johnson seems to be modeling. Apple's exciting atmosphere is difficult to recreate. Its customer mix is different from J.C. Penney whose merchandise concept cannot easily migrate to that at Apple, where new product is the experience and its introduction is the excitement. These customers may move on quickly to shops that may better supply their needs.
One might ask why Bill Ackman invested so much in J.C. Penney, then to find himself involved with a retail chain that has lost its direction. One answer may be that he has been, all along, planning on taking the chain private, and might only be looking in the long run to the time when he completely controls J.C. Penney. J.C. Penny has great value: Prime leases, a hundred plus year history along with stores recently placed in pristine condition waiting like a blank slate to draw upon.
Though the J.C. Penney customer may be confused by the reversal of attempted merchandising change. The path is already set to continue the present trend in with return to promotional selling. A giant sellout would generate cash needed to develop the J.C. Penney's business, and would assist in reversing J.C. Penney's public status.
So what will happen to the ordinary holder of J.C. Penney stock. Look at the Toys "R" Us takeover led by Bain Capital Partners LLC, Kohlberg Kravis Roberts & Co. In 2008 the public stock closed for the last time nearly at the year and one half-week high, but short of its all-time high at $45 in 1993, and below its five-year high of $31 in 2001. Initiation of a takeover at J.C. Penney may be an opportunity for a short term investor to earn a few pennies.
Disclosure: I have no positions in any stocks mentioned, and no plans to initiate any positions within the next 72 hours. I wrote this article myself, and it expresses my own opinions. I am not receiving compensation for it. I have no business relationship with any company whose stock is mentioned in this article.