Visa, Inc. (NYSE:V)
As the world continues to adopt credit and debit cards as secure and easy-to-use payment methods, companies such as Visa , Mastercard (NYSE:MA), American Express (NYSE:AXP), and Discover Financial (NYSE:DFS) have been able to capitalize and grow their businesses. While I believe that these companies and their businesses will remain strong moving forward, I question: just how much has been priced into these stocks, specifically Visa?
Visa Q4 Earnings: (Reported October 31st)
On the top line, net operating revenues of $2.7 billion were reported, an increase of 15% over the same quarter the prior year. Revenue gains were driven by strong credit payments volume in the United States and expansion into international markets. Meanwhile, Visa exceeded earnings expectations in the fourth quarter, reporting EPS of $1.54 compared with average expectations of $1.50.
I believe that revenue growth in international markets will be very important moving forward, as many people in the United States already use credit products. Growth in the United States will most likely come from people simply spending more (credit) and has been negatively affected by Dodd-Frank, albeit this legislation has largely been baked into the stock price. Watch for V.me, Visa's e-commerce tool, to be a catalyst for United States revenue moving forward.
Growth in international markets, on the other hand, will most likely come from new adoption and use of credit cards. Growth in revenue from international geographies was 13%; Visa must continue to grow internationally to deliver revenue growth and meet its goal of generating 50% of its revenue outside of the U.S.
Guidance given by management indicated that the company is committed to delivering earnings growth between 15% and 19% ('high teens') while revenue is expected to grow in the low double digits, barring significant improvements in the economic environment. The company is also committed to share buybacks and dividend payments (increased by 50%), which should support the stock moving forward.
Peer Company Analysis:
| | | | | |
| --- | --- | --- | --- | --- |
| | | | | |
| | | | | |
| Market Cap | $126 Billion | $63.4 Billion | $65.7 Billion | $20.0 Billion |
| Revenues (NYSE:TTM) | $10.4 Billion | $7.2 Billion | $33.4 Billion | $9.0 Billion |
| Annualized Dividend Yield | .85% | .24% | 1.36% | 1.42% |
| Payout Ratio | 27.67% | 5.21% | 17.47% | 8.95% |
| Profit Margin (Most Recent Q) | 60.86% | 40.25% | 14.85% | 23.85% |
| Price to Earnings | 25.32 | 24.27 | 13.57 | 9.09 |
| Earnings Growth (Expected) | 18.7% | 18.9% | 9.6% | 10.2% |
| PEG Ratio | 1.35 | 1.28 | 1.41 | 0.89 |
Note: Long-Term Expected Earnings Growth taken from Bloomberg terminal.
Visa is perhaps most comparable to Mastercard, as they both do not issue cards and function as intermediary organizations. I have included American Express and Discover Financial solely to get a broader look into the credit card space and how the market is pricing them. Visa and Mastercard are priced similarly in terms of Price to Earnings and Price-to-Earnings growth, but Visa has $3 billion more revenues and a significantly higher profit margin. This is reflected in Visa's market cap of $126 billion relative to Mastercard's $63.4 billion, nearly twice as much. The PEG ratio illustrates that a decent, but not an extreme, amount of growth has been priced into both Visa and Mastercard. An initial look at the vast disparity in market caps between Visa and Mastercard is misleading; it appears that they are both being priced very similarly.
Technical Analysis: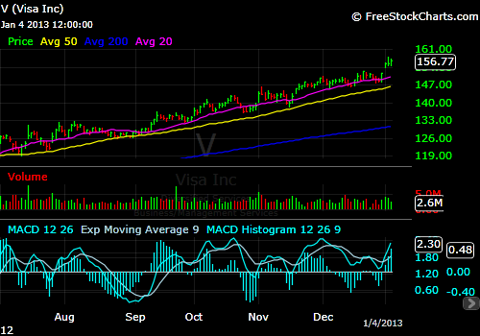 Here, it is significant to note Visa's dramatic run up in price. The 20-day, 50-day and 200-day moving averages are fairly straight, positively tilted lines that have been fairly separate from each other. There is a large, long-term uptrend in the stock. The MACD is not too significant for this chart, the upward recent spike indicates buying around the fiscal cliff deal.
DCF:
Sales growth is projected for the next five years at low double digits, in accordance with the Q4 conference call. Sales growth may be larger in future years as the global economy hopefully improves, but I have chosen to stay at the low double digits for the next five years.
Operating margin is projected to be 61% for 2013, in line with the Q4 conference call.
Free cash flow of $5 billion is also in line with the Q4 conference call guidance.
WACC of 8.94% is below Bloomberg Terminal's estimate of 10.6% and wikiwealth's estimate of 11%, but I believe that the inputs I used (Rf of 3%, Market Risk Premium of 6%, Beta of .99) are accurate.
Implied Share Price: $142.89
Conclusion:
The long-term trend of consumers using credit and debit cards as a payments method is clearly going to continue. Thus, in the long-term, I believe that having exposure to the space will be profitable; the only question is what the appropriate entry point should be.
Both Visa and Mastercard are being priced very similarly based on the peer analysis, with estimated long-term earnings growth rates in the upper teens (18%). While Visa's price-to-earnings ratio is high at 25, compared with a historical 20, the PEG ratio shows that while growth is priced in, it does not appear to be over exuberant beyond the company's own guidance. The DCF, on the other hand, indicates that Visa is fairly if not slightly over priced. Stockholders must be aware that growth has been priced into Visa and should it miss expectations, the downside may be significant. With that stated, fundamentally, I believe that Visa is fairly priced. On the other hand, technically, the charts illustrate that Visa has been in a long-term uptrend for quite some time. Given these factors, I believe that current stockholders in Visa should hold the stock until the stock breaks the current uptrend that it has been in, but investors looking to go long may want to wait to see if the market sells off a little for a better entry point.
Disclosure: I am long V. I wrote this article myself, and it expresses my own opinions. I am not receiving compensation for it (other than from Seeking Alpha). I have no business relationship with any company whose stock is mentioned in this article.
Additional disclosure: I am technically long Visa through a finance club that I am in.