After releasing my total return performances for my 2011 picks a couple weeks ago, which you can read here, I wanted to follow up with my total return performances of my equity closed-end fund ((NYSEMKT:CEF)) picks for 2012.
Though obviously my 2012 picks have not had as much time to appreciate or depreciate as my 2011 picks, I am still very pleased with the accuracy of my selections. One of the great advantages of equity CEFs is that over time, their relative valuations when coupled with their total return Net Asset Value ((NYSE:NAV)) performances can give you a very reliable expectation as to their positive or negative total return price performance. In fact, out of 26 articles I wrote in 2012 that made 110 positive or negative CEF selections, 97 selections or 88% were correct, as determined by the fund's total return market price performance from when the article was written through January 4th, 2013. Even more impressive is the majority of the 28 negative calls I made in 2012 resulted in negative performances while only 2 out of 82 positive picks did not appreciate from the time I wrote the article.
What I find most attractive about equity CEFs is that you can have many of the same features of a non-diversified asset like a stock but without many of the inherent risks. In other words, equity CEFs can trade like a stock and at times can exhibit the volatility of a higher beta stock, but because of their diversified portfolio, will generally not retain the same immediate downside risk associated with a non-diversified asset like a stock. To be sure, CEFs can lose any and all of their value over time, but the key here is that you are much less likely to lose a large percentage of your asset suddenly based on an earnings report or some other news event that can immediately affect a non-diversified asset like a stock. Though other diversified assets like ETFs can trade like a stock as well, ETFs can really only match the performance of their correlated index or sector whereas CEFs can make alpha performance moves over and above their benchmark indexes.
The table below lists in chronological order all of the articles I wrote in 2012 and the market price performances (not NAV price performances) of each fund (shown under the ticker column) sorted by their total return performance had you owned them from the business day before the article appeared through January 4th, 2013, assuming reinvestment of all distributions. I wouldn't normally reinvest distributions, but every financial website that I have found that offers a total return performance option always includes the total return on a reinvested basis. This is still better than most financial websites which only give you a market price performance return without including any dividends or distributions. I used Y-Charts, here, which I believe is the best financial website to quickly enter fund ticker symbols and dates to come up with total return performances on a reinvested basis.
So with that said, here are the performances of my 2012 picks. A positive recommendation is shown in the left column in green and a negative one is shown in red. If the total return performance was actually positive from the fund's closing price the business day before the article appeared to January 4th, 2013, then that is shown in green in the right column or if negative, that is shown in red.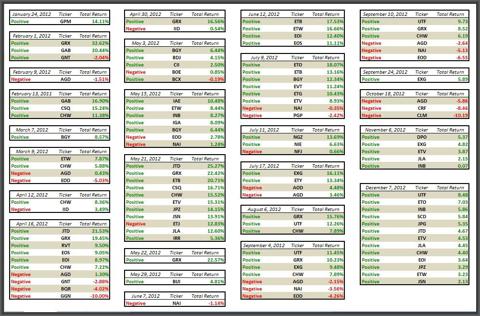 Total Return Performance Review
Obviously, the more recent the article, the less time the picks or pans had to perform. What you'll notice is that I made multiple positive and negative calls on many of the same CEFs. Funds that received the most positive recommendations in 2012 were the Calamos Global Dynamic Income fund (NASDAQ:CHW), recommended 9 times and the Gabelli Healthcare & WellnessRx fund (NYSE:GRX), recommended 8 times. Other funds receiving up to 4 recommendations during 2012 were the Cohen & Steers Infrastructure fund (NYSE:UTF) and the Nuveen Tax-Advantaged Dividend Growth fund (NYSE:JTD).
All of the above mentioned funds use leverage to generate their income which was generally the preferred income strategy in 2012 with a strong equity market. In fact, CHW, GRX, UTF and JTD represented 4 of the best performing equity CEFs on a total return market price in 2012, as shown below.
CHW up 24.6%
GRX up 36.5%
UTF up 27.8%
JTD up 26.4%
I point this out because many readers like to think that I am only beholden to the option-income funds, particularly from Eaton Vance (EV). Though I did recommend a number of option-income funds in 2012, and multiple times from Eaton Vance when the fund sponsor first announced a 10% buyback program in August for all of their option-income funds and later a conversion from a quarterly pay to a monthly pay distribution cycle for many of their funds, this did not take away from my macro call for investors to overweight the more aggressive leveraged funds in 2012 as opposed to the more defensive option-income funds.
Negative Calls
Funds which I panned multiple times in 2012 included the Alpine Global Dynamic Dividend fund (NYSE:AGD), the Allianz International & Premium Strategy fund (NYSE:NAI) and the Wells Fargo Advantage Global Dividend Opportunity fund (NYSE:EOD). AGD I have been bearish on since I first started writing articles on Seeking Alpha and in fact, even before that. The fact of the matter is that the farther you go back on AGD and its sister fund AOD, the worse these funds look despite their 100% tax qualified distributions and no Return-of-Capital ((ROC)) in their distributions.
Alpine recently announced a new management team for both funds which I'm hoping will include a strategy change as well. Both funds are in dire need of dramatically reducing their distributions as well as reducing their reliance on a dividend harvest income strategy, in my opinion. We'll see what changes come about but my expectation is that one of the first steps the new management team will take is a steep reduction in the distributions of both funds.
This was the basis of the negative calls I also made on both NAI and EOD during the year. Both funds maintained too high of NAV yields for too long and I argued both would continue to see NAV erosion until they cut their distributions. Then on September 7th, 2012, NAI cut its distribution a very large 31% and a short time later on November 7th, EOD cut its distribution 25%. Though all 3 funds actually had positive total return performances in 2012, I specifically timed my articles during the year at points when I felt the funds looked particularly vulnerable to a downside move.
Conclusion
For long-term portfolio performance, minimizing poor investment decisions can be just as important as making good investment decisions. I can't tell you how many times I have heard from investors about their 100% stock winners and then they completely neglect to include their large percentage losers which actually resulted in a very average overall portfolio performance.
Here is where equity CEFs can offer a real advantage since performing due diligence on these funds...something that most individual investors don't do...can give you a leg up on the competition and give you the opportunity to show a much higher percentage of positive performing funds over time and just as importantly, will allow you to minimize negative performing funds. For income investors looking for capital appreciation potential as well, this can give you the alpha in total portfolio performance that brings us to Seeking Alpha in the first place.
Disclosure: I am long GRX, UTF, CHW, JTD. I wrote this article myself, and it expresses my own opinions. I am not receiving compensation for it (other than from Seeking Alpha). I have no business relationship with any company whose stock is mentioned in this article.