As I was explaining to someone this weekend, I focus on the high-volatility sector of biotechs because I find them to be incredibly rewarding despite the inherent risk. For example, high-risk Zalicus (ZLCS) is riding its future on Z160; Acadia (NASDAQ:ACAD) recently surprised the market with Pimavanserin's phase III success; Celsion (NASDAQ:CLSN) is preparing to report on its phase III liver cancer Thermodox trial; and incredibly high risk Cel-Sci's (NYSEMKT:CVM) phase III immuno-therapy drug Multikine could forever transform head and neck cancer treatments. But what a risk.
However, there is one biotech stock (and actually it focuses more on medical instruments: injector, gel and applicator technology), that in terms of a one to five year HOLD investment, could turn out to be a lucrative goldmine. It is very unique from other biotechs in that the investment risk is much lower than the majority of biotechs in this price range and sector. In this article, I will explain why that is true and in the process, I will also explain why Antares Pharma (NASDAQ:ATRS) is one of the best biotech hedges you could add to your overall portfolio, including Roth IRAs, 401Ks, IRAs, and retirement accounts. Antares is a moderate risk growth stock and as I stated, I intend to explain why.
Brief Snapshot
Antares Pharma is one of the most unique microcap drug-medical device firms trading on the NASDAQ Capital Market for the following succinct reasons:
Financially, for a microcap biotech stock in a sector where money is typically sparse, Antares is very well-heeled. The company reports $0 long-term debt and $88M in cash reserves (Q3 2012) in addition to a growing revenue stream that is very close to break-even if even net profitability.
The company's historic plus four-year revenue stream is growing Q/Q suggesting that Antares could be viewed as a long-term growth stock with substantial upside potential extending as far as going forward guidance into 2016. Meaning, once you understand the company's strategic game plan, you are going to see that with moderate risk assumed, Antares is going to be adding to its revenue stream between now and well into 2016.
Speaking of going forward, Y/Y upon FDA approval, Antares will be adding at least one new product per year through 2016. This is unheard of in the microcap biotech sector where companies spend years to get one product to market. Antares has a legitimate plan with verifiable FDA filings that has scheduled numerous products to enter the market Y/Y. Per a recent presentation, the following products are scheduled to enter the market:
Already marketed - Tev-Tropin, Elestrin, Gelnique 3%
2013 - Tev-Tropin 10 mg Injector
2014 - Otrexup: Methotrexate Injector (possibly Q4 2013)
2015 - Vibex Epinephrine partnered with Teva (NYSE:TEVA); undisclosed biosimilar Pen 2 with Teva
2016 - Vibex Sumatriptan partnered with Teva; undisclosed Pfizer (NYSE:PFE) product; undisclosed biosimilar Pen 1 with Teva; Vibex QST testosterone
Note: There is a strong hunch among Antares longs that Teva's monster-drug Copaxone is somewhere in that undisclosed list including other biosimilars that avid Antares investors will likely post to the bottom of this article. However you view the above list, find me another biotech under $4/share with three products already marketed and seven more products gearing up to enter the market in the next four years. Keep in mind, Antares over the coming four years will be adding even more projects. For example, Antares is sitting on a female gel contraceptive (NestraGel) and there are hints that a male contraceptive may not be far behind. This is why I call Antares a growth stock: a revenue track record that is gaining exponential traction.
Chart and Fundamental Analysis
At $3.90/share, I am unaware of any microcap biotech stock offering that much potential which in turn lowers the risk to the investor's pocketbook. Of all the biotechs below $4/share, I would rate Antares the best moderate risk buy promising considerable upside potential. If you are risk adverse but still like the volatile opportunity low-priced biotechs afford, then Antares may be well worth your studied perusal.
Before getting into the company's fundamentals, first take a good look at Antares' trading pattern over the last half year. Notice how the bollinger band is squeezing/signaling a near-term move (This article favors a bullish move in the near-term for fundamental reasons.)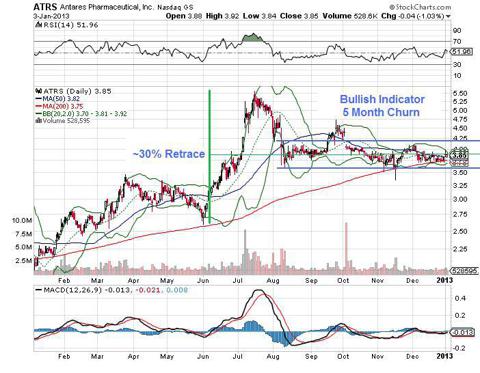 At one point in 2012, Antares was trading over $5/share until a healthy ~30% pull-back has brought the share price to where it's been trading for the last five months. Take into account that when a stock pulls back like Antares has and in the process the company's objectives continue to move forward (attested by fundamental analysis), at some point, a strong bullish move out of the channel is most likely to happen. That jump could easily retest $5.50/share and most likely it will happen in the coming quarter as the company reports on increased revenues and product development.
Second, take on board the company's growing revenue stream. This is not what you'd expect of a low priced biotech stock, but the company's multi-year history foretells on-going net positive quarters should be registered as early as 2014.
| | | |
| --- | --- | --- |
| | Total Revenue | |
| 2013 (Whole Year Est.) | **Excess $40M | |
| 2012 (Whole Year Est.) | $22,767,000 | |
| Q4 2012 Est. | | *$5,692,000 |
| Q3 2012 | | $5,686,000 |
| Q2 2012 | | $4,524,000 |
| Q1 2012 | | $6,865,000 |
| 2011 (Whole Year) | $16,458,000 | |
| 2010 (Whole Year) | $12,819,000 | |
| 2009 (Whole Year) | $8,311,000 | |
*average of (Q1 + Q2 + Q3) [I anticipate my calculation is low.]
**SA author Larry Smith estimates excess $40M, then $60M (2014), and then $100M (2015).
With the ramp-up of Gelnique 3% and Vibex Epinephrine orders from Teva coupled with development payments from Pfizer for its undisclosed product, in all likelihood, total revenue will exceed $40M (as Larry Smith argues) in 2013. That will just about make future dilution entirely unnecessary since the company last reported $88M in cash reserves.
Third, new and growing revenue streams will add to Antares' bottom line. That includes:
New additional payments coming from Teva for Antare's Vibex Epinephrine injector from a settlement with Pfizer earlier in 2012.
Gelnique 3% gaining market traction including the company's partnership in South Korea; there is a good possibility the company will report additional partnership(s) in 2013.
Tev-Tropin has been a Q/Q money winner and with the 10 mg version SNDA filed for the US, there could be a jump in sales in the 2H of 2013.
Expect a partnership for Population Council's partnered NestraGel in 2013 as the company is protecting this asset to gain the greatest development value.
The monumental addition of Otrexup, if FDA approved, by 2H 2013 including the milestone advancements of Vibex Sumatriptan and Vibex Epinephrine with Teva.
(Speculation) Undetermined new product developments and partnerships since Antares has been expanding its pipeline Y/Y.
Fourth, consider how the company's CEO and management team made the smart move when in advance of 2013 events, they boldly capitalized the firm ahead of the roll-out of Otrexup in 2013-14. While the dilution sent a few longs to the showers, this strategic move has positioned the firm in such a way that in effect they have mitigated their short and long-term risk. The style of Antares' management team is to work in advance so the flush bank-roll of capital will allow the firm to assemble its sales team as Otrexup moves one step closer to FDA approval. As of September 2012, the company reported $88M in cash and investments. This is not a firm scrambling for money and it is a published fast that Otrexup's development is at least one quarter ahead of schedule; therefore, it may enter the market by late 2013.
Fifth, as of 29 September 2012, the company reported zero long-term debt. A short point to make, but Antares is financially sound especially with a growing revenue stream that could exceed (assuming the FDA approves Otrexup) $60M by 2014. The combination of zero debt, $88M in cash, and a growing revenue stream is why I think Antares is a lower than usual risk in the biotech sector. The addition of the Teva and Pfizer products are only going to add to the company's revenue including the near-term addition of the 10 mg version of Tev-Tropin. Plus, Gelnique 3% is still on the front-end of its market roll-out by Watson Pharmaceuticals (WPI).
Finally, the greatest risk to Antares is that the FDA will not approve Otrexup's NDA filing, but that seems unlikely since the FDA has been guiding Antares through the product development stages; Otrexup will be the first of its kind with patented multiple year protection to gain Antares the lion's share of revenue. Nevertheless, an unexpected delay is always possible, but to date that has not happened. Furthermore, by the end of 2013 investors could be disappointed if Antares is not able to secure a partner for NestraGel, but the opposite view is that the company has been cautious to sign a partner because they are demanding an offer commensurate for a novel contraceptive of its type. More and more, the anticipated buyer's show-down between Teva and Pfizer for Antares is another interesting caveat, but this could just be chat room banter as the company expands at its new glass tower headquarters near Trenton, New Jersey.
At $3.90/share, I view Antares a very bullish strong buy. The combination of chart technicals and company fundamentals suggest that savvy investors who enter now and hold could see substantial gains 6-18 months from now. There's no debating that the stock price has been churning over five months and once it breaks out of that channel, assuming it is bullish, the move to the upside could triple the share price by the end of 2013. My target for 2013 is in the range of $8-12/share depending on how soon Otrexup is approved by the FDA. Finally, the company recently reported impressive growth in Watson's product portfolio thanks to Gelnique 3%. Therefore, Antares is a moderate risk growth stock. Happy investing.
Disclosure: I am long ATRS, CVM, CLSN, QCOR. I wrote this article myself, and it expresses my own opinions. I am not receiving compensation for it (other than from Seeking Alpha). I have no business relationship with any company whose stock is mentioned in this article.
Disclaimer: You are warned not to use this article for individual investor advice. I recently executed a long position in Antares. I disclose what I hold to demonstrate transparency. Investing in any of the stocks mentioned in this article could result in the loss of your entire investment. This article is for entertainment purposes only. You are duly warned to seek the advice of a market professional. For me 'long' is until I sell. I do not 'short' stocks. I declare that I may buy and/or sell any stock at any time referenced in this article.