As seen on Seeking Alpha:
Hedge fund titan Leon Cooperman has been selling Apple (NASDAQ:AAPL) but buying battered Freeport McMoRan (NYSE:FCX), he tells CNBC. Cooperman holds FCX founder Jim Bob Moffett in high regard despite coming under fire from shareholders, but he's not keen on AAPL's reluctance to return cash to investors and warns the iPhone's uniqueness may be diminishing.
I read this last week, and I wondered why Cooperman was doing that. So I did some research, and here's what I got.
Leon Cooperman - Founder of Omega Fund
Leon Cooperman is doubtless a leading investment specialist. No wonder then that channels like CNBC interview him to get an insight into his investing ideas. However, his reputation goes beyond the Wall Street as an outspoken critic of President Obama's handling of the U.S. economy. (Read more about it here.)
Anyway, regardless of his political and economic views, he is known for his persistent investigative skills in searching for stocks that are ridiculously priced. He made a name for himself doing exactly that as an analyst with Goldman Sachs (NYSE:GS) for 25 years. He has seen them all -- good as well as bad markets -- and survived. His Omega fund, which invests $6 billion, mostly in U.S. equities, has been able to get an average annual return of 13.3%, which is almost 2% more than the average annual return of other equity-based funds.
In 2012, he outperformed the market by picking stocks when they were undervalued and this included Apple. Apparently, he does not consider Apple to be undervalued anymore.
That the founder of Omega Advisors, Inc. does not overly rely on Apple is evident from the fact that most of the 26% net return that he was able to get for investors in 2012 was from stocks like AIG, SLM and Sprint Nextel (NYSE:S). This is even more significant in light of the fact that in the year gone by and as of Dec. 21, 2012, 88% of hedge funds were trailing behind the benchmark index S&P 500, which gained 13%. The other hedge fund manager who outperformed the Index, Dan Loeb of Third Point, also did so without relying on Apple and by active management of Yahoo (YHOO) and taking a contrarian position on Greek bonds.
Why Sell Apple, That Apple of Investors' Eyes
The evident reason that Cooperman stated in the CNBC interview is that he "didn't like the way it (Apple) was acting". He also stated that there was nothing on the horizon that could possibly replace the "wildly popular" iPhone. However, in the same breadth he went on to add that competitors like Samsung would continue to challenge Apple for dominance and that one should look at stocks like Google (NASDAQ:GOOG) and Qualcomm (NASDAQ:QCOM), which were (are) likely to continue their strong performance.
Primarily, what Cooperman does not like is that Apple is sitting on a lot of cash, which according to him can be shown as an asset on the company's balance but is actually a liability -- keeping money idle means missing opportunities and is not the right way of managing it. The fact that it did not announce a special dividend and/or a major share repurchase plan to return cash to shareholders is what Cooperman does not like. Admittedly, Apple has now shown some willingness to return cash to shareholders but the $10 billion share buyback plan and an overall $45 billion over three years is chicken feed considering that the company will be earning more than that this year alone.
Cash management was never Apple's strong point. Way back in February 2012 when Apple's market cap was close to touching $500 billion and its cash balance stood at $100 billion, Aswath Damodaran, the well-known NYU professor, opined that investors could punish Apple for holding cash the way it did. Indeed, money sitting idle in the balance sheets does not mean anything. Not only does it give a low rate of return to the company; when it is not returned to shareholders, it robs them of the opportunity of investing in other avenues to get higher returns.
He presented the following choices to the company:
Click to enlarge image.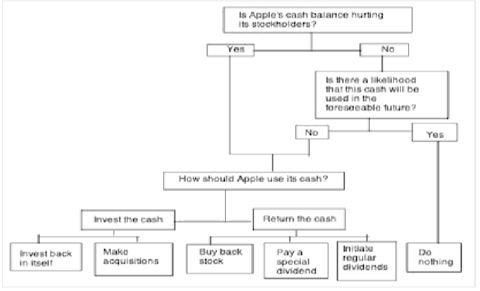 In the same article, Prof. Damodran built up a strong case for a share buyback plan as according to him the fair value of the stock was $710 per share (the stock was trading at $544 then). A buyback at that time would have reduced cash balance and also allowed the company to buy its own stock at less than its actual value and increased shareholder value at the same time.
It is crucial here to mention that while calculating company value, he took into account the differential tax rate that the company would have to pay if it repatriated cash, which incidentally most investors believe is the reason why Apple is not bringing back cash from abroad.
Things have not changed much since then. AAPL stock has lost 1.57% since then, from $544 (March 1, 2012) to $527 (Jan. 6, 2013). Only the cash balance has increased and the stock touched its fair market value (as calculated by Prof. Damodran) in September 2012 and dropped to $524, which is 1.57% lower than what it was when the article was written.
Is this the punishment that the good NYU professor was hinting at?
Is this also what Leon Cooperman is actually pointing at when he says that his reasons for selling Apple are both technical and fundamental?
Personally, I would say that Apple is an investor's darling stock not without reason. It has been doing some spectacular things in the last decade, which is reflected in the stock's performance. Whatever Apple was able to accomplish in the past was due to Steve Jobs' innovative ideas. What the company needs is another innovator, which Tim Cook is not. He is a supply man and ironically, he has admitted that the company has "more cash than we need to run the company." Moreover, no matter how good the technology, it does not take long for another to derail it. Remember that not long ago Research In Motion's (RIMM) BlackBerry was as big a rage as iPhone.
I once held the view -- and wrote in an article -- that Tim Cook was very good for Apple. I still stand by that view; Apple needs a manager of Cook's caliber, but it also needs a Jobs, another Jobs. At least that is what I have begun to think after seeing the iPhone 5 and the iPad Mini.
Is There a Connection Between Cooperman Selling AAPL and Buying FCX?
Why Cooperman is buying Freeport-McMoRan Copper & Gold Inc. is a different issue altogether. Early December 2012, FCX announced that it was expanding its area of activity to oil exploration and production by acquiring McMoRan Exploration (NYSE:MMR) and Plains Exploration and Production (NYSE:PXP).
The news of the takeover was not received positively by investors, particularly those who use FCX for investing in copper. In addition, shareholders of MMR filed a lawsuit for halting the proposed takeover, charging conflict of interest and that catch-all legalese -- the management's failure of its fiduciary duty towards the minority shareholders. The case could go either way -- the three companies and their top management is probably too intricately interconnected for independent diligence to have taken place. However, what is more important is that the FCX stock fell by more than 20% in two days after the deal was announced.
Cooperman's reputation of picking undervalued stocks is too well known. His business model is such that he must look for stocks that hold promise. Omega Advisors has made its money in Apple. It still holds Apple stock, but not as much as it did earlier. What is not confirmed, however, is whether he needs cash for buying FCX and is raising it by selling Apple.
Disclosure: I have no positions in any stocks mentioned, and no plans to initiate any positions within the next 72 hours. I wrote this article myself, and it expresses my own opinions. I am not receiving compensation for it (other than from Seeking Alpha). I have no business relationship with any company whose stock is mentioned in this article.