Of the few remaining consumer electronics retailer stocks left after the Circuit City Stores' bankruptcy, RadioShack Corporation (NYSE:RSH) has the dubious distinction of being even shakier than Best Buy Co. (NYSE:BBY), but could emerging markets be the company's trump card for survival? To first put things in perspective: In the United States, RadioShack has attempted to revive itself by selling tablets and smartphones to offset falling consumer electronic sales, but these new products come with lower profit margins and stiff competition from online retailers and the carriers themselves. To make matters worse, RadioShack has a ridiculously unprofitable partnership with Target Corporation (NYSE:TGT) to sell mobile devices in 1,400 Target stores, plus the company appears to be rudderless at the top with its CEO resigning in September after just a year on the job.
However, RadioShack still has aggressive expansion plans for the emerging markets of SE Asia starting with Malaysia, where I recently visited, photographed and was actually wowed by one of their new stores. In fact, RadioShack's American executives might even learn a few lessons from what their franchise partners in Malaysia are doing to make the brand and concept work.
RadioShack's New Partner for SE Asia: Berjaya Retail Berhad
Last March, RadioShack announced that it had signed a master development agreement with Malaysia's Berjaya Retail Berhad covering 10 Southeast Asian countries. Berjaya Retail Berhad is a strong partner for RadioShack (at least in Malaysia) because it's the retail arm of the Berjaya Corporation, a huge Malaysian conglomerate founded by Malaysian-Chinese taipan Vincent Tan and now run by his son Robin.
In Malaysia, Berjaya Corporation is involved in everything from property, financial services and food (the franchises for Kenny Rogers Roasters, Kripsy Kreme, Papa John's, Starbucks and Wendy's) to hotels, gambling and lotteries while some of the group's or Vincent Tan's privately controlled businesses or investments include 7-Eleven Malaysia, theSun (the largest circulated urban English language newspaper in Malaysia), U Mobile Sdn Bhd (a 3G mobile service operator), Friendster.com (formerly a social networking site that's now into gaming), MOL AccessPortal Sdn Bhd (a payment service provider) and SINGER Malaysia (as in sewing machines, but products now include motorcycles, home appliances, audio-visual products, furniture and home improvement products).
or view Berjaya Corporation's organizational chart here)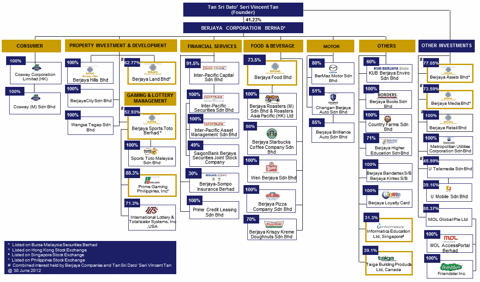 Berjaya Retail Berhad's Franchise Agreement With RadioShack
Under the long-term franchise agreement, Berjaya Retail Berhad will act as a franchise developer, and it's expected to open at least 1,000 RadioShack franchise locations across the Association of Southeast Asia Nations [ASEAN] within the first 10 years of the agreement. Specifically, Berjaya will be able to open or experiment with just about every kind of retail concept for RadioShack, including stand-alone, mall-based units, strip-center stores and kiosks that are leased or built. In addition, the franchise agreement covers the sale or distribution of exclusive private consumer electronic brands, provides access to "leading" global brands and manufacturers and includes both Internet selling rights and sub-franchising. However, no financial terms for the deal were disclosed (Note: The main listing and financial filings for Berjaya Corporation on the Bursa Malaysia can be found here, and there could be some mentions about RadioShack in them or in future filings).
At the time of the announcement, RadioShack's retail network stood at approximately 4,700 company-operated stores in the United States and Mexico, 1,500 wireless phone centers in the United States and more than 1,100 dealer and franchise locations worldwide. In other words, and if all 1,000 locations were to open at once, the SE Asia market would become a critical region for RadioShack and account for around half of its international footprint.
However, it should be mentioned that RadioShack had entered the Malaysia market sometime in the 1990s with a dealership location in the upscale Bangsar area of Kuala Lumpur, but ultimately, they pulled out and decided to pursue a franchise strategy this time around.
Moreover, a more hands-off and indirect franchise strategy is probably a good idea for RadioShack, given the troubles Wal-Mart Stores (NYSE:WMT) has had in Mexico (and perhaps in India as well) regarding being in compliance with the Foreign Corrupt Practices Act. After all, retail is a tough enough business as it is, but getting retail outlets open in some countries that are emerging markets will get your hands dirtier than they would otherwise get in other countries.
RadioShack's First Stores in Malaysia
The first new RadioShack store in Malaysia opened in August of last year in Kuala Lumpur's Mid Valley Mall with a second outlet opening in the Borders bookstore in the Gardens Mall across the street.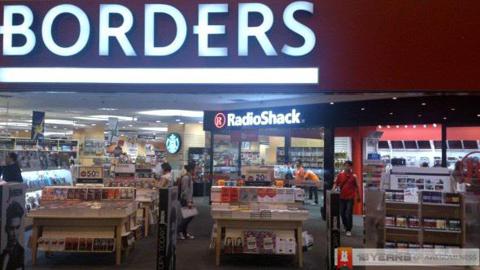 Source: Lowyat.net
After the bankruptcy of Borders Group (OTC:BGPIQ), American readers might be surprised to learn that there are still Borders bookstores as Berjaya also owns the franchise rights for Borders in Malaysia (there are seven in the country with plans to open three or four more). In fact, Berjaya's chief operating officer for the RadioShack operation or brand, Yau Su Peng, recently told The Star newspaper:
We find that RadioShack fits into the reading and discovery lifestyle that is particularly prevalent in our other brand, Borders.
The Star then pointed out that RadioShack is also big on DIY electronic items and Malaysian consumers will be able to purchase pre-packed DIY kits with Yau noting:
From our Borders' experience, we find that more parents want their children to discover and create things on their own and they are willing to pay top dollar to buy DIY kits that will enhance their children's learning experience.
I am not so sure about the DIY kits part, but Yau added that RadioShack in Malaysia intends to leverage on Borders' customer base and they may continue the store-in-store concept of pairing RadioShack with Borders locations in the future (Note to RadioShack executives in the USA: This is an idea that might have actually worked better than your failed store-in-Target concept...).
At the end of December 2012, I visited the new RadioShack store in Berjaya's flagship mall: Berjaya Times Square. For trivia buffs, Wikipedia calls Berjaya Times Square the seventh largest building in the world (there is even an indoor rollercoaster that takes up much of the upper floors) with 1,000 stores (plus two 48 story towers), and it was once the home of the world's largest Borders bookstore (which has since closed in favor of a smaller Borders' outlet).
For the flagship location in Berjaya Times Square, RadioShack is located on the ground floor in one of the mall's two massive atriums; and thanks to a clever design, it makes for a spectacular sight and awesome branding from the upper floors of the mall: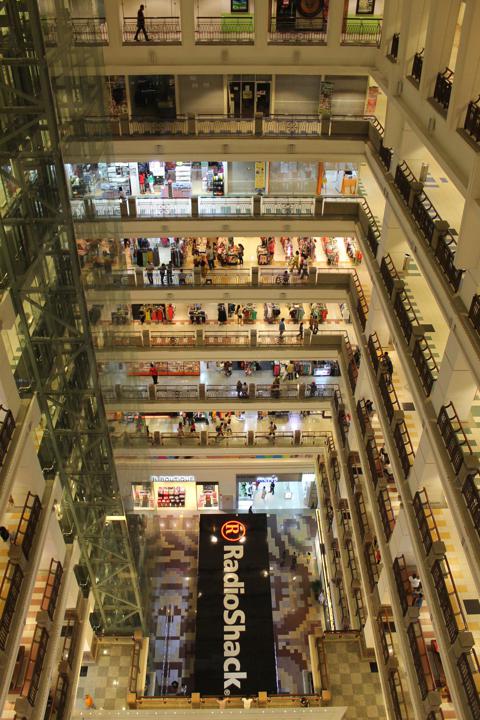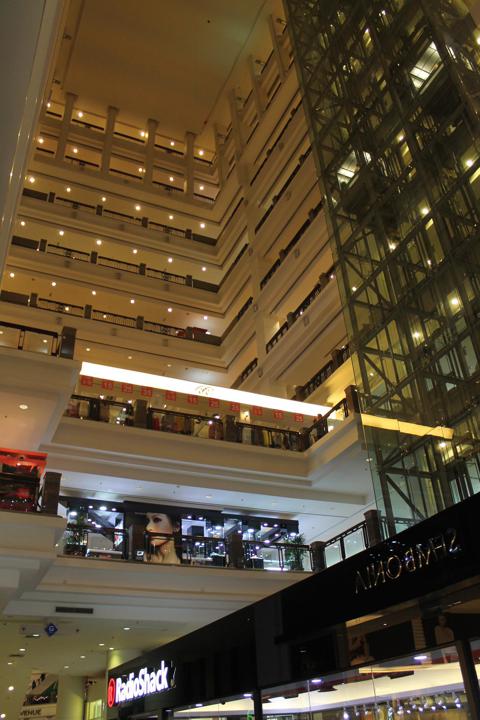 When you walk into the main entrance of the mall and go towards the atrium to the right, this is what you will see: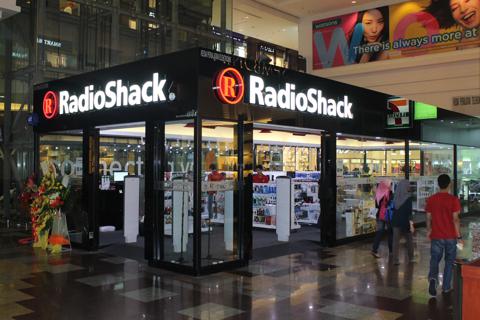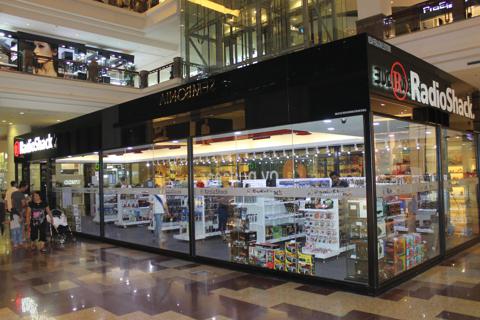 (The Sony Centre is just in front of RadioShack and by the Mall's escalators)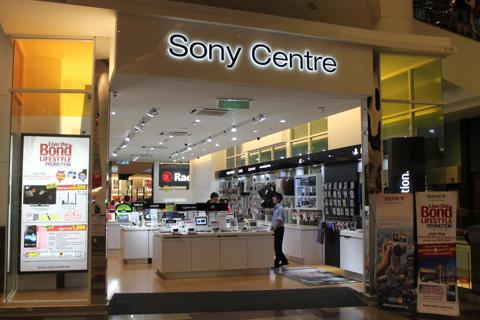 At least RadioShack's flagship location in Malaysia is not like your typical American RadioShack, but more like an Apple Store (Question for RadioShack executives in the USA: Have you taken notice of what Berjaya has done with your store design in Malaysia?).
A quick look inside the new store revealed the familiar RadioShack branded items along with other brand names like Gigaware, Auvio, Swiss+Tech and Belkin plus you can visit the RadioShack Malaysia Facebook page here to find out what else they sell (just divide any prices by roughly 3 to convert into US$):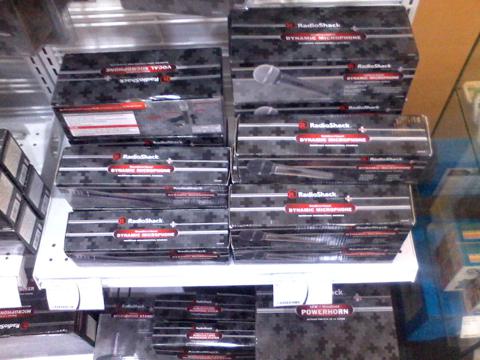 I should say that the inside of RadioShack in Malaysia along with the product mix may not look particularly special to most American consumers used to the consumer electronic store format in the States, but it's a more revolutionary retail concept for selling consumer electronics in much of Asia. For example: Half a block from Berjaya Times Square is Low Yat Plaza, a massive consumer electronics mall with several stories containing hundreds of small and mostly Chinese owned stores or kiosks along with some stores owned by branded consumer electronics makers themselves that sell every kind of consumer electronic product you can think of (The mall itself only closes once a year - for about one day at the height of Chinese New Year).
ZDNet has a rather interesting article about Low Yat Plaza that's clearly written from Western-centric viewpoint as it's entitled: A visit to Low Yat Plaza, Kuala Lumpur's shady electronics mall. Let me say that Low Yat Plaza and similar IT malls around Asia are hardly shady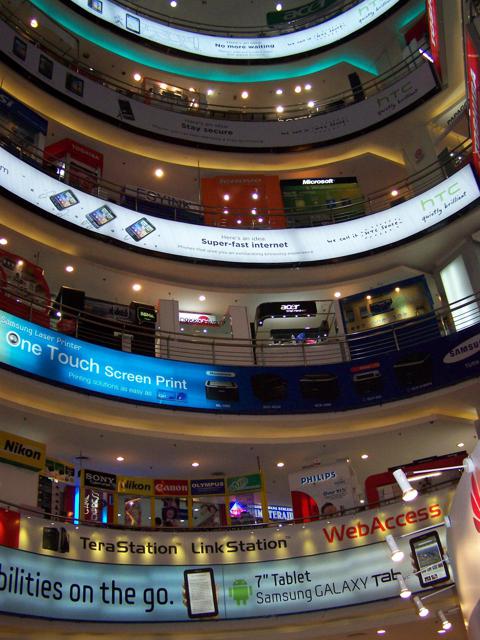 (although you can probably pick up a very discounted version of the latest Microsoft software and perhaps even an "original copy" of an unreleased iPhone if you know where to look in them), it's just that many of the products crammed into its stores are not neatly or clearly labeled. Likewise, you need to be careful what you buy, as the cheaper non-branded electronic items (e.g. computer adapters, batteries etc.) which are obvious knockoffs from China never seem to last as long as the items you buy in places like Best Buy or RadioShack back in the States.
And what about returns or warranties from the sellers in the Low Yat Plazas of Asia? Let's just say you better get something in writing and read the fine print before paying in cash, but at least you might be able to haggle on price. Luckily, and while branded consumer electronic items (that are genuine) like laptops tend to be more expensive to buy in Asia than in the States, they are usually much cheaper and easier to fix here in Asia (At Low Yat Plaza, the Chinese seem to sell most of the products because of their sourcing and family networks stretching back to China, but it's Indians who have cornered the market on repairs).
Obviously RadioShack won't compete on price with the Chinese vendors in the Low Yat Plazas of Southeast Asia. In fact, The Star noted that it costs from RM300,000 to RM400,000 (excluding stock) or $100,000 to $130,000 to set up one RadioShack outlet in Malaysia. I am not sure how that compares with setting one up in the States (if anyone knows, feel free to post an estimate in the comments section). Plus it's also important to remember that having an outlet in a nice mall in Asia won't come cheap. For example: In the Philippines, the mall operator might get as much as 20%+ of the revenue from restaurant and kiosk concepts with the average cut probably being in the high single digits. However, a nice clothing store there catering to young Filipinos living at home with their parents (and working in good paying call center jobs at night) can easily be grossing a few hundred thousand dollars in revenue, and RadioShack will need to do the same to get choice locations in the malls there and around Asia (as well as to stay in them as there is no shortage of retail entrepreneurs in Asia).
With that said, Asian consumers shopping for quality and durability rather than strictly on price may appreciate shopping at RadioShack (rather than on Amazon.com and other Internet sites and then paying a small fortune for shipping and handling), but just how many of those types of consumers exist in Asia is rather difficult to guess.
Finally, here is another catch regarding RadioShack in SE Asia: Berjaya's Yau Su Peng told The Star newspaper:
We are upbeat about the brand here, but we want to be responsible with its growth. We still need to learn how to customize the business for the local market.
And while she acknowledged that Berjaya is seeking other parties to partner with in order to expand RadioShack outside of Malaysia, I doubt the group will be in any hurry to do so until it can be assured that RadioShack stores can stand on their own two feet in Malaysia against other consumer electronic store competitors like Harvey Norman Holdings Limited (ASX: HVN) out of Australia and all of those small Chinese owned electronics stores in places like Low Yat Plaza. After all, Berjaya's main focus is on its home turf of Malaysia and making money there - not on saving RadioShack USA.
A Final Word: Will Emerging Markets Save RadioShack Shareholders?
RadioShack would not be the first brand to have failed in the United States only to survive in places like SE Asia. Besides Borders, do you remember a chicken restaurant chain called Kenny Rogers Roasters? I remember when their last locations in the States were closing in the late 1990s because of competition from Boston Market and other chicken places, but it ended up being sold to the Berjaya Corporation who kept it alive in Malaysia, the Philippines, China and apparently now even in Bangladesh. I am not sure how well Kenny Rogers Roasters is doing elsewhere in Asia, but in the Philippines the chain is thriving, because its new owners found a unique niche (healthy food for health conscious diners who have no other alternatives) to operate in (Note: A 2011 article in Time pointed out that Berjaya paid $4 million for Kenny Rogers Roasters while total revenue for the previous fiscal year was over $100 million - not a bad deal for them).
However, whether the RadioShack brand lives on in SE Asia will be small comfort to its American shareholders. While Berjaya probably has the resources and the retail knowledge to make the RadioShack brand a success in the emerging markets of SE Asia, I doubt it would be interested in throwing a lifeline to RadioShack shareholders by acquiring the rest of the company (that is, prior to any bankruptcy). That's too bad, because a cynic might even conclude that, given Berjaya's success in Malaysia and now its willingness to experiment with, innovate and invigorate the failing RadioShack brand to show some how make it work (at least in this part of the world), maybe RadioShack USA should replace its top executives with some managers from Berjaya.
But seriously though, it's clearly going to take awhile for Berjaya to open 1,000 RadioShacks across SE Asia, let alone figure out just what retail format or size will work the best in the diverse markets across the region that range from first world Singapore to less developed countries like Indonesia and the Philippines. For those reasons, emerging markets may save the RadioShack brand, but they probably won't be enough to save RadioShack shareholders.
Disclosure: I have no positions in any stocks mentioned, and no plans to initiate any positions within the next 72 hours. I wrote this article myself, and it expresses my own opinions. I am not receiving compensation for it (other than from Seeking Alpha). I have no business relationship with any company whose stock is mentioned in this article.