VIX - Market Sentiment:
Monday S&P futures traded an yet another very tight trading range moving just six handles top to bottom. S&P futures moved from a low of 1454 to a high of just over 1460 prior to Monday's opening. The market is continuing to digest the massive move from last week's rally. On a somewhat light economic calendar week. the Thursday Unemployment claims and Friday's trade balance number should be on your radar as market movers later in the week. The NYMO yesterday closed at +55.86 after the market churned higher again on Friday. After today (Monday) unless there is a big change in the second half of the day I would expect this to weaken heading into Tuesday.
Today the spot CBOE Volatility Index (VIX) popped back up above 14 as the market traded down .63% just after the noon hour. Volatility ETF (NYSEARCA:VXX), 2x ETF (NASDAQ:TVIX), and alternative 2x ETF (NYSEARCA:UVXY) finally saw some gains following VIX futures higher. These gains were unfortunately short lived as front month futures were again sold off as realized volatility continues to weigh on these ETF's. I noted on the sonar report last week VXX put spreads were lighting up the options market. Today these continue with January puts continuing to be bought and calls overall being sold. This is reflected in the late day decline of the VIX futures. Option volume is just around average so there's no specific tell as there was last week, but notes should be taken as these ETFs continue to be beaten up.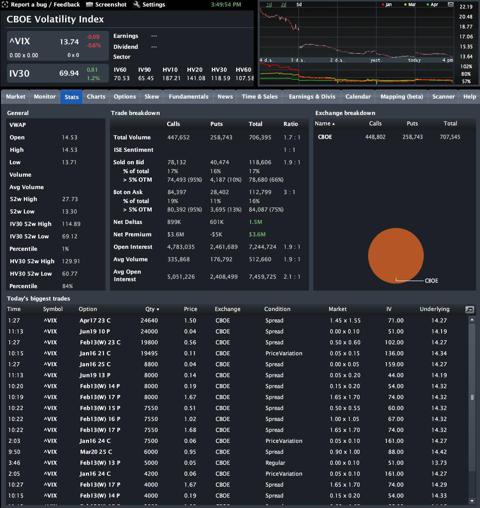 Statistics and Screenshot Provided By LiveVol
VIX futures are below.
Yesterday
January VIX futures 15.10

February VIX futures 16.60

March VIX futures 17.83
Today
January VIX futures 14.90

February VIX futures 16.68

March VIX futures 18.03
Options Paper:
The market weakened Monday, taking a breather from last week's 75 handle move higher. Technology and Financials were flat to down with option volumes nowhere near what they were last week. Only 8.5M contracts had traded heading into the 1:00 hour. The leaders in option volume were S&P 500 ETF (NYSEARCA:SPY), Apple (NASDAQ:AAPL), Bank of America (NYSE:BAC), Facebook (NASDAQ:FB), and Netflix (NASDAQ:NFLX). For those who follow me and my trades on Twitter know a large 1K block of the 95 strike weekly calls were bought first thing today and the stock never looked back. Other options activity included Silver ETF (NYSEARCA:SLV), Russell ETF (NYSEARCA:IWM), Ford (NYSE:F), Gold ETF (NYSEARCA:GLD), NASDAQ (NASDAQ:QQQ), and Citigroup (NYSE:C) all seeing both bears and bulls battling it out positioning for the next move.
One bullish play today came in the form of Hertz (NYSE:HTZ) as a large buyer stepped up buying the January 17.5 strike calls buying 5K worth in 2 blocks for .35 each. This is interesting as there is no specific catalyst I know of before next Friday's expiration so this appears to be an outright bullish directional bet. In contrast, this name only sees 10K contracts trade in a day and exceeded this volume by 11:00 AM. Options ratios also showed to be bullish as calls outnumbered puts more than 13.5:1 with 76% of the 11.1K calls bought on the ask. Although I do like this trade I cannot get a fill and I do not plan to chase performance in this name. Net premiums showed 212K of net calls bought versus just 13K of net puts bought.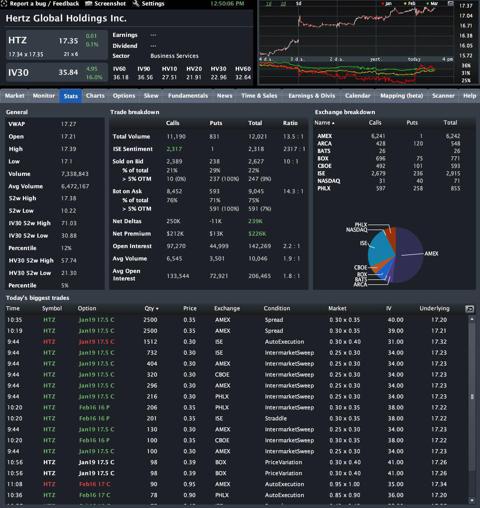 Statistics and Screenshot Provided By LiveVol
Bearish paper did show up today in the form of a stock I have been painfully short of, First Solar (NASDAQ:FSLR). The biggest action today was not the net premium when it comes to FSLR but instead the outright shift in options sentiment. Today of the 16K calls which traded 47% were sold on the bid. This also is shown with the puts being bought 49% of the time to the tune of some 8.7K contracts. One single 200K buy order came in today for the March 27 puts, sending premiums higher throughout the session. Options activity was just around average with puts slightly outnumbering calls. I almost stopped out of my position last week but with today's option activity, I will look to press this short even further.
Popular ETF's and equity names with bullish / bearish paper:
Bullish Option Flows - ISE & % OTM calls bought on offer
Bearish Option Flows - ISE & % OTM puts bought on offer
Health Net (NYSE:HNT) 96%

Cheniere Energy (NYSEMKT:LNG) 89% of 10.7K puts bought

Deckers (NASDAQ:DECK) 73%

Suntech (NYSE:STP) 3.4K puts bought

Facebook 62K puts bought out of 113K or 55% - Straddles bought expecting big moves

Phillips 66 50% as puts bought on downgrade

Celsion (NASDAQ:CLSN) 3.2K puts bought on ask - This name can't stay off the sonar report as upcoming release will either make or break company.
As always, happy trading and stay hedged.
Remember equity insurance always looks expensive until you need it!
Disclosure:
I am long: AGNC, APC, KERX, KOS, MTGE, NRG, PG, PSX, SWKS, VHC
I am short: BWLD, FSLR, FXE, LYV, NFLX, SPY
Trades today: Scalped AAPL, Bought NFLX puts, Bought NRG calls, Bought SWKS calls, added to PSX long

Aside from these, I have no positions in any stocks mentioned, and no plans to initiate any positions within the next 72 hours. I wrote this article myself, and it expresses my own opinions. I am not receiving compensation for it (other than from Seeking Alpha). I have no business relationship with any company whose stock is mentioned in this article.
Disclaimer: The opinions in this document are for informational and educational purposes only and should not be construed as a recommendation to buy or sell the stocks mentioned or to solicit transactions or clients. Past performance of the companies discussed may not continue and the companies may not achieve the earnings growth as predicted. The information in this document is believed to be accurate, but under no circumstances should a person act upon the information contained within. I do not recommend that anyone act upon any investment information without first consulting an investment professional as to the suitability of such investments for his or her specific situation.