On December 3, 2012, Pacific Drilling (NYSE:PACD) gave a presentation at the Dahlman Rose & Co. Ultimate Oil Services and E&P Conference. This presentation focused on the current state of the offshore drilling industry and Pacific Drilling's position within it. The company's management also discussed Pacific Drilling's present and future. Due to this dual focus, I will be publishing my analysis of this presentation in two parts with one part focusing on each subject area of the presentation.
In previous articles, I have described the current strength in the ultra-deepwater market. This strength is particularly beneficial for Pacific Drilling as the company focuses exclusively on contracting out ultra-deepwater rigs. Pacific Drilling owns seven of the most technically-capable ultra-deepwater drillships in the world today. This modern fleet consists of four drillships in operation and other three under construction. The fact that such a high percentage of its fleet is under construction positions the company well for strong growth going forward. Pacific Drilling expects two of these rigs to be completed and delivered in 2013 and the final one to be delivered in 2014. As the rigs will begin generating revenues and cash flow following their deliveries, Pacific Drilling is positioned to deliver this strong growth over the next two years. However, only two of these three rigs have secured contracts at this time. The rig that has not is the one that is scheduled for delivery in 2014 so Pacific Drilling still has plenty of time to secure a contract for this rig and given the current strength of the ultra-deepwater market and demand for modern drilling rigs, the company is unlikely to have any difficulty contracting out this rig.
Pacific Drilling enjoys global diversification and this provides protection for the company against regime risk. The importance of a company's protection against regime risk was illustrated quite well by the actions of the U.S. government following 2010's Macondo disaster or, more recently, the actions of the Brazilian courts following a small spill at the Frade field in 2011. Pacific Drilling currently has rigs operating in Nigeria, Brazil, and the U.S. Gulf of Mexico. The company will also have a rig operating in Angola beginning in the third quarter of 2013. In addition to this, Pacific Drilling also has support offices in South Korea and Singapore. This gives the company a presence in every core ultra-deepwater market.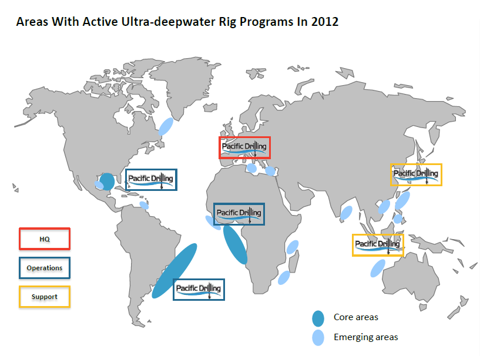 Source: Pacific Drilling
As the map above shows, Pacific Drilling's support offices in Singapore and South Korea also give the company a presence in many of the newest markets for ultra-deepwater drilling rigs. This presence in the core and emerging ultra-deepwater markets puts the company on the front line to receive new contracts in these areas.
Indeed, since the formation of Pacific Drilling's predecessor company in 2006, the company has seen great success at becoming one of the world's preferred ultra-deepwater drilling contractors.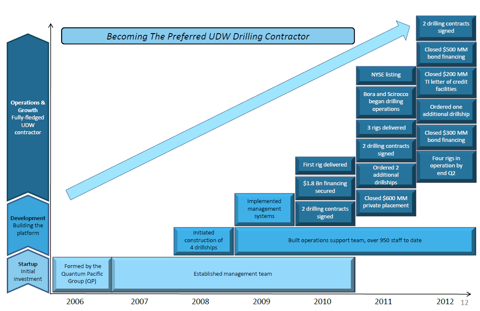 Source: Pacific Drilling
One of the reasons for Pacific Drilling's success at becoming one of the leading contractors in the industry is the company's high quality rig fleet. Pacific Drilling has one of the most modern ultra-deepwater fleets out of all of its competitors.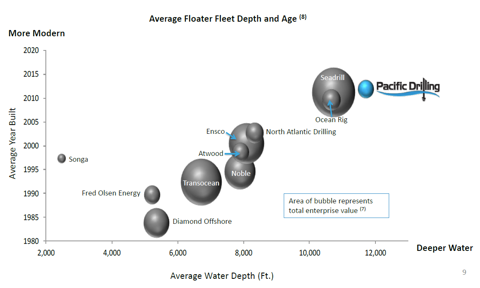 Source: Pacific Drilling
As Pacific Drilling's competitor Seadrill (NYSE:SDRL) has noted several times in its earnings reports, customers have shown and expressed a marked preference for newer rigs due to their enhanced performance and safety characteristics compared to older rigs. Pacific Drilling has been a beneficiary of this trend and this customer preference is likely to continue which puts the company in an enviable position going forward.
Unlike many start-up offshore drilling companies, Pacific Drilling is quite well capitalized and has a strong balance sheet. As of the company's last quarterly report, Pacific Drilling had a net debt to enterprise value ratio of 56%. The company had approximately $1.87 billion in long-term debt as of that date. This compares to the $2.28 billion in shareholders' equity that Pacific Drilling boasts on its balance sheet. This gives Pacific Drilling a long-term debt to equity ratio of 82%. This compares quite favorably to other offshore drilling companies which are much more levered. For example, Pacific Drilling's much larger peer Seadrill has a long-term debt to equity ratio of 1.42 based on the company's latest quarterly report. Other offshore drilling companies such as Songa Offshore (OTC:SGAZF) are even more highly levered.
Pacific Drilling has a substantial contract revenue backlog to support this debt and produce profits for shareholders. As of the date of the company's aforementioned presentation, this revenue backlog stood at $3.4 billion which can be broken down by rig as follows: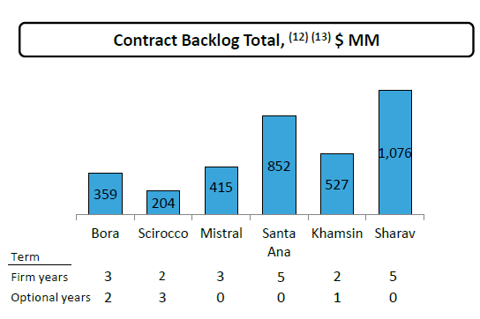 Source: Pacific Drilling
Pacific Drilling reported approximately $172 million in contract revenue during the most recent quarter. Thus, this backlog represents approximately 19.77 quarters of revenue, assuming that the company continues to operate at its present level. This works out to nearly five years of guaranteed revenue, assuming that revenue remains at current levels. This will not be the case, however. Due to the two new rigs that are coming online this year, Pacific Drilling will experience revenue growth. This will reduce the length of time that the company's backlog will last. Regardless of this, Pacific Drilling remains a very well-capitalized company that offers growth and stability to investors.
Disclosure: I am long PACD, SDRL. I wrote this article myself, and it expresses my own opinions. I am not receiving compensation for it (other than from Seeking Alpha). I have no business relationship with any company whose stock is mentioned in this article.