I had been quite bullish on Corning (NYSE:GLW) for the past few months. In fact, I had been buying the stock on dips hand over fist. I became even more optimistic when the company raised its quarterly guidance right after Black Friday on the back of strong TV sales in the US. I had bought so many shares of Corning that by mid December, it had become my largest stock position.
Last week, albeit somewhat reluctantly, I sold more than half of my position.
The recent run up in the shares had little to do with my decision. It was the plunge in the Japanese Yen that made me nervous about my Corning shares.
Close followers of the company know that Corning prices most of its TV glasses in Japanese yen. The company does not have much in the way of currency hedges against this exposure. This unhedged exposure to the yen has worked out nicely for Corning in the past as the Japanese currency strengthened significantly after the financial crisis and remained strong until recently.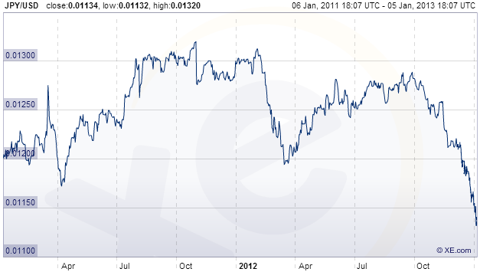 However, the yen started to decline rather rapidly in October 2012 against all major currencies. Against the US dollar, the yen has dropped by approximately 13% since October 1, 2012 and it now sits at lows not seen in some two and a half years. Many currency experts expect the yen to remain weak and perhaps weaken further from here.
So, what does all of this mean for Corning?
According to Corning's management, a one percentage point decrease in the average yen exchange rate will decrease the company's sales and net income by $6M in Q4. The average yen exchange rate is approximately down 5% in Q4 compared to Q3, which should result in a decline of $30M, or 6%, in net income sequentially all else being equal. The effects could even be more pronounced in Q1 2013 if yen stays were it is now, or continues its plunge.
While Corning may be able to increase its pricing to compensate for the weaker yen in the long run, short-term relief is unlikely. Contracts that are already in place with customers have to run their course. Even then, the industry might still be oversupplied. In addition, Corning's main competitor, Japan based Asahi glass, is not affected to the same degree by the weakening yen as most of its costs are incurred in Japan. These factors will limit Corning's pricing power in the TV glass market.
From the price action of the shares in the past few weeks, it is not clear to me whether all of this is already priced in. That is why I cut my position rather substantially before Q4 earnings release on January 29. I'll be looking for more clarity from the management on how they can satisfactorily deal with the decline in the yen. If I am convinced, I will add to my position once again.
Disclosure: I am long GLW. I wrote this article myself, and it expresses my own opinions. I am not receiving compensation for it (other than from Seeking Alpha). I have no business relationship with any company whose stock is mentioned in this article.
Additional disclosure: I reduced my position in Corning by 60% last week. I may sell some or all of my remaining position in the next 72 hours.