The Dow Jones U.S. Aerospace & Defense Index has been on a tear the last four years. The index is at a record high today after more than doubling since the lows of 2009.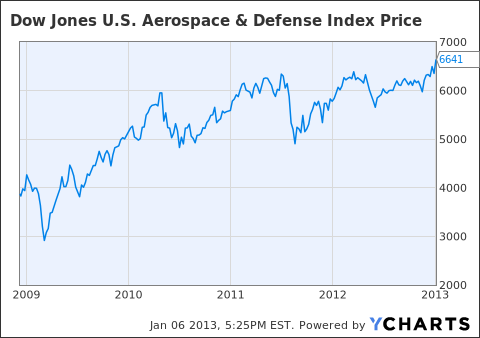 This rally is very interesting for two reasons:
1) Wasn't the Obama administration supposed to cut back on military expenditures?
2) Hasn't the financial press been advising against owning defense contractors since President Obama was inaugurated?
That's why I call it a stealth rally: it wasn't supposed to happen and has been rarely mentioned in the mainstream financial press. So why the big rally in the Aerospace & Defense Index during President Obama's first term? Listening to the media, one would have thought the best move to make would be to short the index. Not so. Here's why: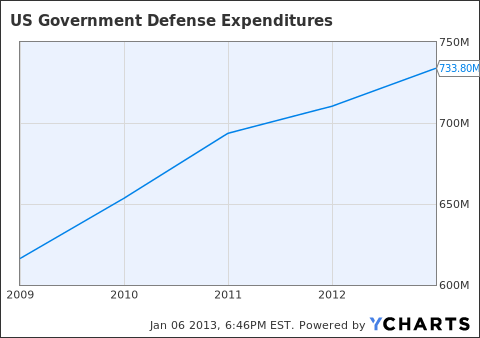 US Government Defense Expenditures data by YCharts
That's right, U.S. government defense expenditures have risen a whopping 22% over Obama's first term. By the way, the numbers on the right side of the graph are billions, not millions.
Negotiations on raising the debt ceiling are set to begin soon. Everyone is talking about cuts in entitlement programs. There are some who say the biggest entitlement program in the U.S. is not Social Security or Medicare, but the military industrial complex. As a result, some say President Obama wants to drastically cut defense spending. Others think the DoD should change its name to the "Department of Offense". Regardless, the DJ Aerospace and Defense Index is telling another story. Here's why.
Neither political party will strongly support cuts in defense spending. It's like baseball or apple pie: to support defense cuts means you aren't "supporting the troops", are weak, and these are chinks in the armor which will be exploited by the other party. Likewise, all the folks working at defense related jobs back home will take a dim view of any politician strongly supporting defense cuts. Both political parties talk non-stop about the budget deficit, but when it comes to war or defense spending, the funding appears to be limitless.
How can an investor profit from this trend? First, let's take a look at the top-5 stocks of the Dow Jones Aerospace & Defense Index. The top-5 stocks compose 35% of the index's total and are shown in the following chart.
Dow Jones Aerospace & Defense Index: Top 5

Company

Symbol

Index Weighting

12 month

Return

P/E

Div. Yield

United Technologies

UTX

8.88%

15%

17.5

2.5%

Boeing

BA

7.79%

5.0%

13.7

2.5%

Precision Castparts

PCP

6.23%

13%

21.3

0.1%

Lockheed Martin

LMT

5.91%

17.4

10.8

4.9%

General Dynamics

GD

5.69%

5.1%

10.6

2.9%
United Technologies (NYSE:UTX) and Lockheed Martin (NYSE:LMT) were the obvious standout performers: up 15% and 17.4% respectively. LMT also pays a very healthy 4.9% dividend yield.
However, Boeing (NYSE:BA) may be the most interesting of the "top 5". The stock has underperformed the index over the last 5 years mostly due to design and manufacturing delays of the much anticipated 787 Dreamliner. But an article in last Friday's Wall Street Journal predicts Boeing (BA) will likely become the world's #1 aircraft maker after delivering 601 commercial jets in 2012. The company has 914 new orders for its 737 Max, bringing total sales for that jet to over 1,000 units.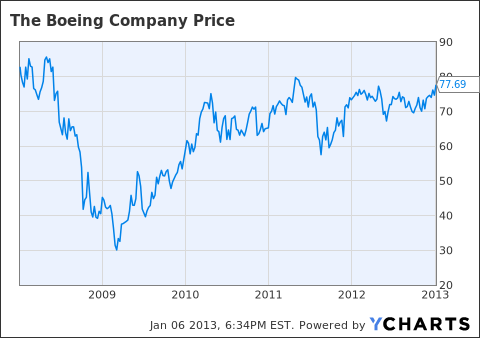 BA's 2012 output included 46 shipments of its 787 Dreamliner, which was disappointing. That said, the 737 Max continues to sell well, was 75% of the 1,203 net orders in 2012, and may well be the star the Dreamliner was supposed to be.
Another piece in the Wall Street Journal, Defense Firms Seek Alternatives As U.S. Cuts Miltary Spending, reports Boeing, the #2 U.S. defense contractor, is closing operations in California and Kansas. In November, Boeing announced it was consolidating its defense, space, and security businesses and cutting 30% of those management jobs. The company has reduced costs by $2 billion since 2010 and is shooting for another $1.6 billion with these additional consolidations.
With a 13.7 P/E and a dividend yield of 2.5%, BA does not seem overly expensive. BA could make a nice run after spending the last 3 years oscillating between $60-80/share. A strong breakout over $80 on big volume would be very bullish.
Drones: A Growth Area In Defense
Meantime, President Obama has taken a strong liking to the new joystick "drone warfare". Just last Thursday a Pakistani militant leader was killed along with some of his "trusted deputies" in South Waziristan. This comes after President Obama acknowledged some very controversial drone strikes in Yemen and Somalia. The American Civil Liberties Union (ACLU) is suing the U.S. government to obtain information about the CIA's targeted killing program. But the strikes continue...
Drone makers are the rising stars in the defense industry. They even have their own caucus - the Unmanned Systems Caucus. The Caucus is chaired by Congressmen Howard P. "Buck" McKeon (R-CA) and Henry Cuellar (D-TX). PBS recently published an article called The Drone Makers and Their Friends In Washington which examines the companies involved and their political donations. Some quotes from the PBS.org article:
A PAC affiliated with Los Angeles-based Northrop Grumman (NYSE:NOC), the defense firm that makes the Global Hawk drone, gave close to $150,000 to 16 drone caucus members representing districts in California, Texas, Arizona and Nevada. (A Global Hawk drone owned by the U.S. Navy crashed in June in southern Maryland.)

Southern California-based AeroVironment, which supplies the U.S. military with most of its small drones, has spent more on lobbying each year from 2007 to 2011 than during the previous five years combined, according to data from the Center for Responsive Politics.
AeroVironment (NASDAQ:AVAV) trades on the NASDAQ. Here are some comments from CEO Tim Conver taken from the company's fiscal 2013 Q2 report:
Strong second quarter performance, including a 30 percent increase in year-over-year diluted earnings per share to $0.39, resulted from continued demand for our market-leading solutions, favorable product mix and our focus on cost management. Revenue of $80 million included a majority, but not all of the international small UAS orders that had been working through the export administrative process. Because of contracting delays on key programs, revenue in our second half will be more heavily weighted to our fourth quarter, historically the highest revenue quarter of our year. Looking beyond fiscal 2013, in addition to executing effectively in our current businesses, our team made significant progress during the quarter on development programs such as Switchblade, Mission Services and larger, vertical takeoff UAS, all of which are poised to drive long-term growth in adjacent and new markets.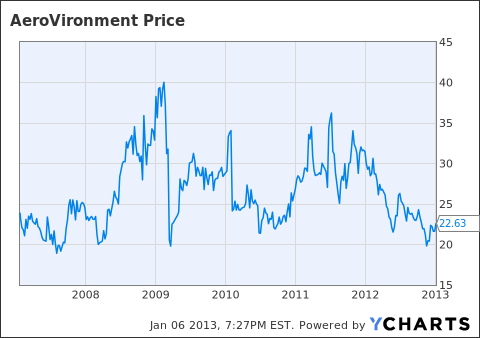 AVAV = $22.63
Market Cap = $498.5 Million
P/E (ttm) = 16.4
EPS (ttm) = $1.38
Div (Yield) = N/A (nil)
Technically, AVAV has just bounced off long-term lows. It could be ready to turn and run higher.
Forbes published an article back in December, UAV Makers Attrack M&A Interest Despite Defense Cuts, where it was pointed out there are growth areas despite (supposed) defense cuts.
Of course the big geo-political defense concern is Iran. Sanctions are destroying Iran as this page 1 story in the Wall Street Journal describes. One has to wonder if growing oil production in Iraq and the U.S., calming markets once worried about the lack of available Iranian crude, is emboldening those advising a strike on Iran. Hopefully cooler heads will prevail. Perhaps the Iranian people will rise up and demand its leaders allow nuclear inspectors full access so their country does not become another Iraq or Afghanistan. That said, Iran is no Iraq, and certainly no Afghanistan. If a full-blown conflict were to erupt in the Persian gulf, some of the companies in the Aerospace & Defense Index are going to be very busy indeed.
In summary, if you believe neither political party has the will to cut defense spending, aerospace and defense stocks might be worth your consideration. In particular, Boeing seems poised to make a run higher after years of underperformance. AeroVironment, and other companies in the growing drone business, may well be the best place to invest in the sector. If you prefer a more diversified play, consider the iShares Dow Jones Aerospace and Defense ETF (BATS:ITA).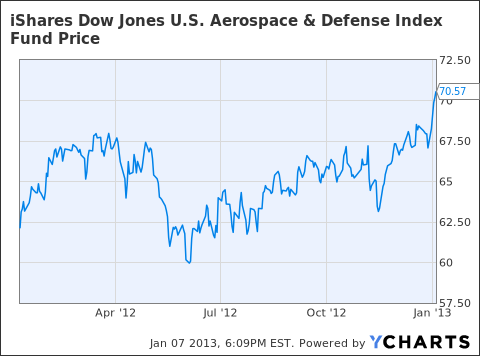 Disclosure: I have no positions in any stocks mentioned, and no plans to initiate any positions within the next 72 hours. I wrote this article myself, and it expresses my own opinions. I am not receiving compensation for it (other than from Seeking Alpha). I have no business relationship with any company whose stock is mentioned in this article.
Additional disclosure: I am an engineer, not a CFA. Please do your own research and contact your investment adviser. I am not responsible for investment decisions you make. Thanks for reading and good luck!
Disclosure: I/we have no positions in any stocks mentioned, and no plans to initiate any positions within the next 72 hours.
I wrote this article myself, and it expresses my own opinions. I am not receiving compensation for it (other than from Seeking Alpha). I have no business relationship with any company whose stock is mentioned in this article.