Nearly five years after the financial crisis, General Electric (NYSE:GE) has yet to reach its previous levels of revenue or earnings per share. In my view, this is unacceptable for such a well diversified company such as GE.
There is no doubt that GE has made a remarkable recovery from its lows of 2009. At its nadir, the stock price for this blue chip had declined 80%, from around $35 a share to about $7 a share on March 6, 2009, one month after the company slashed its dividend 66% to $0.10 per share on February 6, 2009. With the stock now trading at nearly $21.00, GE has tripled from its 2009 lows. However, even with this impressive run, GE is still off about 41% from its 2008 levels.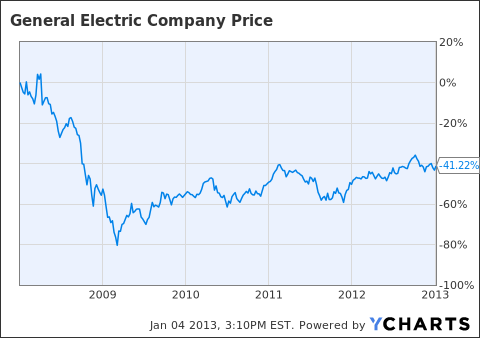 The decline in GE can also be seen in its TTM earnings per share. TTM EPS decreased sharply in 2009, from above $2.00 to below $1.00 for all of 2010. Since 2010, TTM EPS for GE has risen 37%, to a current level of $1.26 per share. FY EPS for 2012 is expected to come in at $1.37. FY 2013 EPS is expected to grow 10.60%.TTM EPS for GE is still off 41% from its 2008 levels. Please note that this is a similar percentage decline as the stock price.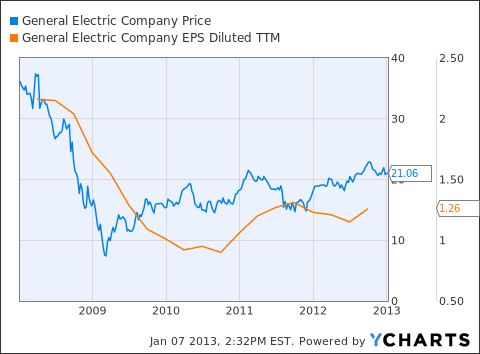 The strong correlation between GE's stock price and TTM EPS is not accidental. Investors have tended not to pay up for GE as shown by its TTM PE ratio. Except for the March 2009 lows, GE has tended to trade for a PE of between 12 and 18. GE is currently trading for a TTM PE of around 17, which is at the high end of this range.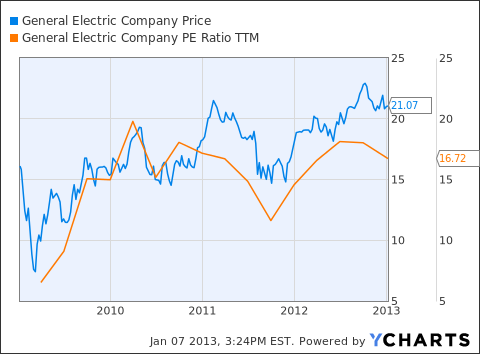 Both TTM revenue and TTM revenue per share have declined for GE since 2008. This decline in revenue can be mainly attributed to the troubles the GE Capital segment experienced during the financial crisis. TTM revenues have declined 20% since 2008, while on a per share basis, they have declined 17%. Even after the stock price had started to recover from the lows of 2009, revenues for GE have continued to trend lower.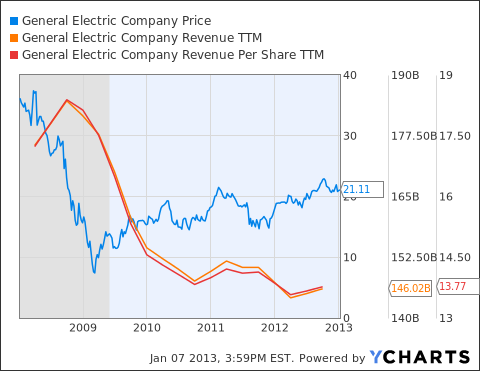 GE announced on December 14, 2012 that it had raised the quarterly dividend by 12%, or $0.02 per share, to $0.19 per share. At the current prices, the stock offers a 3.6% dividend yield. Included in that announcement, GE increased its existing share repurchase authorization by $10 billion and extended the repurchase plan through 2015, which otherwise would have expired on December 31, 2013. As of the end of the third quarter of 2012, the plan had approximately $4.9 billion in remaining authorization. GE's current dividend of $0.19 per share is 90% larger than where it was after it was cut to $0.10 per share on March 6, 2009. However, it is still 39% lower than where it was before the cut, when it was at $0.31 per share. The share repurchase program should help improve some of GE's metrics such as EPS and revenue per share. However, please note that since 2009, GE has only managed to reduce its shares outstanding by 0.29%, or 30 million shares.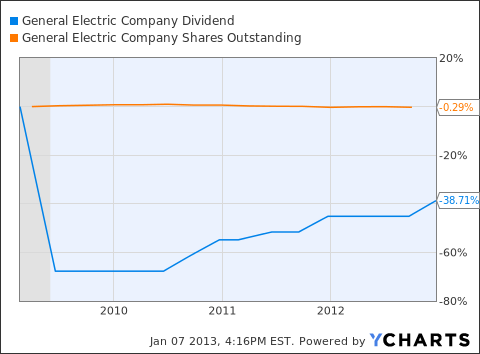 GE Dividend data by YCharts
Conclusion
In my opinion, GE has yet to fully recover from the financial crisis. Key metrics, such as EPS and revenue per share, are lower now than before the crisis. While GE has been raising its dividend as of late, the dividend is still 39% lower than where it once stood. I do not, however, consider GE to be a particularly risky stock at the moment. However, I do not see a compelling reason to own the stock. The current yield of 3.6% is currently too low and the PE of 15.68 is too high in my opinion. GE Capital, the segment which nearly brought down this conglomerate, still accounts for 30% of segment profits. As long as GE still relies on this segment for a large chunk of its profit, I would stay away from this stock.
Disclosure: I have no positions in any stocks mentioned, and no plans to initiate any positions within the next 72 hours. I wrote this article myself, and it expresses my own opinions. I am not receiving compensation for it (other than from Seeking Alpha). I have no business relationship with any company whose stock is mentioned in this article.