There was a flurry of activity heading into the close yesterday with takeover rumors working their way into the market for a couple of companies which we follow. There were also downgrades for companies we track and together they made an otherwise uneventful day exciting heading into the close.
Commodity prices this morning are as follows:
Gold: $1653.20/ounce up by $6.90/ounce
Silver: $30.29/0unce up by $0.208/ounce
Oil: $92.53/barrel down by $o.34/barrel
RBOB Gas: $2.7939/gallon down by $0.0165/gallon
Natural Gas: $3.24/MMbtu down by $0.032/MMbtu
Oil & Natural Gas
It was disclosed yesterday that a Canadian holding company by the name of Fairfax Financial disclosed that they bought 4.975 million shares over a five day span at the end of December in SandRidge Energy (NYSE:SD). This is another value investor making their way into the stock and with the current fight between SandRidge and their activist shareholders it could very well add another wrinkle to future battles focusing on the company's future direction and business plans. This disclosure coupled with the ongoing battle stoked the buyout rumors once again yesterday, but until there is some turnover on the company's board, we see little chance of a sale occurring .
One of the other companies which we follow, Kodiak Oil & Gas (NYSE:KOG), also had buyout rumors begin to circulate after the company pulled out of a conference being hosted by BMO Capital. The logic was that the company pulled out due to negotiating a sale and there was no need to waste time at the event with an impending sale. Yes we have seen that before, but shares ran up to the $9.80/share level before pulling back in short order. Volume shot up to 14 million shares and the options market also heated up, however usually we see the options market heat up a bit before the takeover rumors break out as they did yesterday. We have come to expect the options market to lead directionally rather than be reactionary.
One of our old holdings, Talisman Energy (NYSE:TLM), saw shares fall after the company's shares were downgraded by TD Securities to a 'Hold' from a 'Buy'. As if that was not bad enough, the firm also lowered their price target to $14/share from $16/share. The analyst pointed out issues which we ourselves have called into question, namely how the company is going to keep up with production growth versus their peer group by lowering their capital expenditures over the next few years and wondering where the short-term catalysts for the stock lie. These are the major questions facing the shares and one of the main reasons they have been laggards as of late.
Precious Metals
We discussed yesterday how we liked silver at current prices and thought that the physical spot price was trading at an attractive level, especially when considering that the economy could be turning a corner and all the liquidity out there should only add fuel to the fire. Ideally we would rather be investing in the silver miners and streamers, but we think their prices relative to the physical silver price may be a bit rich so at this time can only recommend going long the commodity. This would include physical lots as well as the iShares Silver Trust (NYSEARCA:SLV) which closed yesterday at $29.18/unit and is a liquid way to play silver prices - much better than having to carry physical silver around to sell at your local jewelry store at a discount.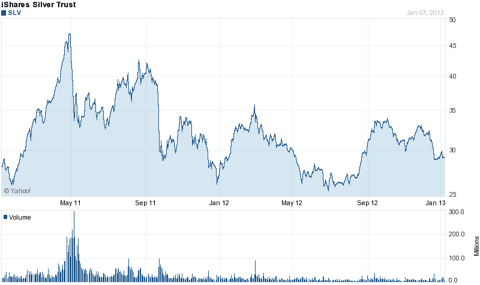 Chart courtesy of Yahoo Finance.
As one can see from the chart above it sure appears that the SLV has positioned itself for a breakout but it just seems to be waiting on a catalyst to push it higher.
We were asked about gold yesterday, specifically the SPDR Gold Shares (NYSEARCA:GLD) which has traded sideways for a while now. It is hard to be bullish of silver and not gold, but at this time we are more bullish of silver than gold. Gold will lead the way in any rally and silver will finish it, especially if we get a precious metals rally that is based on inflation caused by actual economic growth rather than money printing (which has been the case recently). Our bottom line on the situation is that silver will rise more on a percentage basis than gold and that is what we are interested in at the end of the day; the best return on our money.
Disclosure: I have no positions in any stocks mentioned, and no plans to initiate any positions within the next 72 hours. I wrote this article myself, and it expresses my own opinions. I am not receiving compensation for it (other than from Seeking Alpha). I have no business relationship with any company whose stock is mentioned in this article.
Additional disclosure: We are long of physical silver via US minted silver coins.