Tecumseh Products Company (TECUA) manufactures and sells hermetically sealed compressors. Its products are used in commercial refrigeration applications, including walk-in coolers and freezers, ice makers, dehumidifiers, water coolers, food service equipment and refrigerated display cases and vending machines; household refrigerators and freezers; and residential and specialty air conditioning and heat pumps. The company has operations and markets its products in North America, South America, Asia, Europe, the Middle East, and Africa. Tecumseh Products Company was founded in 1930 and is headquartered in Ann Arbor, Michigan.
The global economic slowdown has really taken a toll on Tecumseh. Its class A shares, which traded as high as $35 in 2008, closed Friday at $4.92. Net sales have declined from a peak of $1.116 billion in 2007 to $864 million in 2011. Sales should grow slightly in 2012.
Tecumseh Products has a market cap of ~$91 million. The company burns cash which has been partially offset by non-income tax refunds primarily from the Brazilian government. $37.2 million in 2011 and $39 million more expected to be recovered by YE 2014. However, the company is very cheap. Its shares trade for ~33% of tangible book value.
Back in May 2012 Roumell Asset Management filed a 13D revealing a 21.6% interest in the company. The filing also contained a copy of correspondence recently sent to Tecumseh's BOD. The letter, dated May 14, 2012, states that Roumell hired a consulting firm with a 50 year history in analyzing manufacturing businesses, to conduct a deep review of the Company's assets, operations and competitive position in the industry. The firm valued Tecumseh between $237 and $334 million ($13-$16 per share) on a liquidation basis.
However, Roumell thinks there is a better route to maximize shareholder value than pure liquidation. Roumell believes Tecumseh needs to exit the household R&F business where profitability is being driven down by Asian imports and maintain their profitable commercial refrigeration business which is protected from low cost imports due to more customization and heavier shipping weights. The commercial side accounts for ~60% of sales.
Roumell would like to see the following divestitures:
55 acres located in Hyderabad, India. Microsoft (NASDAQ:MSFT), Dell (DELL), Google (NASDAQ:GOOG) and Facebook (NASDAQ:FB), among others, have offices located there. An independent worldwide real estate firm with offices in Hyderabad appraised the land at $67 million after applying a large tract discount with an immediate sale focus. Breaking up the parcel could yield as much as $91 million.
Plant in Ballabhgarh, Haryana (near Delhi): $25 to $30 million.
Brazilian assets (a foundry and compressor plant): $40 to $60 million.
Roumell proposes that the proceeds from these asset sales be returned to investors in the form of a special dividend.
Quoting from the 13D:
Upon shedding the household R&F business, we believe shareholders will own a profitable and entrenched commercial refrigeration business that will have the benefit of operating with over $394 million in carry-forward NOLs, leaving it effectively a tax-free entity for many years to come. Tecumseh is one of only two companies that have greater than 10% market share of the $5.5 billion commercial refrigeration compressor market (Embraco ~20%; Tecumseh ~15%) and benefits from the industry's interest in durable, low-cost reciprocating compressors. The commercial refrigeration compressor market is expected to grow between 4% and 6% annually over the next several years from roughly 35 million units in 2010 to nearly 60 million units in 2020. Moreover, over 60% of the commercial compressor market is in North America and Europe, both places with a strong Tecumseh presence.
Last May, after the 13D was filed, the stock shot up from around $3.40 to $5.50. Since then, it has bounced around from $4 - $6 per share.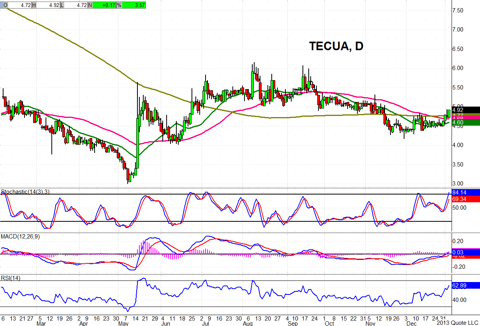 There has been no public response to Roumell by the company that I am aware of. However, the company stated in its 4th quarter 2011 and 1st quarter 2012 earnings releases, "We are undertaking a comprehensive review of our company, including our product portfolio, market position, overall competitive positioning, and manufacturing footprint." During the Company's 1st Quarter conference call, CEO Jim Connor was asked by Jim Roumell whether he was committed to maximizing shareholder value in whatever manner that goal was best achieved and he quickly answered, "Absolutely."
In the past 3 years the BOD seems to have brought on the type of management necessary for some kind of restructuring. Prior to joining Tecumseh in January 2010, CEO Jim Connor was a managing director of BBK, Ltd, a business and turnaround management consulting firm. Prior to joining Tecumseh in October 2011 CFO Janice Stipp served as CFO of Acument Global Technologies Corporation, a portfolio company of Platinum Equity, LLC, a private equity firm, where she assisted in divesture activities.
With sales stabilizing and the global economy beginning to recover I believe Tecumseh is a safe investment at less then 35% of tangible book value. If the board implements Roumell's proposals the investment may be a multi-bagger.
Disclosure: I am long TECUA. I wrote this article myself, and it expresses my own opinions. I am not receiving compensation for it (other than from Seeking Alpha). I have no business relationship with any company whose stock is mentioned in this article.