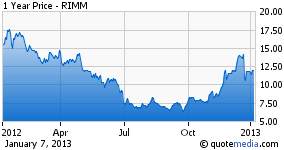 Research In Motion (RIMM) is preparing to launch its next generation OS in BB10 on January 30, 2013. As many have pointed out, this is potentially the last kick at the cat for RIM so there is a lot riding on this launch. RIM's main competition in the smartphone area comes from Apple's (NASDAQ:AAPL) iOS/iPhone and Google's (NASDAQ:GOOG) Android OS.
Some recent developing news that pertains to both of these competitors may be helping to position RIM for better than expected results when it launches: Does security matter?
This subject has been kicked around and back again. Some argue that security is of little interest to the average consumer, while others argue it should be of the highest priority when considering your next smartphone purchase.
These negative reports on Android security have become an almost daily event. BlackBerry still provides the strongest security around and I believe this will play a factor in the success of the BB10 OS as we head into its launch.
All it will take is a high profile security breach and people will be evaluating the security aspects of their current smartphones. BB10 will be ready and waiting to embrace those consumers who value security and integrity when it comes to personal data.
Apple Losing its Luster?
Apple stock has been taking somewhat of a drubbing lately, down 25% from its all time highs. This downfall started just as the iPhone 5 hit the shelves. Although iPhone 5 has recorded decent sales numbers there is an overall negative feeling in the air that Apple has lost its edge. The latest offering in the iPhone 5 lacked any real "innovation". Savvy investors see this as an early warning sign that the offerings coming out from Apple just won't have the cutting edge innovation they have come to expect. Apple is even slashing production orders for the iPhone 5 as the demand they expected is just not there.
The highly regarded Consumers Report just rated the iPhone 5 as the worst performing smartphone out of all the major smartphone players! Not good news for Apple fans.
Apple has been plagued by Quality issues ranging from scratched hardware to defective home buttons. The bug filled launch of the Apple maps software was also another blow that Apple had to suffer through.
Summary:
The competition RIM is up against is good, there is no doubt, but every company has a weak spot. Can RIM take advantage of these weak spots when BB10 is introduced to the market? I am betting they can.
Disclosure: I am long RIMM. I wrote this article myself, and it expresses my own opinions. I am not receiving compensation for it (other than from Seeking Alpha). I have no business relationship with any company whose stock is mentioned in this article.