BreitBurn Energy Partners LP (BBEP) is an oil and gas E&P company. It buys proved producing properties that have further developmental potential. In other words, it takes little risk in its buys. It has grown its distributions by 24% since the beginning of 2010. It is targeting 5% annual distribution growth. It has a market cap of $1.59B and an enterprise value of $2.37B. In the last approximately 1.5 years, it has bought about $745 million in new properties. This is huge growth for its market cap and enterprise value. This wouldn't have happened if it hadn't gotten great bargains. Further, these acquisitions have been highly weighted toward oil production due to the currently low prices of natural gas. These properties include an 85% oil-weighted property in Kern County, California. This is significant in that BBEP can obtain Brent pricing for oil delivered in California. All of these acquisitions are immediately accretive to distributable cash flow. Plus they provide good reserves; and they provide room for further development, including in reserves.
On top of all of these, BBEP has recently gotten a gift of the discovery of new, deeper fields under much of its holdings in Michigan. These discoveries are the Utica-Collingwood Shale and the A-1 Carbonate. BBEP generally seems to be taking a wait-and-see attitude toward these. This is partly because they are natural gas plays. It is partly to let other companies delineate the risks and costs involved in these fields. For instance, Devon Energy (NYSE:DVN), Encana (NYSE:ECA), and Chevron (NYSE:CVX) are developing the Collingwood Shale field in their own holdings. Encana's first well in the Collingwood produced 2.5 MMcf/d in a 30-day IP test, including natural gas, NGLs, and condensates. Another well (I-25) had a 30-day IP test rate of 5.8 MMcf/d, yielding 90 barrels of NGLs per MMcf. Encana is worried about being accused of land price fixing. Therefore, it is being very close-mouthed about their results. However, the company does believe it can improve on its early results. ECA's investors' statement about this area was, "Based on our experience in other emerging shale plays, we are confident that there is substantial upside to this play associated with continued completion optimization." This should be good news to BBEP investors. BBEP has approximately 130,000 prospective net acres for the Utica-Collingwood. It has approximately 75,000 net acres prospective for the A-1 Carbonate.
BBEP has consistently increased its CAPEX budget this year for new organic growth opportunities. It has twice increased its CAPEX budget for Santa Fe Springs field in California. This is likely due in part to the better Brent pricing of production there. Overall these increases show that BBEP believes it has good assets; and BBEP believes it can economically grow the fields it currently owns. The bulk of development is currently emphasizing oil. Natural gas prices are still low. As of November 2012, the CAPEX budget had reached $152 million. Even with these CAPEX increases and the new acquisitions in 2012, BBEP has maintained a low leverage ratio post financings of about 2.7x (debt to adjusted EBITDA). This compares well to its peers' average of about 4.3x. BBEP's Price to Book Value ratio of 1.00 also compares well to that of peers such as Linn Energy's (LINE) 2.07, QR Energy's (NYSE:QRE) 3.98, and Vanguard Natural Resources' (NYSE:VNR) 1.59.
In its Q3 2012 earnings report, BBEP reported a net production increase of 11% sequentially and 29% year-over-year. It had Q3 2012 adjusted EBITDA of $90.1 million. This represented a 36% sequential increase and a 70% year-over-year increase. Technically, BBEP had a net loss of approximately $73 million or $1.00 per diluted common unit. However, this was primarily due to unrealized losses of approximately $92 million on commodity derivative instruments. The company is required to report the fair value of its derivatives portfolio for each accounting period. However, these unrealized losses may never become real. A lot of the mark-to-market fluctuation is only fluctuation. Excluding these losses, BBEP would have had net income of $19 million or $0.25 per common unit.
BBEP increased its quarterly distribution for the tenth straight quarter to $0.465 per common unit ($1.86 annualized). This represents a 7% year-over-year increase. The distribution ratio for Q3 was 1.14x. This is approximately at the midpoint of BBEP's target distribution coverage ratio range of 1.1x to 1.2x. The distributable cash flow was up 21% versus Q2 2012.
Some may be put off by the above-mentioned derivatives value fluctuation. However, this is just a part of business safety. It is far better than being prey to commodities fluctuations. The chart below provides a good view of BBEP's hedging. It is easy to see that BBEP is doing extremely well with its natural gas hedges at $7.16/MMbtu for Q4 2012. Nymex natural gas futures prices are currently about $3.48/MMbtu on the March 2013 contract. BBEP's hedges are almost $4 better. That's good management.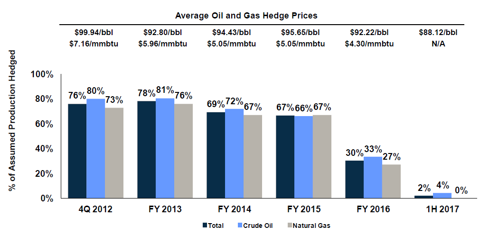 With these excellent hedges in place, BBEP could experience some downside if either or both natural gas and oil prices were to fall; but the negative effects would be limited.
The two-year chart of BBEP provides some technical direction for this trade.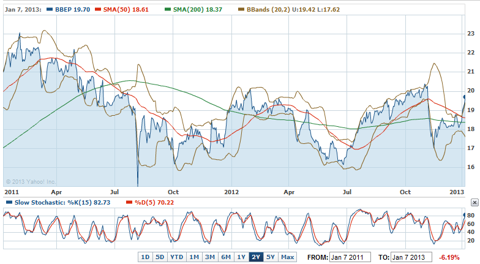 The slow stochastic sub chart shows that BBEP is currently near overbought levels. The main chart shows that BBEP has been in a very rocky consolidation pattern for the last year-and-one half. The stock has moved dramatically upward since the fiscal cliff deal January 1, 2013. This left dividend rates for those families making under $450,000 per year at 15%. It only increased the dividend tax rate to 20% for the "rich." This is an increase, but it is still much less than the feared increase to the "ordinary income" level of roughly 40%. This is a relief for dividend stock owners. It should result in money flowing back into dividend paying stocks such as BBEP.
Even though BBEP has risen sharply, it may rise more. Bond yields have been rising recently. This means that bond holders are losing money on the value of their bonds. With the Fed "printing money" rapidly now (QE4 and QE3), we may see a movement out of low interest paying treasuries into high dividend (still low tax rate) paying equities like BBEP. However, we still have much of the fiscal cliff to deal with. The sequestration has only been put off until March 2013. The US National Debt Limit raise still has to be negotiated. The rating agencies will almost certainly downgrade US debt if the US does not take some meaningful steps to rein in federal spending.
Ratings agency downgrades would mean much higher costs for financing the national debt. This would add to the yearly budget deficit. With that in mind, Congress almost has to cut spending, or it will cost the US more in increased debt financing costs than it would have made in cuts. Since austerity measures usually have a short-term negative effect on an economy, investors in US equities need to be wary. Averaging in to BBEP (9.44% dividend) over the next 6 to 12 months seems to be an appropriate strategy. If it falls on a US recession, you will still get a good average price. Plus BBEP will likely rebound quickly, when the economy rebounds. BBEP's Beta of only 0.35 and its good hedges should give investors yet more confidence.
Note: Some of the fundamental data above is from Yahoo Finance.
Good Luck Trading.
Disclosure: I have no positions in any stocks mentioned, but may initiate a long position in BBEP over the next 72 hours. I wrote this article myself, and it expresses my own opinions. I am not receiving compensation for it (other than from Seeking Alpha). I have no business relationship with any company whose stock is mentioned in this article.