On Monday shares of Bakken oil producer Kodiak Oil and Gas (NYSE:KOG) surged late in the day on some unusually heavy volume.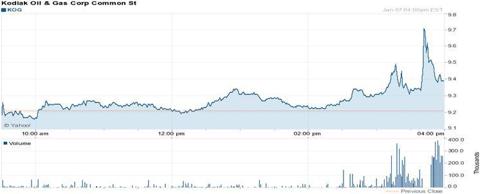 The reason for the surge apparently is that the company cancelled an appearance from an upcoming conference suggesting that it may be taken out before the conference date.
With shares at $9.40 I thought I'd have a look at what investors may be able to expect for a takeover price. The best comparable metric is the takeover of Bakken pure-player Brigham Exploration which occurred just over a year ago when it was acquired by Statoil (NYSE:STO).
So let's compare.
Statoil paid $36.50 per share for Brigham Exploration. That equates to an enterprise value of $4.7 billion.
Kodiak has an enterprise value as follows:
Shares outstanding -- 263 million
· Most recent closing stock price -- $9.40
· Market Capitalization -- $2.472 billion
· Total debt outstanding -- $915 million
· Enterprise Value -- $3.387 billion
Price Per Flowing Barrel
· Brigham Exploration was producing 21,000 boe/day. With a $4.7 billion enterprise valuation that equates to $223,000 per flowing barrel.
· Kodiak's exit rate production figure is expected to be 27,000 boe/day. If Kodiak gets taken out at the same price per flowing barrel as Brigham that would be a share price of:
· Calculate total price paid - $223,000 x 27,000 = $6 billion
· Less Debt Outstanding - $915 million
· Equals Proceeds For Shareholders - Roughly $5 billion
· Divided By The Number of Shares Outstanding - 263 million
· Price Per Share - $19.01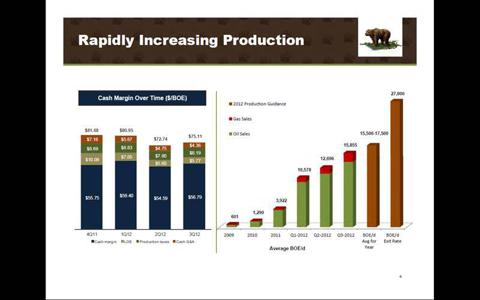 ·
Multiple of EBITA
· For the six months ended June 30, 2011 prior to its acquisition Brigham had an EBITA of $137 million. On an annual basis that would be roughly $280 million. That would be an EBITA multiple of $4.7 billion / $280 million = 16.79 times
For the nine months ending Sep 30, 2012 Kodiak had EBITA of $220 million which annualized would be about $300 million. At Brigham's 16.79 takeover multiple Kodiak would be taken out at roughly $5 billion ($300 million x 16.79), which again is $19.01 per share.
Multiple of Proved Reserves
· Brigham (as of the December 2010 reserve report) has 67 million barrels of proved reserves. A $4.7 billion valuation suggests Statoil is paying $4.7 billion / 67 million = $70 per barrel of proved reserves
· Kodiak (as of the June 2012 reserve report) has 70 million barrels of proved reserves. At Brigham's $70 per barrel multiple of proved reserves Kodiak would be taken out at….you guessed it roughly $5 billion ($70 per barrel x 70 million barrels.
Again, this is $19 per share.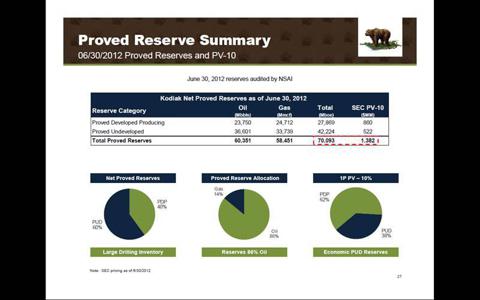 Other Considerations
The Brigham deal multiples clearly point to about $19 per share for Kodiak. There are of course other considerations such as the amount of acreage each company has, the quality of that acreage, and ability to finance future development.
Because of that I don't think Kodiak would go for the same multiples as Brigham, but I think the mid-point between the current share price ($9.40) and the Brigham price ($19.00) might be realistic. That would be $13 to $14 per share which is still a good premium to the current share price.
Now I guess we just wait and see if the takeover chatter amounts to something.
Disclosure: I have no positions in any stocks mentioned, and no plans to initiate any positions within the next 72 hours. I wrote this article myself, and it expresses my own opinions. I am not receiving compensation for it (other than from Seeking Alpha). I have no business relationship with any company whose stock is mentioned in this article.