Coal was one of the worst places to keep your money in 2012. The Market Vectors Coal ETF (NYSEARCA:KOL) dropped more than 20% last year, trailing the S&P 500 ETF (NYSEARCA:SPY) by more than 35%. Despite last year's pain, investors might want to revisit coal stocks including Peabody (NYSE:BTU), Arch Coal (ACI) and Alpha Natural Resources (ANR).
The basket fell for good reason. Austerity weighed on world steel production and cheaper natural gas supported a broad based shift away from coal fired power generation in the United States.
However, we may be seeing early signs the market is normalizing.
There's little question China has an outsized impact on the industry given it's both the largest producer and consumer of coal. The country has been hard pressed to protect its own coking coal supply, enacting stiff export taxes and quotas.
The regulations seem to have worked. In 2012, China's coke exports dwindled to 1 million metric tons, down from an average of 15 million tons during the middle of last decade.
But, recent regulatory shifts may have seismic impacts this year. In December, the World Trade Organization ruled against China's 40% tax on coke exports and the absence of the stiff penalty will likely prompt more producers to export, in turn increasing coal imports.
China's economy also seems to have emerged from its controlled slowdown. China's Tsinghua University's Center for China in the World Economy estimates China GDP will grow 8.1% this year, up from 7.8% in 2012, suggesting China's improving economy should add support to global coal prices this year.
An improving economy and cold weather stockpiling boosted China coal imports 6.5% year-over-year to 29 million metric tons in November.
The demand is likely to remain a positive for the global coal market given China accounted for two-thirds of 2011's coal consumption growth, according to the International Energy Agency.
The agency expects global coal usage will climb 1.2 billion tons by 2017 to become the world's top energy source, driven in large part by the addition of 315k megawatts of Chinese coal fired electricity production coming online through 2016, according to the U.S. Department of Energy.
Here in the United States, utility coal stockpiles may have peaked this past summer.
In 2012, coal transported by U.S. rail fell more than 10% as utility inventory rose to 197 million short tons this past summer.
In December's short term outlook, the EIA estimated domestic coal production fell 6% in 2012. The agency expects it to fall another 1% this year.
At the same time, the EIA expects electric power consumption of coal to stop sliding. This year, power producers are expected to consume 874 million short tons, up from 829 in 2012. As a result, utility inventory is expected to fall to 179 million short tons, down from 183 million last year.
This next chart helps visualize the inventory situation at utilities. Clearly, they remain high. But, they're trending in the right direction.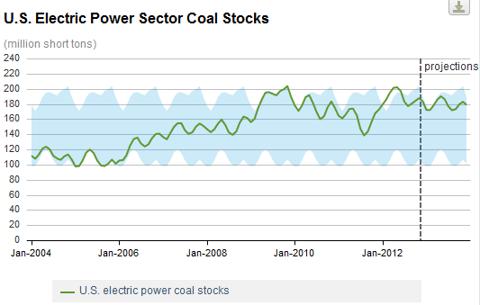 Any improvement in domestic demand should help pricing, given exports remain strong.
Cheap domestic natural gas may have shifted U.S. power producers away from coal, but European coal demand remains strong. As a result, U.S. coal exports reached a record 124 million short tons in 2012, up from 81.7 million in 2010.
The export strength coupled with rising steel production may offer price tailwinds.
According to SteelWorks, year-to-date U.S. steel production through December 29th, climbed 2.7% from 2011 as capacity utilization rose to 75.7% from 74.4%. Worldwide, steel production grew 5.1% year-over-year in November as capacity utilization expanded by 1.6%, according to Worldsteel - led by a 13.7% lift in China's crude steel production.
If steel production continues higher this year, metallurgical coal producers could benefit nicely. The next chart shows how met coal prices have remained sticky over the past year, despite the inventory challenges. In September, prices were $191.17 per short ton. The year before, prices were $191.14.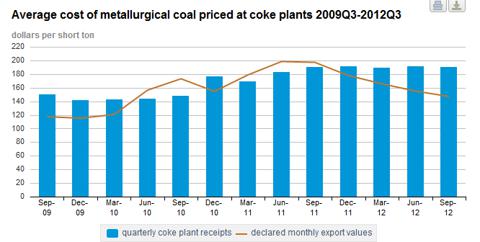 Seasonality supports coal stocks in Q1.
The first half of the year is historically kinder to investors too.
This next chart from the Seasonal Investor shows the average monthly performance of the coal ETF versus the S&P 500 by month since the Market Vector Coal ETF was launched in 2008. Historically, buying coal in January have rewarded investors into Q2.
Source: Seasonal Investor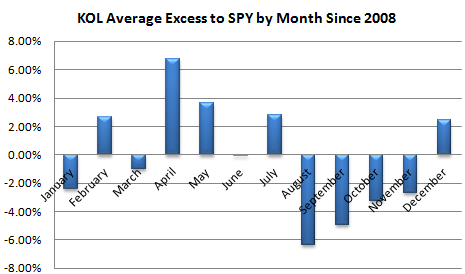 If this proves true again this year, some of 2012's poorest performers may offer significant returns.
Arch Coal, Walter Industries (NYSE:WLT) and Alpha Natural Resources all dropped more than 40% in 2012. And each has shown some recovery in price since summer. Peabody and Consol (NYSE:CNX) also may provide growth, with both trading 30% and 18% off their 52 week highs.
With easier comparisons, investors should keep an eye on weekly coal railcar volume and utility inventory to see if the tide is turning. If so, being long some of the coal stocks may offer solid gains in the first half of the year.
Disclosure: I have no positions in any stocks mentioned, but may initiate a long position in ACI over the next 72 hours. I wrote this article myself, and it expresses my own opinions. I am not receiving compensation for it (other than from Seeking Alpha). I have no business relationship with any company whose stock is mentioned in this article.